The Final Report of the Liquidation of the United States Housing Corporation
Release Date:
January 1947 (33 pages)
Posted Date:
July 9, 2020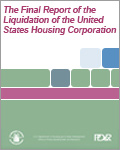 This historic report, submitted to the U.S. House of Representatives' Committee on Banking and Currency by the National Housing Agency and Federal Home Loan Bank Administration, recounts the liquidation of the U.S. Housing Corporation. The liquidation was initiated by Executive Order 9070 and took place in the period between March 1942 and June 1945 under the jurisdiction of the Federal Home Loan Bank Administration.

This report is part of the collection of scanned historical documents available to the public.