Defense Housing Critical List
Release Date:
February 1942 (14 Pages)
Posted Date:
February 21, 2018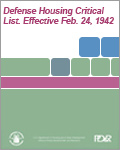 This publication provides a list of critical materials and supplies eligible for procurement by housing developers engaged in wartime housing production during World War II. The publication specifies the restrictions and limitations imposed on listed materials and supplies.

This report is part of the collection of scanned historical documents available to the public.