Developing State Policies On The Sale And Resyndication Of Subsidized Housing
Release Date:
January 1983 (71 Pages)
Posted Date:
February 21, 2018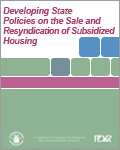 This publication is a working paper that examines the 1983 guidelines for sales of existing subsidized housing projects used by HUD and certain specific state housing finance agencies. The author suggests that, in the wake of the 1981 Economic Recovery Tax Act, state housing finance agencies can utilize the sale of subsidized housing to fund the physical upkeep and financial viability of retained units.

This report is part of the collection of scanned historical documents available to the public.