Fifth Annual Report of the Housing Assistance Supply Experiment
Release Date:
June 1979 (57 pages)
Posted Date:
September 13, 2018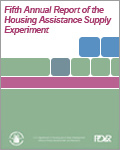 This historical document, prepared for the Office of Policy Development and Research, is the fifth annual report of the Housing Assistance Supply Experiment, covering the period of October 1977 to September 1978. The experiment ran from March 1973 to 1981 in Brown County, Wisconsin and St. Joseph County, Indiana and was part of the Experimental Housing Allowance Program, which tested the feasibility and desirability of a national program of direct financial assistance to low-income households.

This report is part of the collection of scanned historical documents available to the public.