Second Annual Report of the Housing Assistance Supply Experiment
Release Date:
May 1976 (199 pages)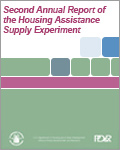 The second annual report of the Housing Assistance Supply Experiment (HASE), this historic publication covers the period of October 1974 to September 1975. HASE, the second component of HUD's Experimental Housing Allowance Program, was a program to test the market impacts of providing housing allowances to low-income households in Green Bay (Brown County), Wisconsin and South Bend (St. Joseph County), Indiana. This report covers the first 15 months of the program's operation at Site I in Wisconsin and the first 9 months of operation at Site II in Indiana.

This report is part of the collection of scanned historical documents available to the public.