U.S. Federal Public Housing Authority Region III Fourth Annual Report: 1945-1946
Release Date:
January 1947 (77 pages)
Posted Date:
July 9, 2020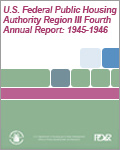 This historic report discusses the programs, budgets, and activities of the Federal Public Housing Agency's Region III from the period of March 1945 to June 1946. FPHA's Region III covered Illinois, Indiana, Iowa, Minnesota, Missouri, Nebraska, North Dakota, South Dakota, and Wisconsin. The report discusses issues including the need for veteran's housing, rising housing costs, the adoption of the Mead-Lanham Program, and other matters.

This report is part of the collection of scanned historical documents available to the public.