Making Transit and Affordable Housing Work Together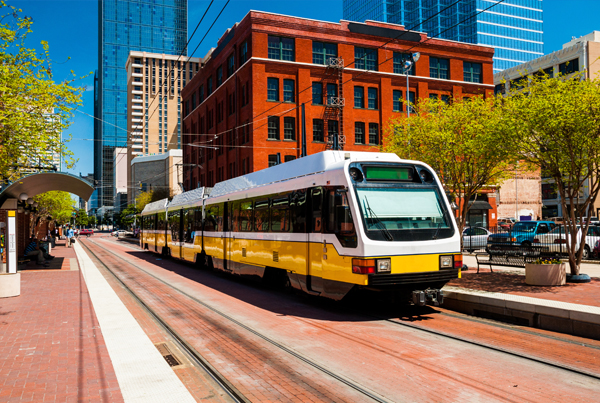 Examining the case studies of other communities can help developers ensure that transit-oriented development is equitable, includes affordable housing, and is built around the actual needs of the people who use the transit system.
Robust public transit is an important complement to affordable housing. By facilitating dense, well-connected development, low-income residents can live in opportunity-rich areas without incurring the costs of car ownership. One of the sessions at the American Planning Association's 2023 national conference titled "Yes, Transit Can Support Affordable Housing" discussed how the Oregon Department of Transportation (ODOT) created a toolkit of transit-oriented strategies to increase affordability in Oregon communities. Panelists Sumi Malik, transportation planning director at ICF, Inc., and Rebecca Dann Hewitt, project director of ECONorthwest, together with moderator Brian Waterman, senior transportation and transit planner for HDR, Inc., described the process that produced the toolkit, including a review of case studies that illustrate best practices in pairing transit and affordable housing.
Learning by Example
Malik and Waterman began by reviewing case studies demonstrating other jurisdictions' successful attempts to link transit to affordable housing goals. Waterman explained that designing any transit system inevitably requires tradeoffs between optimal efficiency and maximum coverage, which can entail sacrificing ease of access in the first case and speed of travel in the second. Malik used the example of Minneapolis' Green Line light rail to explain how a system designed too rigorously around travel time and cost-effectiveness can present equity issues when policymakers overlook the needs of low-income and transit-dependent communities, making transit less accessible in those areas even as the overall performance of the system is enhanced. In this case, grassroots organizing led to the creation of three new infill stations to address this deficiency.
Although the Minneapolis example demonstrates the importance of bringing transit to areas where low-income residents already live, Traverse City, Michigan, is building affordable housing strategically along existing transit corridors. Affordable housing developers and the city's transit agency coordinated with area counties and municipalities to develop affordable housing in transit- and amenity-rich areas and, in one case, create a new bus station to serve a newly built affordable housing development, reported Malik. Collaboration among stakeholders and across agencies, she pointed out, is a powerful way to maximize outcomes. Hewitt cautioned, however, that despite the benefits of such an approach, pairing transit projects with affordable housing can present financial challenges because transit can make areas more attractive and consequently more expensive. This dynamic can make it harder for affordable housing developers to compete with market-rate developers.
Bringing Together Transit and Affordable Housing in Oregon
Local examples also aided in development of the state's toolkit. In Eugene, Oregon, planners had anticipated that transit improvements would increase interest in development, reported Hewitt. In this case, the city set aside sites for affordable housing along the city's main thoroughfare. In Bend, Oregon, the transit agency and a local affordable housing developer coordinated their efforts to take advantage of an opportune but distant site. The developer agreed to build a new bus station as part of the project with the understanding that, once completed, the agency would implement bus service to the new stop. In addition, ODOT agreed to add access to the state highway to accommodate this service. A similar access challenge in Roseburg, Oregon, prompted the creation of new pedestrian walkways, bike lanes, and a bus stop to assist residents in a now-completed 144-unit affordable housing development, Hewitt explained.
These case studies helped inform the creation of ODOT's toolkit, which helps state and local agencies (including municipal, city, county, and tribal governments), community organizations, and developers understand the resources and strategies that can connect housing development and transit. The toolkit is broken down into categories, including transit system and services tools; land use and zoning tools; financial incentives tools; and partnerships and engagement tools. Waterman described how this toolkit enables stakeholders to improve their own work while facilitating conversations across traditionally siloed organizations. These actions can, for example, help transit planners, affordable housing developers, and community members collaborate to achieve their shared goal of inclusive transit-oriented development.
Together, the panelists showed how housing represents more than just the structures themselves; its connection to networks of mobility empowers residents to access employment, services, and the amenities of daily life. Ensuring that transit-oriented development is equitable, includes affordable housing, and is built around the actual needs of the people who use the transit system can be a challenging and intensive undertaking. However, by diving into the challenges and successes of a diverse set of communities, Oregon was able to create an important resource to further similar transit projects, advance equity, and reach housing affordability goals.