The Nation's Second-Largest Supportive Housing Project Comes to Downtown Brooklyn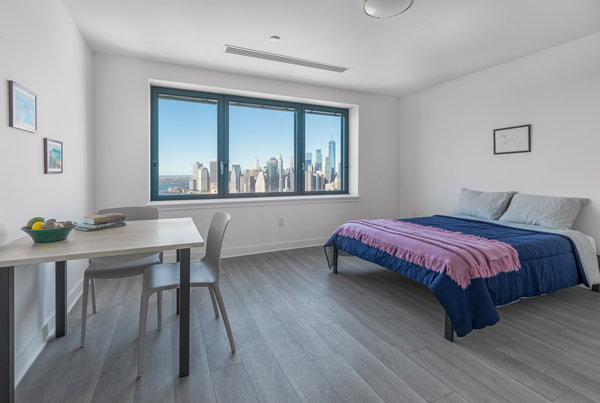 90 Sands, originally built in 1992 as a residential hotel, reopened in fall 2022 as the nation's second-largest supportive housing development with 490 low- and moderate-income units. Photo credit: Wes Tarca for Breaking Ground
Initially built in 1992 as a residential hotel for volunteers of the Watchtower Bible and Tract Society, a Jehovah's Witness organization, the 90 Sands building in Brooklyn's downtown Dumbo neighborhood reopened in 2022 as permanent affordable housing. Nonprofit developer Breaking Ground purchased the site and undertook a $254 million retrofit of the 30-story building, which included opening a previously inaccessible square to the public. Today, 90 Sands is the country's 2nd-largest supportive housing development, offering 490 low- and moderate-income units, 305 of which are reserved for individuals transitioning out of homelessness.
From Residential Hotel to Residence
Dumbo is a small neighborhood whose name is an acronym — Down Under Manhattan Bridge Overpass — that lies sandwiched between the Manhattan and Brooklyn bridges. Dumbo is also a comparatively wealthy neighborhood, with a 2020 median household income of more than $100,000 and little available affordable housing. The 90 Sands building sits on a 0.48-acre parcel at the neighborhood's southern end, where each bridge meets in a tangle of on- and off-ramps. The Jehovah's Witnesses, which had begun selling their property holdings in Brooklyn in 2015, vacated 90 Sands in August 2017. A year later, Breaking Ground purchased the building for $170 million.
Although the Jehovah's Witnesses kept the building in what Breaking Ground assistant vice president of communications Patrick Bonck described as "exceptionally well maintained" condition, the renovation faced some delays. Breaking Ground communicated with the New York City's Department of Housing Preservation and Development during the acquisition. Both parties believed that, because 90 Sands had been used for residential purposes since its construction and there was precedent for performing conversions to support affordable housing, the building could be converted into permanent housing without requiring a zoning map amendment. However, the city's Department of Buildings disagreed and mandated the change. Breaking Ground proposed a Special Mixed-Use District with a Mandatory Inclusionary Housing Area through the city's Uniform Land Use Review Procedure, which was accepted in May 2020. The developer estimates that the zoning map change added 18 months to the project. By this time, the COVID-19 pandemic had begun, causing supply chain shortages and delays, and construction did not begin until November 2020.
The retrofit involved refreshing the existing units by replacing carpeting with durable flooring, converting ranges and ovens from gas to electric, and furnishing the 305 supportive units. Throughout the building, the developer updated the fire and smoke alarm systems; replaced the lighting with energy-efficient LEDs; replaced plumbing fixtures with water-saving variants where possible; and upgraded the heating, ventilation, and air conditioning systems to improve energy efficiency. The renovation added a mail area and multipurpose room to the original hotel lobby and converted other areas of the building's expansive nonresidential space into new amenities. 90 Sands opened as a permanent housing development in fall 2022.
Cutting Leasing Time for Tenants Coming Out of Homelessness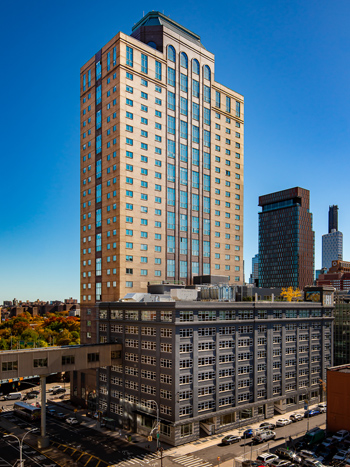 In its renovation of the 30-story building, developer Breaking Ground built a medical suite for provider Janian Medical, offices for the service provider Center for Urban Community Services, and activated a previously inaccessible public plaza at Jay and Sands streets. Photo credit: Wes Tarca for Breaking Ground
90 Sands has 305 studio apartments for individuals exiting homelessness and 185 studio and one-bedroom apartments for the general population. An additional unit is reserved for an onsite manager. Nine of the general population units are restricted to households with incomes of no more than 30 percent of the area median income (AMI), 9 are restricted to households with incomes not exceeding 40 percent of AMI, 18 are restricted to those earning no more than 60 percent of AMI, 99 are reserved for households earning no more than 100 percent of AMI, and the remaining 50 are reserved for households with incomes no higher than 120 percent of AMI. Residents can access an onsite laundry room, a fitness room, a computer room, and extensive bicycle storage. Today, all 305 units for individuals transitioning out of homelessness are fully leased.
To move clients from homelessness more quickly into a unit at 90 Sands, Breaking Ground worked with the New York City Department of Homeless Services (DHS) to pilot a new, streamlined method for screening potential tenants. Normally, to fill a unit intended for a household exiting homelessness, president and chief executive officer Brenda Rosen explained, Breaking Ground would approach DHS, which in turn would approach a provider and ask it to locate an individual experiencing homelessness who met the necessary criteria to fill the vacancy. Then, the provider would send the person's information to DHS, and DHS would issue a referral to the provider, who would arrange an interview. "More than half the time, the client does not show up to the interview," said Rosen — often because they lack sufficient information or support from their caseworker. At this point, the lengthy process starts over, and people remain unhoused for longer periods.
For the pilot, DHS tasked Breaking Ground with assuming a larger portion of the process. By performing "inreach," a process of identifying interested candidates from among clients experiencing homelessness already known to them and performing the eligibility screening themselves, Breaking Ground was able to reduce no-shows and intake time. "We had a much more seamless and expedited process from the time somebody was referred [or] from the time we identified somebody to the lease-signing time," Rosen said. This experimental method saved more than 4 months in leasing time and became the basis for Project Welcome MAT (Moving on an Accelerated Timeline), a pilot program Breaking Ground is deploying across its substantial supportive housing portfolio.
An Asset to the Neighborhood
The retrofit also focused on creating space for resident use and service provision. Breaking Ground converted space on the building's first cellar level — previously used as a dining hall — into offices for the Center for Urban Community Services, which offers case management, benefits counseling, and employment readiness services to all tenants. On the same level, the developer built a medical suite for provider Janian Medical, which provides primary and mental health care and serves as a low-barrier health care option for tenants. The second cellar level has thousands of feet of commercial space, which a catering and events firm has leased.
The retrofit also opened a 7,000-square-foot public plaza at the corner of Jay and Sands Streets. This still-unnamed plaza had been fenced off under the tenure of the Watchtower Bible and Tract Society but is now furnished with benches and native plantings and is available for public use. Breaking Ground plans to engage 90 Sands' neighbors with events in the plaza that range from exercise, dance, and art therapy classes to hosting a farm share. "If we have space, we always invite people from the community," Rosen said.
Although the retrofit is finished, Breaking Ground has not fully completed its vision for 90 Sands. The 29th floor of the development is an observatory level with 2 terraces that offer unobstructed views of the surrounding city because of the building's position among the nearby highways. The developer plans to renovate this level to enhance the safety on the terraces with glass, and create a usable year-round meeting space for tenants and nonprofits. According to Rosen, Breaking Ground will continue fundraising for the observatory renovation into 2024 to finance the project with private money.