Increasing Housing Resilience in Rural Areas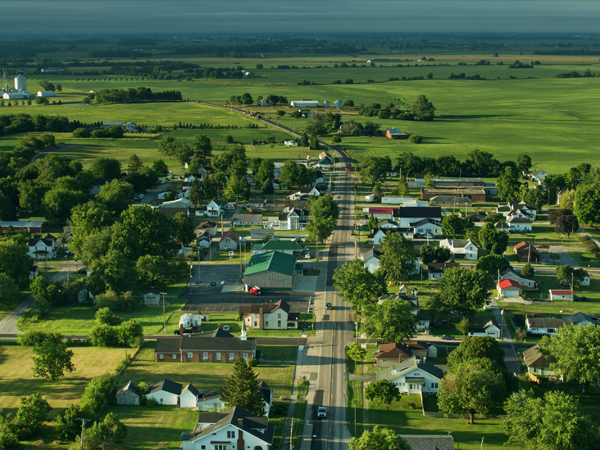 Monetary burdens and environmental hazards are some of the issues that rural communities face. Making rural housing sustainable and climate resilient are strategies to help mitigate these burdens. Photo credit: istockphoto.com/halbergman
Many rural communities grapple with housing and environmental challenges resulting from geography, underinvestment, and a lack of services. During a session held at the Housing Assistance Council's 2021 National Rural Housing Conference, panelists addressed the challenges that the nation's rural families face and discussed strategies for mitigating them. This virtual session, "Building Climate Resilient Rural Housing: Transforming Challenges into Opportunities," was moderated by Meghan Walsh from the U.S. Department of Agriculture (USDA). Panelists included Gbenga Ajilore, a senior advisor at USDA's Office of the Under Secretary for Rural Development; Steve Sharpe, a staff attorney at the National Consumer Law Center; Bill Walsh, the founder of Healthy Building Network; and Rusty Smith, the associate director at Auburn University's Rural Studio.
Housing and Environmental Burdens
Some of the issues rural households face result from national economic disruptions. Sharpe described how many rural communities are still suffering from the effects of the 2008 financial crisis. He explained that subprime mortgage loans appealed to many rural Americans because they were offered to borrowers with low credit scores. These high-fee loans pushed out government-backed loans with inspection requirements. Sharpe said that these loans often did not help finance improvements and instead simply increased borrowers' debt. In many cases, borrowers were forced into foreclosure when they could not repay the loans. These loans, therefore, not only harmed borrowers' finances but also corroded the physical housing stock and, by extension, rural communities as a whole.
Utilities are another housing expense for which residents of rural communities pay disproportionately higher costs. Rural families spend nearly 20 percent more on energy-related expenses (as a percentage of income) than do urban households. This burden is particularly high for families who earn less than $40,000 annually.
In addition to monetary burdens, environmental hazards also affect some rural communities. Because factories such as petrochemical plants often are located in rural areas, residents are exposed to dangerous pollutants that can harm their physical health, said Bill Walsh. He pointed to the Mississippi River chemical corridor in Louisiana, where more than one-quarter of the nation's petrochemicals are produced. Residents who live near these hazardous facilities have poor health outcomes and are more likely to be displaced from their homes when chemical spills occur.
The panelists noted that rural communities of color are even more vulnerable to environmental hazards. For example, although only one-third of Louisiana's population lives in the 85-mile Mississippi River chemical corridor, 80 percent of the state's African-American residents live within 3 miles of a hazardous industrial facility in this region. African-Americans are also more likely than other state residents to be displaced from their homes by industrial facilities. Bill Walsh attributed this type of industrial displacement to redlining and Jim Crow-era laws.
Often, these impacts are exacerbated when natural disasters strike. Smith noted that "maintenance and repairs due to storm-related events and the long-term displacement they often cause play a significant role in the financial security of [rural] homeowners." Storms can also damage the surrounding industrial properties. Walsh observed that industrial facilities often release toxins into their communities during climate-related weather incidents.
Strategies To Combat Rural Housing Burdens
The panelists discussed strategies to help mitigate some of these burdens facing rural Americans, such as making rural housing not only more affordable but also more sustainable and climate resilient. Smith described some of the work his studio has done to create sustainable and affordable housing. Rural Studio's Front Porch Initiative was created to develop sustainable and resilient homes in underresourced rural areas. According to Smith, the team at Auburn University makes a conscious effort to make the homes durable, buildable, secure, and weatherproof. They build the housing with locally sourced, renewable materials such as timber. The students make these structures stronger than what standard building codes would require to ensure that they can withstand severe weather. They also continuously monitor residents' energy consumption to ensure that these homes are truly climate resilient. In addition, the team members offer products and technical assistance to other housing providers who are working in underresourced communities.
Although groups such as Rural Studio have demonstrated how to construct durable houses that are both energy and cost efficient, many such homes remain out of reach for low-income rural residents. Sharpe believes that climate-resilient housing for low-income residents is attainable only with fair lending practices. He argued that mortgage loans must be affordable based on a borrower's ability to repay rather than on speculations of future savings or increased home values.
The panelists also emphasized the need for larger-scale policy reforms to address rural housing needs. Ajilore spoke about the importance of preventative measures to address homelessness. Ajilore said that efforts to improve housing must be enacted in conjunction with reforms in other realms, such as fiscal and labor policy. Smith also acknowledged the need to look at the bigger picture. "Until we recognize that how folks live today in America is actually the intentional outcome of longstanding intersectional injustice," Smith said, "we are never going to be able to truly provide equitable, sustainable, healthy, and durable housing access to those in our country [who] need it most but can afford it the least."
Todd M. Richardson, General Deputy Assistant Secretary for Policy Development and Research, attended the National Rural Housing Conference and shared his thoughts here.
Read more about Rural Studio in this HUD User case study.