Catalytic Development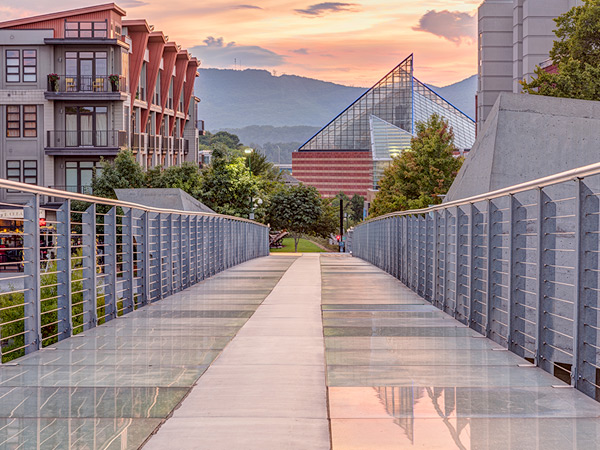 The presentation included two panel discussions featuring developers from the six cities analyzed in the Catalytic Development report: Seattle, Cambridge, Phoenix, Chattanooga (pictured), Detroit, and Cincinnati.
Since the mid-1990s, economic changes have shifted Americans' preferences for where they want to work and conduct business. Companies are increasingly moving out of suburban office parks and into walkable, mixed-use urban environments. Some cities have retained desirable, pedestrian-centered downtowns and are now well-positioned to attract major employers; however, many others have suffered depopulation and disinvestment, leaving them with car-oriented centers that are virtually abandoned. In June 2018, the Brookings Institution hosted a presentation by Christopher B. Leinberger and Tracy Hadden Loh on their new report, "Catalytic Development: (Re)creating Walkable Urban Places." The authors explained "catalytic development," a new strategy of place-based investing in walkable urban areas. To demonstrate the model's suitability for creating desirable urban centers for cities in crisis, the authors moderated two panel discussions featuring developers from the six cities analyzed in the report: Seattle, Cambridge, Phoenix, Chattanooga, Detroit, and Cincinnati.
Going Back to the Cities
Loh, a senior data scientist at George Washington University's Center for Real Estate and Urban Analysis, explained the factors influencing the renewed appeal of city centers to employers. The walkable, mixed-use urban neighborhood is not a new idea; indeed, Loh and Leinberger's report acknowledges that these kinds of spaces were typical for most of recorded history. They explain that U.S. work and living preferences began to shift to car-friendly suburbs in the early and mid-20th century, spurred by the introduction of low-cost automobiles, government subsidies and regulations, and the modern model of home financing, among other factors. These preferences began to reverse in the late 20th century with the decline of the domestic manufacturing sector and the corresponding rise of the knowledge economy.
These changes have influenced the needs and desires of companies and their employees, creating a renewed demand for city centers. To create the kinds of urban places where people want to live and work, cities need to redevelop their centers. Most cities require only conventional development. Some, however, described by Leinberger as "down-and-out" cities particularly hard-hit by disinvestment and job loss, need the more drastic changes that the catalytic development model can produce.
The Three-Legged Stool
Catalytic development, described by Loh as a "three-legged stool," has three key elements: patient equity, integrated development, and upfront employment. The six panelists discussed their respective organizations' experiences with these core concepts.
Patient equity is "investment capital looking for both long-term returns and achievement of a mission," or investment by entities that are concerned with the redevelopment project itself and are willing to wait more than five years for a return on investment. Conventional investors, by contrast, look for prospects that will yield returns in three to five years. This expanded timeframe is necessary because walkable urban projects require longer zoning and permitting processes, complex planning, the solicitation of public input, and phased buildout. The extended timeframe means that the project will likely persist through one or more economic recessions. Loh and Leinberger identified five sources of patient equity at work in the six case-study cities: private-sector wealth, anchor institution endowment, public funding, philanthropy, and corporate investment.
Panelist Duke Reiter, senior advisor to the president and executive director of the University City Exchange at Arizona State University, noted that Phoenix was the only one of the six cities to receive public funding as its source of patient equity. Arizona State University received $200 million in bonds to make infrastructure improvements and bring people back to a downtown that Reiter described as "unformed." By contrast, the redevelopment of University Park in Cambridge, Massachusetts — a 25-year infill project that converted vacant factories into mixed-income housing, a hotel, research facilities, offices, and retail — was undertaken entirely with nonpublic funding, much of which came from the institutional endowment of the Massachusetts Institute of Technology (MIT), explained Peter Calkins, senior vice president of Forest City Realty Trust. The private master developer was likewise a patient investor because it was interested in placemaking on the behalf of MIT and the city of Cambridge — and the resulting long-term financial returns — rather than a quick turnaround of capital.
The second essential element of catalytic development is upfront employment, in the form of either a large influx of jobs early in the development process or an established employer. The authors term the provider of these jobs a "catalytic employer," noting that an ideal employment scenario is one in which the catalytic employer not only attracts job seekers to the neighborhood but also employs neighborhood residents. The relocation of Rock Ventures (which includes Quicken Loans and other companies) from a suburban area to downtown Detroit added 16,000 employees and "brought stability and activity" to the downtown area. The speakers emphasized that to achieve an ideal employment situation, developers must actively prevent the displacement of locals by providing housing at various levels of affordability. "We committed early in the process to 37 percent affordable housing," said Calkins, whose firm, Forest City Realty Trust, worked in conjunction with MIT, a major employer in Cambridge. Ada Healey, vice president of real estate at Vulcan, Inc., also detailed the efforts of her firm to develop workforce and low-income housing in the South Lake Union neighborhood of Seattle.
Integrated development is the final defining feature of catalytic development. Adjacent pieces of land must be assembled into contiguous or near-contiguous parcels and managed in a pool to retain walkability, spread risk, and ensure that each piece furthers the mission of the redevelopment. Accomplishing these goals requires a single entity to take on and integrate traditionally distinct roles such as land acquisition, building development, asset management, placemaking, tenant management, and more. The developers featured in the six case studies demonstrated this principle by fulfilling multiple vital functions in their respective cities, including assembling land; producing master plans; and building and managing residential, commercial, and cultural facilities.
The many roles of the catalytic developer were emphasized in both panel discussions, with speakers describing goals and activities that would be unusual for a traditional developer to undertake. For example, Stephen Leeper, president and chief executive officer of the Cincinnati Center City Development Corporation, detailed the care his organization must take to efficiently use the 4,000 parking spaces available in the Cincinnati neighborhood, Over-the-Rhine. The organization, established in 2003 as a nonprofit developer, led the public-private redevelopment of Over-the-Rhine, a historic neighborhood adjacent to downtown Cincinnati that had suffered decades of disinvestment. With patient equity provided by private sector companies, the organization developed affordable housing and renovated public and civic spaces. Robert F. Gregory, chief planning and public space officer of the Downtown Detroit Partnership, described the establishment of a pop-up beach location in downtown Detroit and relayed the importance of promoting the use of public spaces.
The Promise of Catalytic Development
Although many depopulated, autocentric, and economically sluggish urban centers exist in the country, Leinberger and Loh emphasize in their report that catalytic development is not necessary, feasible, or ideal for redevelopment in all cases. In fact, because of the concentration of land control and capital that the integrated development process requires, a failed catalytic development project can cause negative economic consequences with the potential to last for decades. These cautions aside, the six case study cities described in the report demonstrate the powerful impacts a successful catalytic redevelopment can have on a struggling city when the right investor, employer, and development plan come together.
Source:
Defined as relating to or involving a catalyst — a person or thing that precipitates change or action.
×