Creating Service-Rich Affordable Housing in a Long-Abandoned Industrial Building in Chicago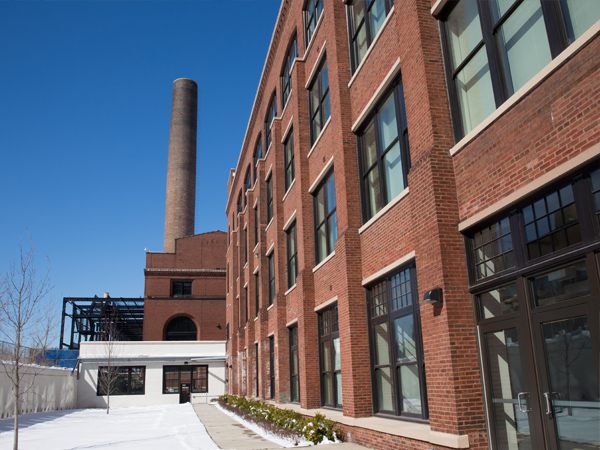 The Lofts at Arthington provides 181-unit affordable housing with wraparound services to Chicago's Homan Square neighborhood. The building once served as the catalog printing facility for Sears, Roebuck & Co. (Photo credit: Eileen Molony)
The 2017 completion of the Lofts on Arthington — a 181-unit affordable housing development with wraparound services built by mission-driven developer Mercy Housing Lakefront (MHL) — represents one of the final stages in a decades-long effort to rebuild the Homan Square neighborhood of Chicago. Once a campus for Sears, Roebuck & Co., revitalization efforts in Homan Square have transformed the area from an example of postindustrial neglect into a neighborhood of opportunity. To create the Lofts on Arthington, MHL repurposed a former catalog printing building — a large brick-and-concrete structure built in the first decade of the 20th century that was in operation for nearly 70 years and vacant for nearly 40. A suite of supportive services help residents find the stability and support they need to achieve greater economic security and well-being, helping to break intergenerational cycles of poverty. The project's location in a revitalized neighborhood also enables residents to take advantage of area amenities while bringing back members of a community harmed by capital flight and underinvestment.
Project Details
MHL found a strategic opportunity to purchase the site in 2010 from a firm then seeking to build market-rate, entry-level condominiums and closed on the deal in 2015. The building's size allowed MHL to construct 79 one-bedroom, 52 two-bedroom, 40 three-bedroom, and 10 four-bedroom apartments. Of the total, 115 units are reserved for households earning no more than 60 percent of area median income (AMI); the 66 remaining units are for households earning no more than 30 percent of AMI. The construction of those units was made possible with funding from the Chicago Housing Authority, which is also providing project-based vouchers for the 30 percent AMI units. Finally, 39 units are designed to accommodate residents with mobility impairments, and 37 units accommodate residents with visual impairments. The Lofts on Arthington also features a common room, where MHL hosts events to build community among residents; a computer center; and an exercise facility. A total of 7,600 square feet of outdoor patio, play, and green space provides additional recreational, programming, and social opportunities.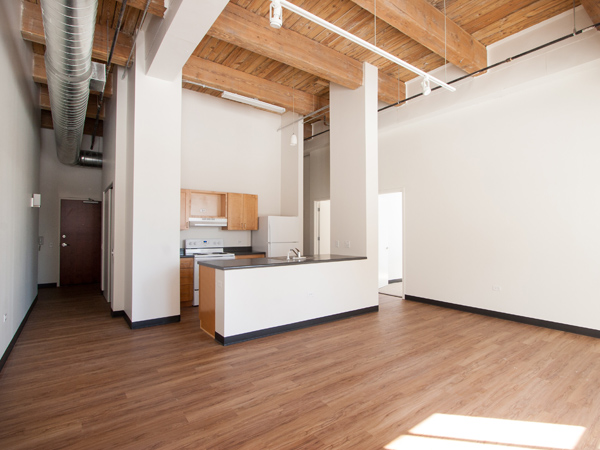 Developer Mercy Housing Lakefront preserved aspects of the industrial character of the building, including exposed beams and spacious 16- to 18-foot ceilings. Units range from 1- to 4-bedrooms and rent to families earning no more than 60 or 30 percent of area median income. (Photo credit: Eileen Molony)
As a historic industrial structure, the catalog printing building required remediation of widespread mercury contamination and structural repairs to address long-term neglect. MHL was able to preserve several historic features, including the building's façade, terra-cotta details, the original design of the building's windows, and the airy 16- to 18-foot ceilings. Total development costs for the Lofts on Arthington approached $64 million; funding sources included low-income housing tax credits; historic tax credits; investments from the Chicago Housing Authority; and other public, corporate, and philanthropic sources.
Services and Neighborhood Amenities
The departure of Sears from Homan Square significantly reduced employment in the neighborhood, prompting many who could afford to leave to do so. Multiple phases of mixed-income housing and mixed-use development to convert the 55-acre campus succeeded in bringing many former residents back to Homan Square, according to Mark Angelini, president of MHL. Today, Angelini reports that the Lofts on Arthington offers residents significant locational advantages that exist because of this redevelopment. Residents can take advantage of neighborhood amenities that include well-connected public transit options, a healthcare facility, a nearby community center, and abundant local employment opportunities.
Onsite services include educational offerings for children, conducted out of the Loft's 4,000-square-foot educational services space; prekindergarten educational services; in-unit neonatal care; and job training. To aid children's educational development, MHL has partnered with a nearby private school and helps underwrite costs associated with enrollment. A dedicated onsite service coordinator works with residents to develop a tailored service program, beginning at the point of new resident intake. Often, Angelini says, newer residents, who may have been referred to MHL by partner service organizations, initially are working on behavioral health challenges, aiming to overcome the dual traumas of housing and financial instability. That work is a necessary first step toward building the capacity to reach longer-term goals. In particular, MHL has implemented a program to help residents improve their financial lives and build assets to secure their future and that of their children. One strategy is building relationships with nearby banks that MHL has screened to ensure that they eschew predatory practices and best serve the financial needs of low-income individuals. During the coronavirus pandemic, MHL's support network for residents of the Lofts on Arthington helped residents get needed pandemic-related supports; MHL even created rental payment plans for residents who experienced pandemic-related job losses to keep them housed.
The Lofts on Arthington leverages the earlier revitalization efforts of a neighborhood devastated by significant economic disruption while helping repair the community. In addition to rehabilitating a legacy structure, MHL is ensuring that the Lofts on Arthington serves as a springboard for residents' long-term self-sufficiency and well-being with its broad program of wraparound services aimed at healing trauma, building community, and empowering individuals.
Source:
Urban Land Institute. 2020. "Jack Kemp Excellence in Affordable and Workforce Housing Awards 2020 Winner: The Lofts on Arthington," news, 10 August. Accessed 21 July 2021; Chicago Housing Authority. 2017. "Lofts on Arthington," news, 14 June. Accessed 19 July 2021; Interview with Mark Angelini, president, Mercy Housing Lakefront, 14 July 2021; IFF. 2018. "Foundation for Homan Square, IFF Bet on Future Together," news, 6 February. Accessed 21 July 2021; Royal Imperial Group. n.d. "Lofts on Arthington." Accessed 19 July 2021; Documents provided by Mark Angelini. ×
Source:
Interview with Mark Angelini, president, Mercy Housing Lakefront, 14 July 2021; Mercy Housing Lakefront. n.d. "Lofts on Arthington/Sterling Park." Accessed 21 July 2021; Documents provided by Mark Angelini; Royal Imperial Group. n.d. "Lofts on Arthington." Accessed 19 July 2021. ×
Source:
Documents provided by Mark Angelini, president, Mercy Housing Lakefront; Interview with Mark Angelini, 14 July 2021. ×
Source:
Royal Imperial Group. n.d. "Lofts on Arthington." Accessed 19 July 2021; Interview with Mark Angelini, 14 July 2021; Documents provided by Mark Angelini. ×