Designing Affordable and Equitable Housing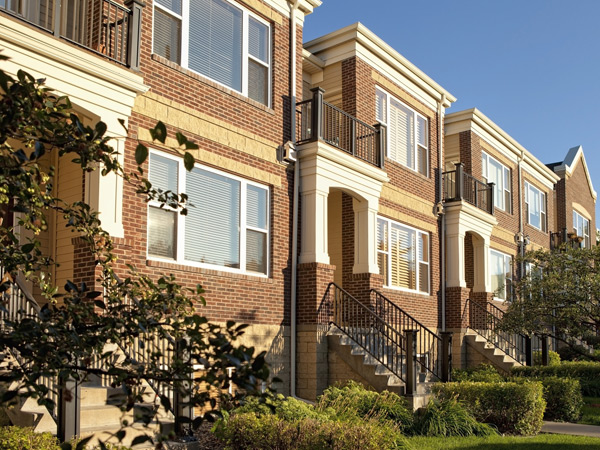 In a session at the 2018 Conference on Architecture, speakers highlighted the benefits of low-rise, high-density housing in walkable neighborhoods.
The American Institute of Architects hosted the 2018 Conference on Architecture from June 21 to 23 in New York City. One of the major themes of the conference was expanding the availability of sustainable and affordable housing — a pressing issue for growing cities such as New York, whose population is approaching 9 million. At one of the sessions, "Building for Density & Affordability: Creating Resilient Equitable Urban Communities," a panel of experts focused on ways in which informed design choices, such as developing high-density low- and midrise buildings, can help cities create housing that not only is affordable but also meets the social, cultural, educational, and healthcare needs of its residents.
Panelist Mark Ginsberg, a partner at Curtis + Ginsberg Architects, suggested shared housing as a possible solution to New York City's population explosion, noting that 33 percent of the city's residents are single-person households and that only 24 percent of residents currently live in shared housing. Such a solution, however, is hampered by the city's current housing law, which prohibits more than three unrelated people from sharing an apartment because of the risks associated with overcrowding. Other affordable housing options for single-person households include microunits and accessory apartments, which are often referred to as in-law suites.
Theodore Liebman, principal at Perkins Eastman and board member at the Consortium for Sustainable Urbanization, stressed that limits on existing land and natural resources should encourage the development of high-density, affordable communities but that those communities did not necessarily have to consist of high-rise buildings. As an example, Liebman related the history of the Brownsville neighborhood in Brooklyn, which thrived from the 1880s until 1930, when many residents left the aging buildings for the suburbs. From 1950 to 1965, the city constructed massive public housing superblocks in the neighborhood that added a half-million affordable homes but reduced social interaction and encouraged crime. In the 1970s, with the construction of Marcus Garvey Apartments, the city returned to the pre-World War II preference for what we now call "missing middle" housing: low-rise, high-density housing in walkable neighborhoods. Surprisingly, these low-rise buildings often housed more people per acre than high-rise buildings.
Susan Saegert, professor of environmental psychology at the City University of New York Graduate Center, discussed the psychological effects of living in high-density urban areas. Adults and children forced to live in small, high-density spaces often experience symptoms of social withdrawal. Children in these environments also receive lower test scores at school because of the psychological stress from a lack of outdoor space as well as activity constraints. Crowding in many urban homes can also harm relationships. Living in a 429-square-foot space can make a couple feel constrained and inhibit family formation. Panelists suggested several possible solutions, such as increasing living space by reusing existing vacant buildings, constructing more community centers, and adopting more mews-style housing, in which each home has a private front entrance. These low-rise buildings are also closer to the ground, which offers children areas to play and stimulates their psychological development. According to Saegert, the psychological benefits of mews-style housing are considerable; it affords residents a sense of community while also allowing privacy. Marcus Garvey Apartments in Brooklyn is an example of how mews-style housing can be successful if it is managed well and kept affordable. Ginsburg suggested that high-density microunits, although popular, may not be affordable to those who need them. These units may also be unsuitable for aging adults because they rely on wall space for storage, which can be too physically challenging for many seniors to use.
The panelists agreed that a need for more high-density affordable housing exists and that architects and psychologists are pursuing many avenues and ideas about how to provide housing that is affordable as well as socially and psychologically beneficial.