Unlocking the Power of Data Sharing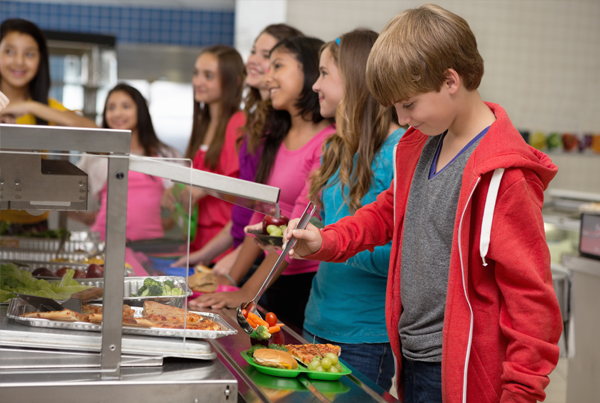 Data sharing helps minimize burdens placed on people applying for federal benefits and services, such as the National School Lunch Program for students.
Data are central to the efficient and equitable achievement of policy objectives, and agencies at all levels of government maintain countless datasets to further these ends. Linking together individual datasets can enhance their usefulness and reveal deeper insights, argued panelists in the "Enhancing Federal Data Sharing to Improve Programming for Low-Income Families" plenary session at the May 2023 Housing Is Summit, hosted by the Council of Large Public Housing Authorities (CLPHA). After delivering the session's opening remarks, Solomon Greene, Principal Deputy Assistant Secretary for Policy Development and Research at HUD, moderated the panel discussion. Participants included Ross Santy, associate commissioner in the Administrative Data Division of the National Center for Education Statistics at the U.S. Department of Education (ED); Lydia Taghavi, chief data officer at HUD; and Veronica Helms Garrison, analyst and team lead for data and research in HUD's Office of Policy Development & Research.
Considerations and Challenges
The paramount concern with building any dataset is data security and privacy — particularly as datasets are shared, said the panelists. The challenges involved in securing data can be enormous, even when an agency is working with its own data, as Taghavi recounted. She discussed HUD's efforts to compile all the policies and procedures that the agency uses for data management, processing, and dissemination, cataloging all data systems and elements that HUD collects. The goal of this project is to provide as much open data as possible while rigorously protecting the identities of every individual represented within HUD's datasets. Garrison added that agencies must employ myriad complex agreements when sharing data to ensure that they protect individual privacy and secure their data.
Although creating data linkages is important, said Greene, agencies must ensure that the interfaces practitioners use to access those data are easy to use and apply to real-world applications. Santy pointed to ED's work in developing technical assistance tools for education administrators and to ED's important backend role in managing and analyzing data to avoid overburdening local school districts as examples of promoting ease of use.
Data Sharing in Action
The panelists offered numerous examples of how data sharing among federal agencies advances important governmental priorities. Santy stated that data sharing can be crucial to overcoming the sometimes-fragmented nature of bureaucracy. She described a partnership between ED and the U.S. Census Bureau to use American Community Survey data to illuminate issues such as the share of homes with access to broadband or the percentage of families living in rental housing (which can be less stable than homeownership), which leverages insights about housing characteristics to reveal the challenges facing certain school districts and students that require tailored solutions.
Taghavi noted that data sharing, in combination with a White House Office of Management and Budget directive to minimize burdens placed on people applying for federal benefits and services, has encouraged greater coordination and collaboration among agencies; for example, helping enroll voucher program participants into other programs for which they are eligible.
Santy described how data sharing between ED and the U.S. Department of Agriculture has allowed participants in the National School Lunch Program to enroll more easily in other assistance programs. For students applying for federal financial aid, data sharing with the Internal Revenue Service has eased the paperwork burden for families filling out the Free Application for Federal Student Aid by auto-populating the form with known taxpayer information.
Garrison added that data sharing was essential in helping HUD achieve one of the objectives in its Fiscal Year 2022–2026 Strategic Plan, which calls for advancing policies that recognize housing as a social determinant of health. To that end, HUD is in the early stages of examining how housing is linked to health outcomes for parents giving birth. Linking data on HUD-assisted families to the National Hospital Care Survey has generated deeper insights into the effect of affordable and stable housing on health metrics such as birth weight, hospital stay durations, and the frequency of complications.
Future Directions
Federal research efforts are incorporating data sharing in novel ways. Garrison shared that some of HUD's new contracts with external researchers specify that the researchers should create tools that can help practitioners mobilize the researchers' findings. For example, HUD recently partnered with the U.S. Department of Health and Human Services to connect enrollment data from Medicare Advantage to HUD data on assisted households. This linkage allows property-level insights into insurance coverage that could, in turn, inspire partnerships among affordable housing providers and health insurers; the linkage also demonstrates the increasing importance of data sharing among federal agencies in achieving public policy results.
Read Principal Deputy Assistant Secretary for Policy Development and Research Solomon Greene's Leadership Message on federal data sharing here.