Harvard's Joint Center for Housing Studies Report: State of the Nation's Housing 2021 Release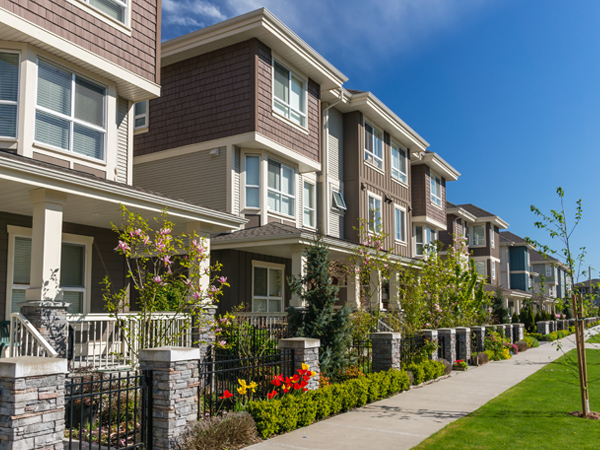 Although economic recovery is underway, racial and income inequalities persist in housing stability. Credit: istockphoto.com/vkyryl
Falling unemployment rates, reopening businesses, and increases in spending are indicators that the economic recovery period from the COVID-19 pandemic is underway. The State of the Nation's Housing 2021 report released by the Joint Center for Housing Studies of Harvard University (JCHS), however, highlights racial and income inequalities on the road to housing stability. In June 2021, JCHS held a virtual event in which housing experts discussed the report's findings and short- and long-term solutions to housing market challenges. Tracy Jan, reporter for the Washington Post, moderated the discussion among four panelists: Gary Acosta, cofounder and chief executive officer of the National Association of Hispanic Real Estate Professionals; Clarence Anthony, chief executive officer and executive director of the National League of Cities; Chris Herbert, managing director of JCHS; and Erika Poethig, special assistant to the president for Housing and Urban Policy at the White House Domestic Policy Council.
Study Findings Show Disparities in Financial Distress
Last year, employed millennials, finding themselves with extra cash, boosted demand in a tight housing market with low mortgage interest rates. The resulting price inflation requires prospective homebuyers to have higher levels of income and savings than they needed before the pandemic, and these new demands exclude low-income households and people of color without large financial reserves. In addition, financial distress has been unevenly distributed among existing homeowners, affecting some households' ability to stay afloat during the crisis. Furthermore, 16 percent of African-American, Hispanic, and Asian homeowners reported being late on their mortgage payments, a rate nearly twice that of white homeowners.
Disparities also exist in the rental market. Before the pandemic, 82 percent of renter households earning less than $25,000 per year were spending more than 30 percent of their income on housing. Already cost burdened, these households were also more vulnerable to pandemic-related job loss, with 21 percent of Hispanic renters and 29 percent of African-American renters still reporting late rental payments in early 2021. The report's qualitative data raise awareness of housing disparities and compel policymakers at all levels of government to acknowledge that some people have been more significantly affected by them than others.
Short-Term Responses Become Long-Term Solutions
With rental assistance, eviction and foreclosure moratoria, and other forms of immediate, short-term relief to housing stability set to expire, panelists discussed housing policies that will support housing stability in the long term. Poethig explained that the American Rescue Plan has provided $10 billion in mortgage relief to prevent foreclosures and delivered $350 billion in fiscal recovery funds to state, local, tribal, and territorial governments. The challenge now, Anthony explained, is to deliver these funds to homeowners, tenants, and landowners over the next 3 years, which will require the federal government to coordinate with municipal leaders. The first step for municipalities is to develop and implement programs to assist with mortgages, rent, and evictions.
Some officials at the state and federal levels have opted to make temporary housing solutions permanent. For example, California has a program to purchase hotels that supplied housing for people experiencing homelessness during the pandemic and convert them to permanent housing. Aiming to have a safety net in place for the next crisis, the federal government has issued 200,000 additional housing vouchers to avoid the need for emergency rental assistance in the future.
Changing Demographics Require Race-Specific Interventions
Previous JCHS studies stated that minorities and immigrants will make up 70 to 80 percent of new homebuyers over the next decade. When asked what policymakers can do to close the racial wealth gap, Acosta provided several policy options. Because one in three Latino families is self-employed and therefore has limited access to credit, Acosta's first suggestion was to expand credit access to significantly increase the number of Latino homeowners. Increased credit access along with downpayment assistance programs will also benefit African-American renters, the majority of whom have less than $10,000 in savings to fund a downpayment. According to one JHCS report, providing $15,000 in downpayment assistance could help up to 1 million African-American and 470,000 Hispanic renters transition to homeownership. Acosta also emphasized the need to increase diversity among real estate and mortgage professionals, which will increase trust and reduce racial bias as Latino and African-American clients navigate the home purchase and refinance process. Although one-third of white households refinanced their homes in 2019, only one-fifth of African-American households and a quarter of Asian and Hispanic households were able to do so. Research suggests that higher denial rates and lower appraisals for minority homeowners may be the culprit. Poethig noted that the Biden administration recently announced an interagency effort to address this issue through regulation, legal enforcement, and training.
These actions must be matched with a housing supply ample enough to serve mortgage-ready minority households, and Herbert highlighted zoning reform as a solution. Relaxing zoning restrictions to encourage the construction of smaller, modestly priced housing can increase the supply of affordable housing. Herbert said, "the federal infrastructure plan included funding for 500,000 homes to be rehabbed or built in…distressed communities…. [T]his is an important way to expand supply in many areas that are [populated] predominantly [with] people of color." Finally, once affordable housing is restored in previously distressed areas, inclusionary zoning policies can help prevent displacement of low-income and minority populations. Herbert concluded that this long-term perspective will get ahead of gentrification so that, as communities revitalize, all residents can benefit.