Using Healthcare Payors To Fill the Affordable Housing Gap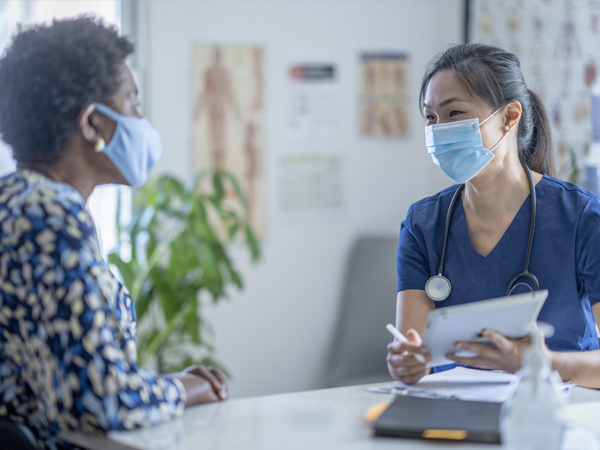 Studies have shown that quality, stable housing can improve residents' health outcomes and reduce healthcare costs. Photo credit: istockphoto.com/FatCamera
Despite the strong relationship between housing and health outcomes, access to quality health care and affordable housing often have been treated as separate goals. Some practitioners think this perception is starting to change, however, as an increasing number of hospitals and health insurance companies realize the ways in which housing conditions affect their patients and have moved to finance permanent supportive housing for those in need. On October 20, 2021, Enterprise Community Partners hosted a virtual panel, "Filling the Capital Stack: How Health Care Payors Can Help Fill the Affordable Housing Gap," to discuss how this housing finance model can work, focusing on one development in Mississippi. The discussion, moderated by Mary Elizabeth Evans, a housing manager at the nonprofit Gulf Coast Housing Partnership (GHCP), included speakers from the public, philanthropic, housing, and healthcare sectors.
How Housing Impacts Health
David Kulick, the founder and managing director of The Focus Group, described housing, along with food, transportation, and social services, as a social determinant of health, or an environmental condition that affects health outcomes. Kulick pointed out that multiple studies have shown that quality, stable housing can improve residents' health outcomes and reduce healthcare costs. One such study found that providing long-term housing to 10,000 Oregon residents who lacked stable housing decreased their healthcare expenditures by 12 percent. Another study found that providing stable housing offsets approximately $29,000 per person in public services costs every year, even when factoring in the housing costs.
Bringing Healthcare Payors to the Table
GCHP, which builds affordable housing projects in the Gulf Coast region, has been actively building long-term relationships with healthcare payors. The developer is trying to get Medicaid managed care organizations (MCOs) to help finance affordable housing projects that have onsite healthcare centers. GCHP serves traditionally underserved residents in Mississippi, Louisiana, and Alabama. In addition to having some of the highest healthcare needs in the country, these states collectively need 220,000 additional affordable homes for extremely low-income families to adequately meet demand.
One of GCHP's collaborative efforts, the Pearl senior living community, is underway in Jackson, Mississippi, a city with a poverty rate of nearly 25 percent. The development, located on the former site of a vacant Holiday Inn hotel, will provide 76 units of affordable housing and a large community healthcare facility. In addition to several conventional public and private funding sources, including state and federal housing tax credits, state and local HOME Investment Partnerships programs, and two Federal Home Loan Bank awards, the project is receiving financing from United Healthcare, which has joined the partnership to help improve the health of the state's Medicaid patients by focusing on social determinants of health. Evans, who was the project manager for this development, believed that the project likely would not have been possible without the low-cost debt that United Healthcare provided. Primus Wheeler, the executive director of the Jackson Medical Mall Foundation, said that, in addition to helping the future residents of the Pearl, this project will be a catalyst for new development in an underinvested community.
Making the Model Scalable
The panelists discussed ways to expand the use of the financing structure utilized for the Pearl throughout the state of Mississippi and beyond. They agreed that the primary way to promote this model is by explaining to health insurance companies and healthcare providers that housing affects health outcomes and, therefore, health costs. Kulick claimed that "success involves having the healthcare entities recognize that this is a shared burden that they have — not [only] from a community impact perspective but purely from their bottom line as well." As more hospitals and insurance companies realize the extent of this relationship, these types of partnerships will become increasingly common.
Simply communicating with healthcare payors about housing's impact on health care might not be enough to encourage these entities to invest in housing. Kevin Krejci, the chief capitalization officer at GCHP, explained that MCOs that support housing projects might make them more competitive for a state Medicaid contract, which allows developers to use these contracts as leverage. "I don't think it's a coincidence that our initial conversations [with healthcare organizations] with traction happened around state contract competition time," Krejci said. He explained that if an MCO believes that it needs to get a contract in the state, the organization might be inclined to engage in this kind of partnership even if it does not appear to yield the highest returns.
Although GCHP's partnership with United Healthcare made the development of the Pearl possible, it may be a long time before this model becomes scalable. These types of partnerships between healthcare entities and housing developers are still quite rare, which could discourage some risk-averse entities. Mississippi state senator John Horhn explained that "nobody wants to be the first in," so it is necessary "to challenge these entities to voluntarily embrace innovation." Horhn believes, however, that the process becomes smoother once the partners are assembled. GHCP is showing healthcare payors that financing permanent supportive housing can both help their patients and improve their bottom line.