Message From PD&R Senior Leadership
ConnectHome: Demonstrating How to Close the Digital Divide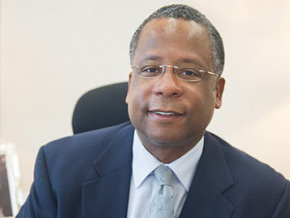 Calvin Johnson, Deputy Assistant Secretary for Research, Evaluation, and Monitoring.
On July 15, 2015, President Obama and Secretary Castro announced ConnectHome, a pilot initiative to expand access to high-speed Internet service in 27 communities and one tribal nation. With a focus on closing the digital divide in low-income communities, particularly among households with K–12 students, the ConnectHome initiative brings free or discounted high-speed Internet, computer and hardware to access the internet, and digital literacy training to HUD-assisted residents in these pilot communities. With the exception of the Choctaw Nation, high-speed Internet service is already available in the ConnectHome communities. However, access and adoption have been challenging largely due to cost, lack of computer access, and residents' perceptions of the relevance of the Internet.
An analysis of data from the American Community Survey (2013) and HUD administrative data shows that among households with a child age 18 or younger, HUD-assisted renters (80%) were less likely than unassisted renters (88%) to have a computer in the household (including smartphones and other mobile devices). Further, HUD-assisted renters (57%) were also less likely than unassisted renters (72%) to have in-home Internet access. These findings suggest that two out of five HUD-assisted renters with a child in the household lack in-home access to what amounts to an enormous collection of free online educational content to support children's development from the earliest stages of learning through the transition to college or career. Furthermore, these findings reveal that far too many families are still on the disconnected side of the digital divide — disconnected from their child's school and web-based educational content, from employment opportunities, from healthcare information, and from social networks that have migrated to social media platforms — and that HUD-assisted renters are among the most disconnected households.
In response to the low rate of Internet connectivity among low-income families with K–12 children, ConnectHome created a process in which the public and private sectors work together to make high-speed Internet more accessible for households in low-income communities, providing options for closing the digital divide. Specifically, EveryoneOn and US Ignite (HUD's partners in the initiative) are working with public housing agencies, Internet service providers, and other stakeholders to increase Internet access and adoption among public housing residents. Their collective efforts are intended to increase access to high-speed Internet in the home, expand the number of households with computers, and support digital literacy among K–12 students and their parents. Making progress in these three areas is of particular interest to HUD.
HUD's focus on bringing high-speed Internet access home is a natural extension of President Obama's ConnectED initiative, which has the goal of connecting 99 percent of K–12 students to high-speed Internet in the classroom and in public libraries. As such, ConnectHome provides us with an opportunity to be a learning partner as public housing agencies (PHAs) explore various ways to leverage public- and private-sector partnerships to effectively close the connectivity gap that exists for many children in their homes. Instead of families having to search for the next best available option for Internet connectivity when access through schools and libraries is not available, PHAs are entering into agreements with Internet service providers and other stakeholders to make the Internet accessible from a child's home. Imagine parents using the Internet to communicate with their child's teacher to ensure that homework and other assignments are completed. Imagine a parent who uses that same Internet connectivity to explore and maybe pursue their own educational goals, search for a better-paying job, or gather information about simple and cost-effective ways to support the health and well-being of household members. These are just a few of the reasons why ConnectHome and its focus on Internet connectivity, computer devices, and digital literacy are important.
ConnectHome also has an evaluation component. To track the pilot initiative's performance, HUD awarded an evaluation contract that will assess whether key objectives are being met. The first component is a survey of households with K–12 students that is intended to establish a baseline estimate of current in-home Internet connectivity. The evaluation will assess the type of in-home connectivity (such as wireless or cable/fiber optic) as well as the devices being used when connecting to the Internet (such as a laptop, netbook, smartphone, or tablet). For those households without in-home Internet connectivity, the survey assesses which factors family members report as being the primary barriers to connectivity.
The second component of the evaluation is a telephone survey of ConnectHome subscribers. This survey aims to understand families' digital literacy and training needs. The survey also assesses the extent to which household members know how to use and feel comfortable with using the Internet to support the education of both children and parents, engage in employment activities, and navigate the healthcare system. The third component of the evaluation is a series of focus group discussions in five ConnectHome communities. Each community will have two to three discussions with groups of residents, one PHA staff discussion, and one discussion with the city's lead — typically the mayor's office. These focus groups will be in-depth discussions to better understand whether and how new subscribers experience the benefits of Internet connectivity in their homes as well as what factors are keeping families from subscribing (resident groups); and lessons learned through the deal structuring and implementation phases that other PHAs should consider before undertaking similar efforts (PHA staff and city lead).
As ConnectHome implementation roll-outs continue, we are excited to be evaluating its progress and learning how expanded in-home Internet access benefits public housing residents, especially K–12 children and their parents.
Source:
With a grant from USDA, Choctaw Nation is collaborating with a few ISPs to expand the limited internet access currently available to its residents.
×
Source:
For all renters, HUD-assisted renters (59%) were less likely than unassisted renters (80%) to have a computer in the household; these figures include smart phones and other mobile devices. HUD-assisted renters (43%) were also less likely than unassisted renters (80%) to have Internet in the household.
×
Source:
It is worth noting that the National Housing Conference brief "The Connectivity Gap: The Internet Is Still Out of Reach for Many Low-Income Renters" (April 2015) reports that among extremely low-income renters (those earning incomes below 30 percent of the area median income), 37 percent do not have a computer at home and 54 percent lack in-home Internet access. Although the likelihood of having a computer at home and in-home Internet access increases with income, persons living in households with an income below the area median income are less likely to be connected and have a computer.
×