D.C. Metrorail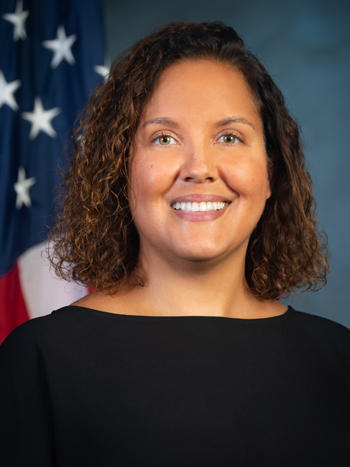 Heidi J. Joseph, Director of the Research Utilization Division for Policy Development and Research.
A robust public transportation system can democratize a space, opening a city and its surrounding communities to development, work, education, and entertainment. In Washington, DC, residents and visitors can travel throughout the metropolitan area using the Metrorail system, run by the Washington Metropolitan Area Transit Authority (WMATA). Starting in March 1976 with a single 4.2-mile segment connecting the Rhode Island Avenue and Farragut North stations, residents and tourists can now traverse 117 miles of rails that connect 91 stations along the Red, Green, Orange, Blue, Yellow, and Silver lines. Public transportation is deeply intertwined with many topics central to HUD's mission, including housing affordability, equity, and climate resiliency.
Housing Affordability
The cost of transportation contributes significantly to housing affordability. The Bureau of Transportation Statistics found that households spent an average of $9,826 on transportation in 2020, and a 2011 study from the DC Office of Planning and the Center for Neighborhood Technology found that average household transportation costs in the region ranged from $8,500 to $25,000 per year. Location affordability considers the cost of housing, the cost of transportation, and income when determining how affordable a location is.
Public transportation — including not only rail systems such as Metrorail but also buses and shared transportation options such as bikeshare programs — is essential to making life affordable at different income levels. With pay-per-ride costs ranging from $2.00 to $6.00 depending on the time of day, day of the week, and distance, Metrorail provides commuters with a cost-effective and reliable transportation option that allows them to live in more affordable locations throughout the metropolitan area. Metrorail also brings transportation affordability to students; people ages 5 to 23 who are enrolled in a DC public school, public charter school, or private school can ride Metrorail, Metrobus, and the DC Circulator bus to school and school-related activities at no cost.
Although the Metrorail system helps make the region more affordable by offering residents a relatively low-cost travel option, a different dimension of affordability arises when you look at the cost of housing near Metrorail stations — both existing housing close to new Metrorail construction and new housing at existing Metrorail stations. Freddie Mac found that "proximity to a Metro station in the DC Metro Area increases the prices of nearby houses….[T]he closer the house is to the station, the higher the price." Although rising property values around a Metrorail station are a boon to some individuals, such as nearby homeowners, higher home prices and rents around new and existing Metrorail stations can rapidly displace existing lower- and middle-income residents, forcing them into areas with less expensive housing costs but higher transportation costs.
In 2021, more than half of new multifamily residential construction in the region was within a half-mile of a Metrorail station. With rents substantially higher near Metrorail stations and most new multifamily residential construction occurring around those same stations, the need for affordable housing units in new housing developments near Metrorail stations is abundantly clear. Luckily, WMATA recognizes the need to collocate affordable housing with transit stations. On April 7, 2022, WMATA released its 10-Year Strategic Plan for Joint Development that highlights its plans to expand transit-oriented development. As WMATA stated, "This unique transit-oriented development approach to affordable housing promotes diverse, connected, and sustainable communities."
The need to incorporate affordable housing into the region's public transportation development plans has become more pressing following the announcement that Arlington, Virginia, will be the home of Amazon's second headquarters. Immediately following the announcement, many asked how the proposed development would affect area housing, particularly affordable housing. Will the new development make it harder for lower-income individuals to find housing in the Washington metropolitan area? In a city that consistently has some of the highest rents in the country, will the new headquarters make finding housing difficult even for moderate-income individuals? In June 2021, WMATA and Amazon announced a $125 million commitment to create 1,000 affordable housing units at Metrorail stations in the region over the next 5 years. The first transit-oriented affordable housing developments stemming from that commitment were announced in March 2022: 748 residential units will be built near the New Carrollton and College Park stations. Estimates suggest that by 2025, Washington, DC, will need to create 12,000 affordable residential units for low-income residents and preserve an additional 6,000 affordable homes. Although the promised 1,000 Amazon-supported affordable housing units may seem like a drop in the bucket when considering the region's larger housing needs, it is nevertheless an important contribution.
Equity
For many years, people have pointed out that public transportation in the Washington metropolitan area favors wealthier communities and suburbs. Too often, lower-income communities face longer commutes with more complex public transportation combinations (such as rail or bus transfers) than wealthier neighborhoods do, even when the wealthier neighborhoods are significantly further away from downtown Washington, DC. Hearing calls for change, WMATA is beginning to fold different dimensions of equity into its planning efforts through its Transit Equity Framework. Through the framework, WMATA seeks to "provide safe, equitable, reliable and cost-effective public transit by connecting communities, improving mobility, and stimulating economic developement." Seeing these conversations happening at the local, state, and federal levels is encouraging as we strive to embed equity into our short- and long-term visions for our communities and our nation. (Check out HUD's Equity Action Plan to see how HUD plans to build equitable communities across the United States.)
Public Transportation and Climate Resiliency
For those who are concerned about their impact on the environment, public transportation such as Metrorail offers another means of shrinking one's carbon footprint. Households living within a half-mile of a Metrorail station used their cars 20 to 25 percent less often than did households living further away from Metrorail stations. When households reduce their reliance on automobiles, they also reduce their carbon emissions and limit the negative environmental impact of urban development. HUD plays a vital role in this sphere through its Climate Action Plan, which includes the goal of reducing greenhouse gas emissions. One means of achieving this goal is to "explore incentivizing or otherwise assisting communities to implement land use changes that allow for denser, transit-oriented housing development that reduces households' reliance on cars, by far the largest source of greenhouse gas emissions in the transportation sector."
Looking Ahead
In 2014, Metrorail expanded the Silver Line to Reston, Virginia, and residents now eagerly await the next expansion, which will make Dulles International Airport directly accessible by rail, possibly as early as summer 2022. Talk of further expansion is ongoing, and a recent WMATA study recommended a potential Metrorail extension that will facilitate access to National Harbor and southern Prince George's County, Maryland, offering Metrorail service to lower-income areas of Washington, DC, and Prince George's County that currently lack rail service. As decisionmakers in the area increasingly are focused on the need to incorporate affordable housing and equity into plans for transit-oriented development, I am optimistic that further Metrorail expansion will consider the housing needs and rights of individuals across different income groups, ensuring that new development benefits everyone, not just the most affluent.
The future of the Metrorail is a bit more uncertain today than it was in February 2020. As the city (and the world) became consumed by the COVID-19 pandemic, many workplaces in the Washington metropolitan area, including nearly all federal government operations, moved to full-time telework. Average daily ridership on Metrorail plunged from 626,000 in 2019 to 136,000 in 2021. Previously reliable metro riders commuted in their pajamas from their bedroom to the kitchen table, taking with them much-needed revenue that WMATA has depended on throughout its existence and contributing to the need for $2 billion in federal assistance to support Metrorail's's operating budget. The long-term impact on the Metrorail system will become clearer as we pivot to a more permanent post-COVID world.