Changing the Built Environment to Combat Violent Crime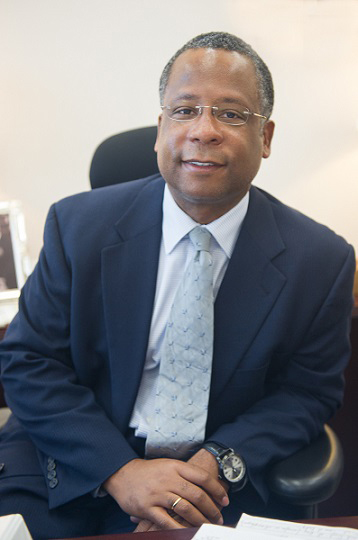 Calvin Johnson, Deputy Assistant Secretary for the Office of Research, Evaluation, and Monitoring.
Between 2019 and 2020, firearm homicide rates increased by 35 percent, reaching their highest rate in more than 25 years. In 2020, counties with the highest poverty levels had firearm homicide rates nearly 5 times greater than those in counties with the lowest poverty levels. Because of the elevated rate of firearm violence in high-poverty geographic areas, as well as the fact that households that receive HUD-assisted rental subsidies also are concentrated in geographic areas with high poverty levels, HUD established a department wide workgroup to assess current efforts to combat violence in and around HUD-assisted properties and to partner with other federal, state, and local governments; community-based organizations; academics; and those with lived experience to support local community violence interventions, especially among HUD grantees experiencing an uptick in gun violence and other violent crimes. To provide some context, approximately 20 percent of households receiving a HUD-assisted rental subsidy reside in census tracts with poverty levels of at least 40 percent, and another 15 percent live in census tracts with poverty levels of 30 to 39 percent; more than half of households live in census tracts with a poverty level of 20 percent or greater.
On June 23, 2021, the Biden administration announced a comprehensive strategy to combat gun violence. One component of the strategy involves supporting the implementation of evidence-based community violence interventions such as hospital-based interventions and violence interrupters. Both interventions involve engaging high-risk individuals, often in high-risk places, to diffuse interpersonal conflicts that have the potential to result in violence. Both interventions typically deploy skilled individuals, many with lived experience, to diffuse violence and connect those at risk of violence to employment, housing, health, behavioral health, and other needed social services.
Environmental Design Approaches to Preventing and Responding to Gun Crime
HUD is well positioned to address community violence in urban areas with strategies that combine people-based approaches such as community violence interventions with place-based efforts that target physical improvements to affected communities. A growing body of research on Crime Prevention Through Environmental Design focuses on cleaning and greening vacant lots and land. Two recent randomized evaluations highlight the promise of greening vacant lots on crime prevention and mental well-being. Both studies emphasize the impact of low-cost, scalable investments to reduce crime, especially in high-poverty minority neighborhoods that historically have been underserved.
First, a recent cluster randomized evaluation illustrates the effectiveness of low-cost greening efforts on crime rates and perceptions of public safety. The researchers found that, compared with untreated vacant lots, vacant lots that were greened had greater reductions in rates of overall crime, gun assaults, and burglary. Moreover, in neighborhoods below the federal poverty level, greening vacant lots resulted in even greater reductions in gun assaults than in untreated vacant lots.
Residents living near greened vacant lots also reported reduced perceptions of crime and vandalism compared with residents living near untreated vacant lots. These residents also reported decreased concern about their safety when going outside their homes and increased use of outdoor spaces for relaxing and socializing.
Second, an analysis of data on the mental health and well-being of the adult respondents in the previous study demonstrate the mental health benefits of low-cost greening efforts. Residents living within a quarter mile of vacant lots that had been greened experienced decreased feelings of depression and worthlessness compared with similar residents living near untreated vacant lots. Moreover, this decrease was even greater among residents of neighborhoods with average annual incomes below the federal poverty level. Perhaps surprisingly, no mental health benefits were observed when comparing vacant lots targeted for trash cleanup only with untreated vacant lots.
Greening the vacant lots in these studies cost approximately $1,600 per lot ($5 per square meter) and $180 per year for maintenance. The greening intervention involved removing trash, grading land, planting new grass, planting trees, and installing a low wooden fence.
Note that the causal relationship between cleaning and greening vacant lots is mediated by social processes. The most important process is collective efficacy. Most greening and cleaning projects are community engagement efforts, bringing neighbors outdoors to collaborate on a community project. This collective engagement fosters social cohesion and social ties that are important in controlling crime and disorder within neighborhoods. Collective efficacy, however, is "the process of activating and converting social ties among neighborhood residents" to demonstrate the common goal of controlling crime and social disorder in the neighborhood. Social cohesion and social ties alone are not enough to combat crime and disorder in communities; they must be activated and converted into a relationship of trust among neighbors, signaling that they are united in addressing the physical environment that contributes to crime and disorder. Neighborhood-led cleaning and greening projects represent collective actions that exercise social cohesion and social ties to benefit the neighborhood, influencing social control over criminal activity.
As previously discussed, HUD is uniquely positioned to address community violence in urban areas. In fact, Choice Neighborhoods Initiative (CNI) and Community Development Block Grant (CDBG) program grantees are implementing locally driven environmental design features in their neighborhood transformation and community development efforts. In the coming months, HUD plans to host representatives from public housing agencies and jurisdictions receiving CNI and CDBG funds to share promising preventive interventions to combat violent crime. Participants will discuss low-cost, scalable solutions such as cleaning and greening projects and other interventions such as remediating vacant lots, lands and deteriorating properties, improving street lighting, and partnering with local law enforcement to assess the built environment and identify vulnerable areas that potentially increase public safety risks.
In closing, a growing body of literature is examining the relationship between remediating vacant lots and crime, with more recent work addressing the causal relationship. An estimated 15 percent of land in the United States is classified as vacant and blighted, and HUD is well situated to work with its grantees and federal, academic, and research partners to identify effective remediation strategies for vacant lots that contribute to the viability of the communities it serves.
I look forward to working with our partners to identify promising strategies to combat violent crime, especially those involving low-cost, scalable changes to the built environment.