Expanding Small Area Fair Market Rents To Increase Housing Opportunities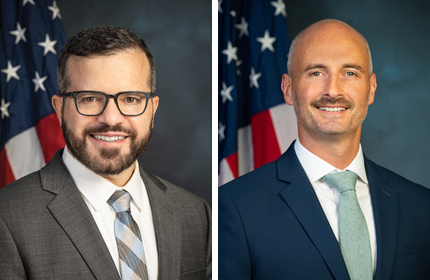 Solomon Greene, Principal Deputy Assistant Secretary for Policy Development & Research (left) and Brian J. McCabe, Deputy Assistant Secretary for Policy Development (right).
Solomon Greene, Principal Deputy Assistant Secretary for Policy Development & Research
Brian J. McCabe, Deputy Assistant Secretary for Policy Development
Last week, HUD announced an important policy action that will greatly expand housing and neighborhood opportunities for families using housing choice vouchers (HCVs): HUD is increasing the number of metropolitan areas that will be covered by its 2016 Small Area Fair Market Rents Final Rule.
Small Area Fair Market Rents (SAFMRs) allow public housing agencies (PHAs) to set payment standards (that is, the maximum rent that housing vouchers will cover) at the ZIP Code level rather than at the metropolitan level. SAFMRs generate voucher payments that more accurately reflect the local rental market, allowing voucher holders to access a wider range of neighborhoods that meet their and their family's needs.
Under the 2016 rule, PHAs in 24 metropolitan areas were required to use SAFMRs to administer their voucher programs. Since then, additional PHAs either have voluntarily adopted SAFMRs or are using SAFMRs as exception payment standards to increase neighborhood choice for their voucher families. (To learn more about PHAs nationwide that have adopted SAFMRs or use them to set exception payment standards, check out HUD's SAFMR dashboard.)
With last week's announcement, HUD will require PHAs in an additional 41 metropolitan areas to adopt SAFMRs. This change means that PHAs using SAFMRs will administer 45 percent of all vouchers in the HCV program.
Expanding the SAFMR Final Rule is an important policy tool in HUD's ongoing efforts to empower families to live in housing and neighborhoods they choose, improve their access to opportunity, and reverse decades of harmful racial and economic segregation.
By design, SAFMRs ensure that families have access to affordable rental housing in every community in a metropolitan area regardless of its location. In principle, these ZIP Code-based rent limits guarantee that approximately 40 percent of rental units in each community will be affordable to families renting with a voucher. Although other factors, such as the number of vacant units in the ZIP Code, also influence families' access to neighborhoods, SAFMRs are a huge step forward in expanding opportunities.
HUD's commitment to expanding opportunity and promoting choice are bedrock components of the HCV program. This commitment rests on empirical evidence supporting the significant influence of neighborhood characteristics on families' well-being, including their health and their children's chances of educational and economic success. For example, children in families that use HCVs to live in low-poverty, high-opportunity neighborhoods are much more likely to attend college, and they earn more as young adults. These findings also support the conclusions of early research evaluating the SAFMR Final Rule, which found that SAFMRs have helped families with children move to neighborhoods that score higher on opportunity measures, such as poverty rates and school proficiency.
Despite these benefits, policymakers must do more to consistently offer families meaningful choices of neighborhoods that best meet their needs. Although households renting with a voucher experience increased stability and lower rent burdens than do those renting without a voucher, the promise of true neighborhood choice has often been elusive.
SAFMRs are an important tool for creating opportunity, but HUD must pursue other steps to enable meaningful neighborhood choices for families. HUD is creating several policies to empower families and expand neighborhood choices for voucher holders. Landlord incentive programs are encouraging broader participation among private landlords, especially those in high-opportunity areas. Robust housing search assistance, such as that provided by PHAs participating in HUD's Community Choice Demonstration Program and the Creating Moves to Opportunity program in Seattle and King County, is one type of support that is critical to families' success. And in recent years, HUD has changed the way it calculates Fair Market Rents to ensure that payment standards keep up with rising housing costs. These tools are important, but they require the availability of units in high-opportunity neighborhoods to succeed.
The expansion of SAFMRs lays the groundwork for the success of these programs and policies. It ensures that units will be available to voucher holders in every ZIP Code in a metropolitan area, including those with the highest rents.
As we expand the use of SAFMRs over the next year, we want to recognize the work of our colleagues in the Office of Public and Indian Housing (PIH) and across HUD to provide technical assistance, training materials, and peer-to-peer learning for agencies adopting SAFMRs. We're proud of the extensive policy development process that informed the SAFMR expansion, which we described in a recent leadership message in PD&R Edge. Last week's announcement underscores HUD's continued commitment to developing innovative, evidence-based solutions for expanding opportunity and choice for HUD-assisted tenants.