South Bend's Vacant and Abandoned Housing Challenge: 1,000 Houses in 1,000 Days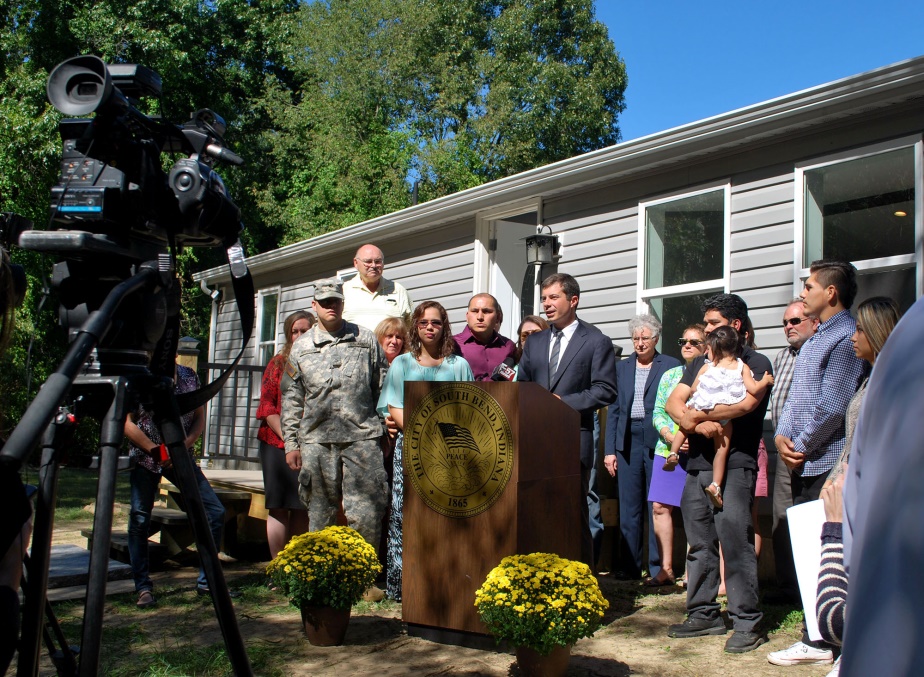 In September 2015, South Bend Mayor Pete Buttigieg celebrated achieving the initiative's goal in front of "the 1,000th home." Credit: City of South Bend
The large number of abandoned and vacant homes in South Bend, Indiana, was one of Pete Buttigieg's top priorities during his successful 2011 campaign for mayor. Like so many other Midwestern cities, South Bend was once a manufacturing center whose major employers closed down operations, with resulting job losses sending its population plummeting from a peak of 132,445 in 1960 to 101,168 in 2010. Soon after taking office, Mayor Buttigieg appointed a task force of city and county representatives, private and nonprofit developers, and residents to analyze the city's stock of vacant and abandoned houses and develop a plan to address them. In so doing, the task force examined how the city conducted code operations, the data it had on vacant and abandoned properties, and the tools that other communities in the state and the country use to address such properties. The group, co-chaired by Buttigieg and Jim Kelly, clinical professor of law at the University of Notre Dame, released the Vacant & Abandoned Properties Task Force Report in February 2013. Shortly afterward, the mayor announced a new initiative to address — through rehabilitation and demolition — 1,000 vacant and abandoned houses in 1,000 days.
Identifying the Scale of the Problem
The report, which defined a vacant house as one that has not been occupied for more than 90 days and an abandoned house as one that's vacant with a code violation that's not been addressed in more than 30 days, identified 1,900 vacant and 1,275 abandoned properties throughout the city. To help policymakers decide how to remediate these buildings, the report classified properties according to building conditions and neighborhood market indicators. Proposing strategies to make the most of the city's strained budget, the report recommended that the city's code enforcement office seek out responsive property owners to address nuisance buildings as quickly as possible. For properties whose owners were unable or unwilling to cooperate, the report proposed that the city initiate receivership proceedings to find new owners to repair the properties, establish a- land bank, and encourage neighborhood residents to undertake clean-up and repair work under the Good Samaritan Law and other existing programs. Another set of recommendations called for the city to work with the community to determine how to reuse vacant and abandoned properties in ways that benefit South Bend's neighborhoods.
Vacant and abandoned properties drain community resources by depressing neighboring property values. They also correlate with higher rates of crime and arson, and are often tax delinquent, which further harms cities. Moving quickly to ameliorate these problems in South Bend, Mayor Buttigieg launched the 1,000 Houses in 1,000 Days initiative. The program committed the city to addressing about two-thirds of South Bend's vacant and abandoned houses in less than three years by identifying and assessing the buildings that could be rehabilitated or demolished quickly. As part of the initiative, the city also improved its ability to expedite the legal and financial processes for rehabilitation and demolition.
Over a two-week period in summer 2013, members of the city's code enforcement department visited every property on the list of vacant and abandoned properties to assess each property's condition and to determine if it was repairable or should be demolished. Critical to this effort, says Pamela Meyer, South Bend's director of neighborhood engagement, was the city's capacity to scale up the number of demolitions that it could complete quickly under the authority of the Unsafe Building Law. The city's ability to complete a large number of demolitions induced some owners of vacant and abandoned properties to take action. "Once people in the community saw that the demolitions were occurring, not just talked about, it seemed to incite their interest to [repair their properties]." Improving the hearing and code processes to better engage with property owners further encouraged owners to come forward and rehabilitate their properties, Meyer says.
By the program's end, the city had exceeded its goal and addressed 1,122 houses: 427 were repaired, 569 were demolished, 10 were deconstructed, 6 were set aside for repair by community development corporations, and 110 were under contract for demolition.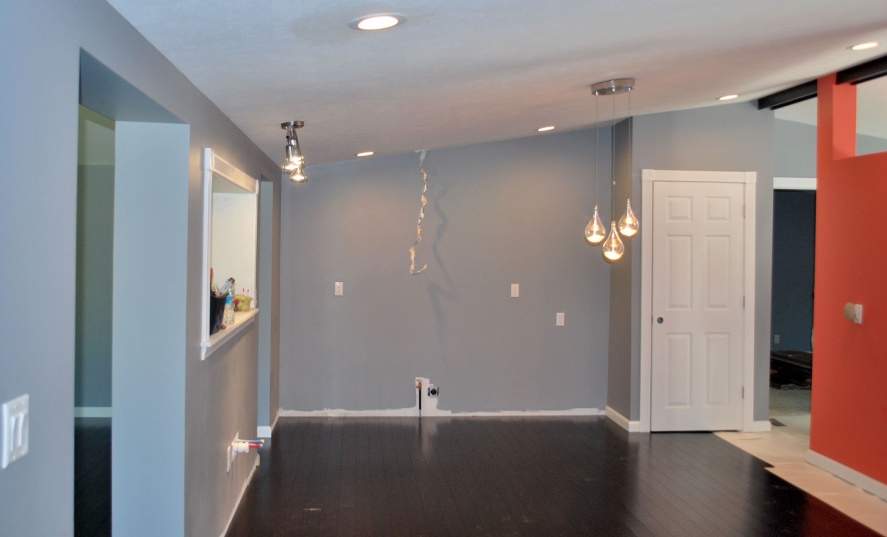 House rehabilitation often involved significant upgrades to the interiors. Credit: City of South Bend
Funding Sources
The budget for the 1,000 Houses in 1,000 Days initiative was $10.5 million. The funding came from HUD's Community Development Block Grant program, the Neighborhood Stabilization Program, and the state's Blight Elimination Program. The city also used its Vacant to Value Matching Repair Grant program, which offers owners of vacant and abandoned properties a $10,000 grant if they match at least 20 percent of the grant, address all code violations, and agree to live in the house for at least 3 years. The grant program is administered by the Urban Enterprise Association, which has also contributed its own funds to the city's efforts and paid to demolish other vacant and abandoned properties within and near the enterprise zone that the association oversees.
Looking Beyond 1,000 Houses in 1,000 Days
City officials are now assessing the impact that addressing these 1,000 properties has had on South Bend. A preliminary study has shown that crime rates have declined in areas close to formerly abandoned properties, and some houses are back on the tax rolls as owner-occupied or rental properties. At the same time, the city is determining the best uses for the 1,000 buildings and lots. According to Elizabeth Maradik, a planning associate in the South Bend Department of Community Investment, the city will focus on addressing the remaining abandoned and vacant properties, as well as preventing future vacancies and abandonment. As part of this effort, the city is coordinating possible end uses, such as pocket parks and urban agriculture, with implementation of its main street plan for two major corridors on the city's West Side.