Westside Atlanta Housing Project Helps Legacy Residents Stay in Community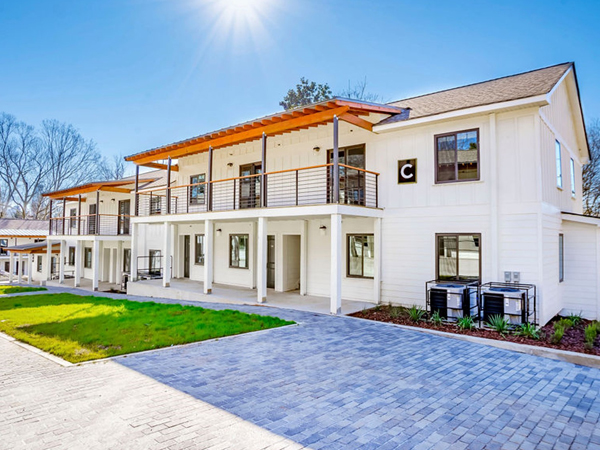 Today, there are 31 newly renovated apartments at 395 James P. Brawley Drive, 20 of which are supported with project-based vouchers. Photo credit: Westside Future Fund
Since 2014, nonprofit Westside Future Fund (WFF) has been committed to revitalizing the four predominantly African-American neighborhoods that constitute Atlanta's Westside. As part of the organization's goal of limiting displacement, WFF creates and preserves quality affordable housing for Westside residents. The first vacant property the organization rehabilitated into affordable housing, a small three-building complex, opened in April 2021.
Atlanta's Westside
Atlanta's Westside neighborhoods of English Avenue, Vine City, Ashview Heights, and Atlanta University Center (AUC) have a rich history. Throughout much of the 20th century, Atlanta's Westside was home to many middle-class African Americans, including the Reverend Dr. Martin Luther King Jr. and other civil rights icons. Some of the country's most prestigious historically black colleges and universities (HBCUs), such as Morehouse College and Spelman College, are in the Westside. Even as the area experienced disinvestment and poverty in the latter part of the 20th century, the Westside has remained a resilient community with a vibrant culture.
In recent years, investment in the area has increased, most notably with the 2017 opening of the new football stadium for the Atlanta Falcons. This revitalization, however, has raised concerns of gentrification, and many longtime residents are becoming priced out of the neighborhood, with more than half spending more than 30 percent of their income on rent. In this part of the city, the median monthly rent exceeds $900, but the median annual household income remains less than $33,000; in some Westside neighborhoods, this figure is closer to $25,000. In response, neighborhood groups organized to limit residential displacement and preserve Westside's culture.
Westside Future Fund
In 2014, a coalition of leaders from Atlanta businesses, nonprofits, and universities formed the independent Westside Future Fund. This nonprofit organization, which is supported primarily through donations, was formed out of a desire to address long-term inequities in the Westside. Its stated goal is to "equitably revitalize and preserve the culture of four Historic Westside neighborhoods." WFF targets numerous impact areas ranging from education to health and wellness, although a significant part of its work is focused on housing. Through its Home on the Westside initiative, WFF helps ensure that longtime residents benefit from the community's revitalization by assisting them with housing costs. The organization offers financial aid to existing and displaced residents of the Westside who are interested in buying homes and helps current homeowners remain in their houses by covering the cost of property tax increases. WFF has also acquired select market-rate apartment buildings to preserve their current rental rates. In addition, the organization has constructed affordable single- and multifamily housing on vacant and abandoned parcels. Although WFF acquires most of its properties on the marketplace, it is sometimes able to obtain vacant land and structures from the city or the Atlanta Housing Authority through a request for proposals process. Between the properties WFF acquired and constructed, the organization currently operates 181 housing units.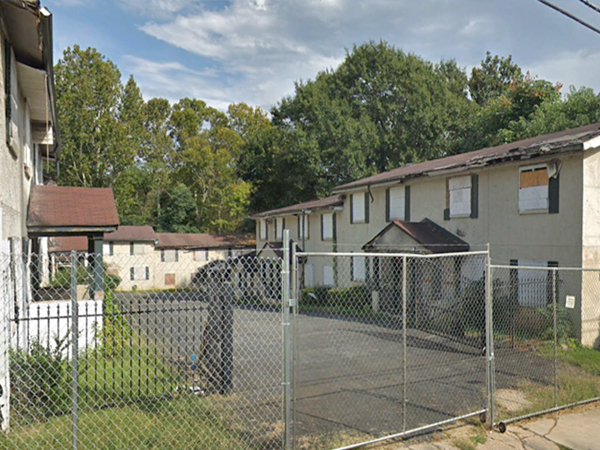 Westside Future Fund (WFF) purchases vacant and abandoned residences like these structures at 395 James P. Brawley Drive — shown here prior to renovation — and converts them into affordable housing for existing and displaced residents of Atlanta's Westside. Photo credit: Westside Future Fund
395 James P. Brawley Drive
In 2018, WFF purchased a former residential complex at 395 James P. Brawley Drive and began renovating the three abandoned buildings. After adding bedrooms to some of the existing units to make room for larger families, the resulting development had 31 apartments, including 6 three-bedroom, 22 two-bedroom, and 3 one-bedroom units, all facing a central courtyard. Building amenities include an onsite meeting room and laundry room as well as access to free high-speed internet service. The apartments are also within walking distance of parks and the Michael R. Hollis Innovation Academy, a public STEM (science, technology, engineering, and mathematics) school for students up to eighth grade.
Twenty of the units are designated for project-based Section 8 vouchers. WFF subsidizes the rent of the other 11 units to ensure that residents do not pay more than 30 percent of their income toward rent. Currently, most residents pay roughly $550 per month in rent. All apartments at 395 James P. Brawley Drive are targeted to existing and displaced residents of the Westside and, as with WFF's other housing units, applicants are prioritized based on factors indicating their ties to the area, including being a current area resident; having children attending an area school; and being an alumnus of area schools, including one of the four HBCUs in AUC.
The cost of renovating these old housing units was approximately $5.5 million. All the capital financing, as well as the surplus rent subsidies, came from WFF. WFF's primary contributors are large corporations, primarily based in Atlanta, as well as other nonprofit organizations.
More Than Housing
Although providing more affordable housing for legacy residents is an important goal of WFF, some residents might not view such housing as beneficial if it is not designed with the community in mind. In fact, Rachel Carey, WFF's chief real estate officer, says that new construction can signal to residents that such developments are not "for them." Rehabilitating the existing buildings at 395, said Carey, was an intentional decision to make existing residents feel welcome to stay in their community. WFF is committed to ensuring that legacy residents benefit from the Westside's revitalization, and designing housing with residents in mind is an important part of this goal.
Source:
Email correspondence with Rachel Carey, 2 March 2022. ×