Permanent Supportive Housing for New Jersey Veterans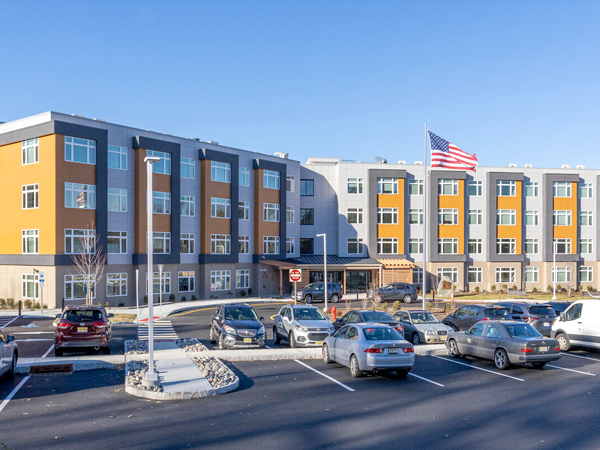 The Gordon H. Mansfield Veterans Village in Tinton Falls, New Jersey, provides 70 units of permanent supportive housing to veterans who were experiencing or at risk of experiencing homelessness. Photo credit: Winn Development
The Gordon H. Mansfield Veterans Village in Tinton Falls, New Jersey, provides 70 units of permanent supportive housing for veterans. The community is named after a disabled Vietnam War veteran who dedicated his postservice life to helping veterans. The residents, all of whom earn incomes at or below 80 percent of the area median income (AMI), have access to case managers and support services to help them with their daily living activities. This development, which opened in November 2021, is the product of years of collaboration among WinnDevelopment; Soldier On; and several public, private, and community partners.
Bringing Veterans' Housing to Central New Jersey
As a nonprofit organization committed to ending veteran homelessness, Soldier On primarily focused on providing shelter and transitional housing support during its first decade of operation. Approximately 15 years ago, however, the organization's leaders saw an urgent need to provide permanent supportive housing to veterans experiencing or at risk of experiencing homelessness. In 2010, the organization opened its first permanent housing project in western Massachusetts. After opening permanent supportive housing developments in Massachusetts, the organization sought to open a similar development in central New Jersey. When a plan to build housing on Fort Monmouth, an inactive military base, fell through, the adjoining Borough of Tinton Falls offered Soldier On land for veterans' housing. The developer of a nearby senior living community had given the municipality this land for affordable housing to meet its statutory affordable housing obligation. The borough, which was very supportive of the project from the beginning, also provided property tax abatements for Gordon Mansfield.
The Residences
The apartments are in a four-story, energy-efficient building specifically designed to minimize sound to protect those with posttraumatic stress disorder. These one-bedroom apartments are fully furnished and come with pillows, linens, cookware, cleaning supplies, and more. Utilities, cable, and internet service are also included in the rent. Community spaces onsite help foster social interaction. The 6-acre property includes a patio with grills, a walking trail, and two greenhouses. The development also a features separate wing for female residents who want more privacy, which can be particularly important for those who have a history of sexual trauma. Residents of this wing can interact with their neighbors as much as they like but always have their own community space available. The $22.5 million project was funded primarily with low-income housing tax credit (LIHTC) equity, New Jersey Housing and Mortgage Finance Agency grants, Monmouth County HOME Investment Partnerships funds, and a Federal Home Loan Bank of New York subsidy.
All the units are for veterans earning between 30 and 80 percent of AMI, with 18 units reserved for residents earning up to 30 percent of AMI, 24 for those earning up to 50 percent of AMI, 10 for those earning up to 60 percent of AMI, and 18 for those earning up to 80 percent of AMI. According to David Ginsberg, senior vice president at WinnDevelopment, including apartments for residents earning more than 60 percent of AMI was unusual for a project in which all units were supported with LIHTCs. Until recently, LIHTCs could be used only for housing for residents earning at or below 60 percent of AMI; however, a new federal law allows developers to use the credits for projects housing residents earning up to 80 percent of AMI as long as the average targeted AMI is at or below 60 percent. Bruce Buckley, chief executive officer and president of Soldier On, and Kellie Donovan, who oversees the Tinton Falls property, feel that being able to include residents with slightly higher incomes is important for this population. They explain that many veterans who earn a higher income "on paper," often from their time in the service, still suffer from addiction or face other obstacles to obtaining housing and need the support services that this veterans' community offers.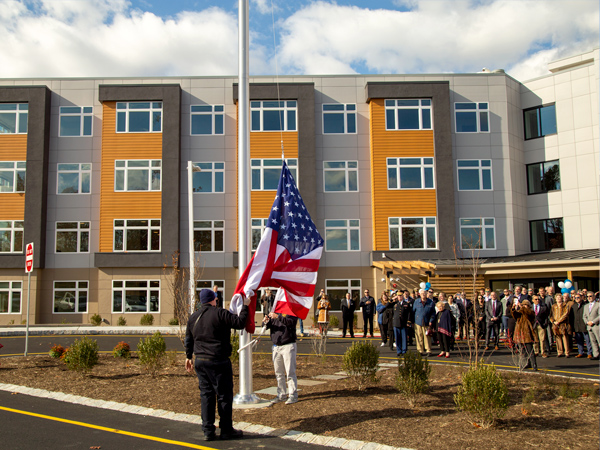 Onsite staff provides wraparound services to assist residents with their medical, financial, legal, and other personal needs. Photo credit: Winn Development
Serving Veterans
A Collaborative Effort
This project was a collaborative effort among the public and private sectors and individual contributors. Several elected officials were early supporters of the effort to build veteran housing in the area. Some local businesses donated time or materials to help construct the building. The local food bank and other nonprofits donate food and other necessities for the project. A few individuals have even volunteered to build furniture for the residents. According to Buckley, the project was possible only because of these partnerships. The development "would not have happened without all of those pieces," he said. Residents also give back to the community; some volunteer in the greenhouses, one of which was donated by the Fulfill Food Bank of Monmouth and Ocean County, to provide food for borough residents.
Source:
Interview with Bruce Buckley, Kellie Donovan, and David Ginsberg, 10 June 2022. ×