Supportive Housing in Los Angeles Embodies Policy Innovations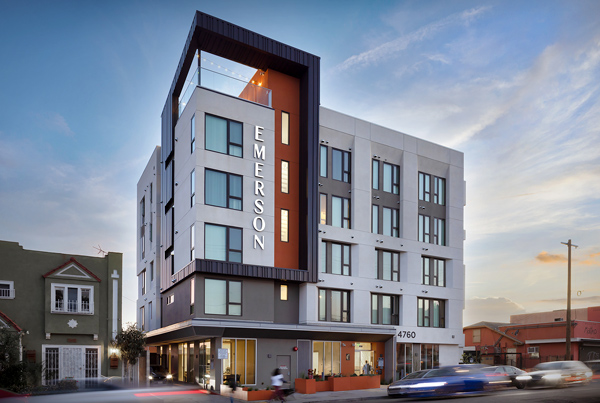 Emerson, built by developer Affirmed Housing, contains 38 units of affordable, permanent supportive housing for formerly homeless veterans in Los Angeles. Photo credit: Chang Kim Photography
In 2016, Los Angeles, voters approved Proposition HHH, which funds the development of supportive, affordable housing for individuals and families experiencing homelessness. In early 2022, California developer Affirmed Housing, which has been building affordable housing in Los Angeles for more than 10 years, opened Emerson, a development serving formerly homeless veterans in Los Angeles. Emerson is the developer's second project to use Proposition HHH funding as part of its financing package. To promote the success and well-being of Emerson residents, Affirmed Housing carefully selected a transit-accessible, resource-rich location for the project.
Project Details
Emerson consists of 38 single-room occupancy rental units in a 5-story building. Each unit is 365 square feet and has private kitchen amenities. The building also features a community room with a kitchen, a computer room, onsite laundry, bicycle parking, and a large rooftop terrace. Twenty-two of the units target individuals earning no more than 60 percent of the area median income (AMI), 6 units target individuals earning no more than 50 percent of AMI, and 10 units target individuals earning no more than 35 percent of AMI. Residents are referred to Emerson through the Los Angeles County Coordinated Entry System.
Homeless Health Care Los Angeles provides onsite wraparound services for residents, including case management, mental and physical health care, and vocational and educational training. Additional programming, such as life skills and art classes, resident meetings, potlucks, barbecues, and other activities, is aimed at cultivating personal growth and community among residents.
Emerson was financed through a $2.5 million loan from Banner Bank, an $8.36 million Proposition HHH loan, a $4.94 million Veterans Housing and Homelessness Prevention Program (VHHPP) loan from the California Department of Housing and Community Development, and $7.74 million in equity raised from the sale of low-income housing tax credits. Development costs totaled $24 million.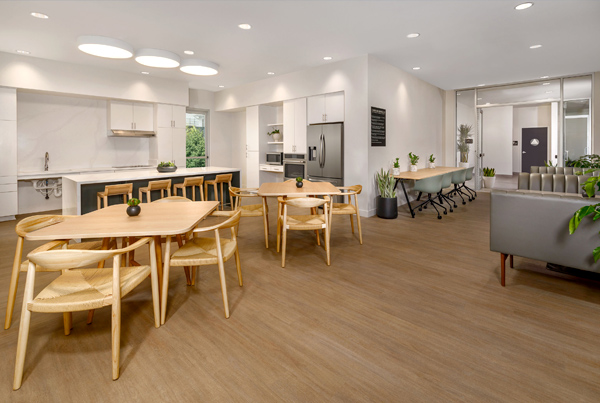 Emerson's shared amenities help to facilitate a sense of community among residents and opportunities for personal growth. Programming includes townhall-style meetings, potlucks, barbeques, and other social engagement activities, as well as life skills classes and art classes. Photo credit: Jim Doyle, Applied Photography LLC
Leveraging Local and State Policy Tools
In creating Emerson, Affirmed Housing leveraged state and local policies intended to encourage development of this kind, reports Mellody Lock, director of development at Affirmed Housing. For years, California has experienced high housing costs that have directly contributed to high rates of homelessness. In 2016, the year voters approved Proposition HHH to fund the development of 7,000 units of permanent supportive housing, the Los Angeles County Point-In-Time Count recorded 46,874 people experiencing homelessness. By 2020, that number had reached 66,433, underscoring the need for Proposition HHH, which allocated $1.2 billion in bonds. Because Proposition HHH funding is committed to a project before the funding package is fully assembled, Lock says that it helps solve a "chicken-and-egg" problem that affordable housing developers often face, in which securing funding sources for a project is easier when some funding has already been secured.
Emerson also benefited from VHHP, which issues long-term loans supporting affordable multifamily housing for veterans and their families. Originally approved by California voters in 2008, Proposition 12 (Veterans Bond Act of 2008) authorized $900 million in bonds to help veterans attain homeownership. Changing demographics and the Great Recession led to underutilization of the program, prompting a restructuring of VHHP to focus instead on multifamily housing for veterans.
Finally, Lock reports that Emerson benefited from Los Angeles' Transit-Oriented Communities (TOC) Incentive program, which also was approved by Los Angeles voters in 2016. The program encourages housing development within a half-mile of public transit by making affordable developments eligible for density and floor area bonuses and reduced parking requirements. Projects utilizing these incentives also are eligible for by-right approval, saving developers time and money by foregoing the requirement of prior review by the Los Angeles City Planning department. Since its inception, the TOC program has added more than 36,000 housing units to the development pipeline, including more than 8,000 units of affordable housing. Together with the city's density bonus (which by itself does not require proximity to transit), these incentive programs have contributed nearly 60 percent of all proposed affordable housing developments since the program's inception.
Emerson demonstrates that the policy tools approved by California and Los Angeles voters have yielded important gains in housing and affordable housing production, even as more may be needed. In particular, these policies are helping to facilitate assembly of funding packages, shorten development timelines, and promote affordable and supportive housing in amenity-rich areas to the benefit of residents.
Interview with Mellody Lock, 3 August 2022; Los Angeles City Planning. n.d. "Housing Progress Reports." Accessed 18 August 2022. ×