A Former Soldiers Home Offers Permanent Supportive Housing for Veterans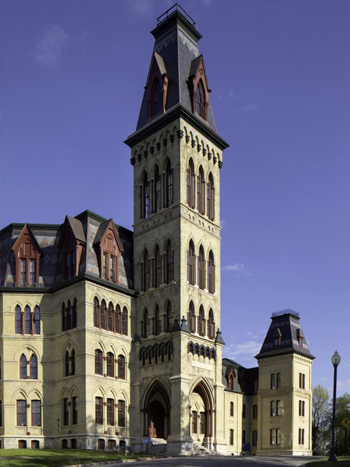 The Milwaukee Soldiers Home site is anchored by "Old Main," which houses 80 of the 101 units as well as communal spaces, such as a clubroom, a business center, a workforce development area, and two fitness centers. Photo Credit: The Alexander Company
In March 2021, the Milwaukee Soldiers Home, a historic landmark on the grounds of the Clement J. Zablocki VA Medical Center, that once housed elderly and disabled Civil War veterans in Milwaukee, Wisconsin, reopened as a supportive housing complex for veterans. Located about 4 miles west of downtown Milwaukee, the complex now houses veterans who either had experienced homelessness or are determined to be at risk of experiencing homelessness. Families of these veterans are also welcome, although most of the current residents are single. The complex follows a Housing First approach, meaning that residents are not required to first commit to sobriety or address any other issues they might have to become eligible for housing.
A Historic Landmark
In March 1865, 1 month before his assassination, President Abraham Lincoln signed legislation to create homes for disabled Civil War veterans across the country. Constructed a few years later, Milwaukee's Soldiers Home is one of only three original Soldiers Homes remaining in the country and the only one to house multiple veterans' care services in one building. Old Main, the central structure that originally served as the domiciliary building for patients, and five other buildings on the site are situated on a 90-acre landscaped setting that was intended to evoke a village. The district was designed to be a place where veterans could smoothly transition to civilian life. Although this Soldiers Home persisted into the modern era, the structure had deteriorated since the site was vacated in the late 1980s. After the rear roof of Old Main collapsed in 2010, the U.S. Department of Veterans Affairs (VA) put out a request for proposals to redevelop the complex as veterans' housing. In 2016, VA selected the Alexander Company, a developer that specializes in adaptive reuse and historic preservation projects, and the Housing Authority of the City of Milwaukee to redevelop the site.
Offering Housing and Supportive Services to Those in Need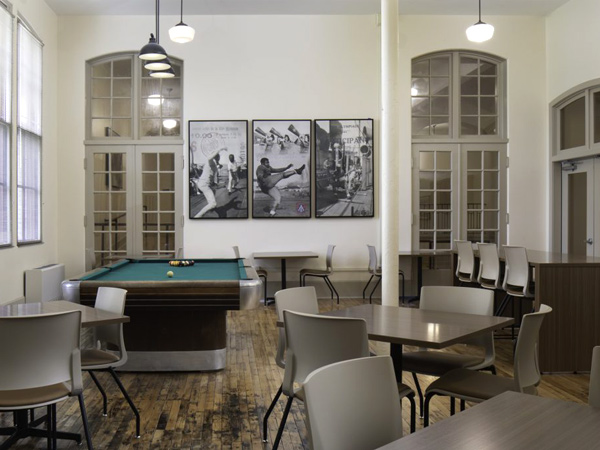 The community room in "Old Main" has extensive seating and includes amenities such as a pool table. Photo Credit: The Alexander Company
The redeveloped site offers 101 units of permanent supportive housing spread across multiple buildings. Most of the units are in the Old Main building, which features 70 one-bedroom and 10 two-bedroom units. Eleven units are reserved for women. This building also includes several communal spaces, including resource centers and a fitness area, and houses the development's case management and support services. Some of the services offered include education; employment assistance; and life skills training courses that focus on cleaning, preparing meals, or managing money. Another 14 units are in the Administration building, which once served as offices for VA staff. These units are single-room occupancy units; however, the building also offers a common kitchen and common dining, living, and community rooms. Finally, four surrounding structures were converted into housing: three private homes that previously served Soldiers Home employees and their families were converted into duplexes with 2 three-bedroom units each, and the former Catholic Chaplain's Quarters was converted into a private four-bedroom home. The structures are close to each other, creating the feeling of a unified community. Residents can take advantage of recreational activities and wellness programs, and they can interact with one another through structured peer support groups and even gardening and walking groups.
Rental vouchers and onsite supportive services are provided through the HUD-Veterans Affairs Supportive Housing program, which HUD and VA jointly administer to provide rental assistance, case management, and clinical services to veterans who have experienced homelessness. Veterans can become residents of the Soldiers Home in multiple ways. VA case managers might refer veterans in their area who are living in particularly poor conditions. Veterans can also be referred by healthcare providers within the VA system or community members, or they can even refer themselves. According to Amy Mauel, a program manager at the Clement J. Zablocki VA Medical Center, demand for units has been very high but there has not been the need for a waitlist thus far.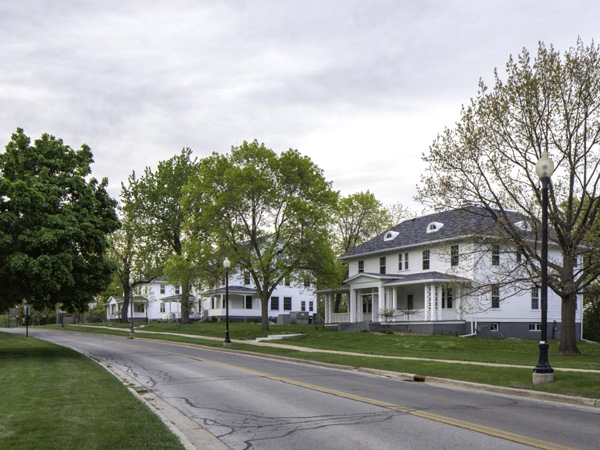 Some residents also live in three-bedroom duplexes which once served as housing for Soldiers Home staff and their families. Photo credit: The Alexander Company
Development Process
Because it owned the land, VA entered into an Enhanced-Use Lease (EUL) agreement with the Alexander Company to facilitate the rehabilitation. The EUL program allows VA to lease its vacant and underutilized real estate to private and public entities for up to 75 years to develop permanent supportive housing for veterans. The Alexander Company undertook an extensive development process. Since the site is a national historic landmark, the plans required approval from the National Park Service, National Historic Landmarks Program, and various state agencies. The property required intensive physical renovations and repurposing the structures while maintaining their historic significance was not an easy task. According to Joseph Alexander, president of the Alexander Company, the supervisor of one of the subcontractors traveled to a quarry in Vermont to find slate that matched the building's original slate from the 1860s.
This large-scale endeavor came in at more than $44 million. Nearly $20 million came from low-income housing tax credit equity purchased by the National Equity Fund, and approximately $14 million came from federal and state historic tax credits. Notably, $5 million came from military construction funds, a highly unusual funding source for affordable housing projects, according to Jonathan Beck, the development project manager for the Alexander Company. The remaining sources included corporate, philanthropic, and other public entities as well as individuals. The Housing Authority of the City of Milwaukee, with the help of other local nonprofits, was able to solicit donations from more than 650 people through its Every Hero Deserves a Home campaign.
Extensive collaboration among numerous public and private partners was critical to the redevelopment of the Soldiers Home. "[C]ollaboration on this project was outstanding, and it really did enable success," observed Brett Simms, the executive director of VA's Office of Asset Enterprise Management. In recognition of this success and its accomplishments, the Advisory Council on Historic Preservation (ACHP), in partnership with the U.S. Department of Housing and Urban Development (HUD), presented Milwaukee Soldiers Home with the 2021 ACHP/HUD Secretary's Award for Excellence in Historic Preservation. At a ceremony announcing the award, ACHP Vice Chairman Jordan Tannenbaum said, "This extraordinary project was a true labor of love that brought together a community for the benefit of America's veterans. The goal was not only to provide quality housing for veterans but to retain the historic integrity of the buildings, right down to rehabilitating the original pool table and the elaborate mailboxes in the post office." In accepting the award, Alexander noted how the Milwaukee Soldiers Home "serves as proof that strategic partnerships, visionary leadership, and creative funding cannot just save buildings, but tackle homelessness, ignite a community, and serve as a national model."
Source:
Alexander Company. n.d. "Milwaukee Soldiers Home." Accessed 3 November 2021; Housing Authority of the City of Milwaukee. n.d. "Soldiers Home." Accessed 17 November 2021; Interview with Amy Mauel, program manager, Clement J. Zablocki VA Medical Center, 26 October 2021; Group Interview with Joseph Alexander, president; Johnathan Beck, development project manager; and Kendra Bishop, director of marketing and public relations, the Alexander Company, 29 October 2021. ×
Source:
Affordable Housing Finance. 2021. "Milwaukee Soldiers Home Returns to Service," 9 June. Accessed 8 November 2021; Council of Large Public Housing Authorities. n.d. "Alexander Company: Milwaukee Soldiers Home Project." Accessed 3 November 2021; Group interview with Joseph Alexander, president; Jonathan Beck, development project manager; and Kendra Bishop, director of marketing and public relations, Alexander Company, 29 October 2021; Milwaukee Soldiers Home. n.d. "Veterans Housing." Accessed 3 November 2021; Interview with Amy Mauel, program manager, Clement J. Zablocki VA Medical Center, 26 October 2021. ×
Source:
Email correspondence from Amy Mauel, 16 November 2021; Group interview with Joseph Alexander, president; Jonathan Beck, development project manager; and Kendra Bishop, director of marketing and public relations, Alexander Company, 29 October 2021; Interview with Amy Mauel, 26 October 2021. ×
Source:
Housing Authority of the City of Milwaukee. n.d. "Soldiers Home." Accessed 17 November 2021; U.S. Department of Veterans Affairs. n.d. "Enhanced Use Lease." Accessed 8 November 2021; Group interview with Joseph Alexander, president; Jonathan Beck, development project manager; and Kendra Bishop, director of marketing and public relations, Alexander Company, 29 October 2021. ×