An Innovative Approach to Tackling the Housing Supply and Affordability Issue in Canada: The Housing Accelerator Fund
Mia Bailey, International and Philanthropic Affairs Division, PD&R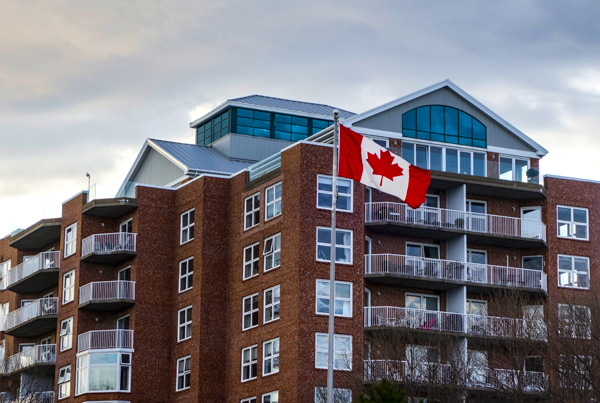 Canada's Housing Accelerator Fund, launched in March 2023, serves as an incentive to local governments, offering upfront costs to boost housing supply by 100,000 new units. Photo credit: iStock.com/Kaan Uluer
Over the past couple decades, the development of new housing units in both the United States and Canada has failed to keep pace with demand, leading to rising housing costs. Like the United States, Canada is grappling with how best to manage its housing shortage and affordability crisis. According to a September 2023 report from the Canada Mortgage and Housing Corporation, the country needs 3.5 million new housing units by 2030 to restore affordability. In March 2023, the Canadian government launched a Housing Accelerator Fund to help address these issues. The $4 billion fund serves as an incentive for local governments, offering them funds to cover the upfront costs needed to boost the nation's housing supply by 100,000 units.
The Housing Accelerator Fund will run through 2026–2027 and will distribute funds through a competitive application process in which municipalities, Territories, First Nations, and Métis and Inuit governments apply for funding in the following areas:
Investments in Housing Accelerator Fund Action Plans

Investments in Affordable Housing

Investments in Housing-Related Infrastructure

Investments in Community-Related Infrastructure That Supports Housing
The application period opened in July 2023 and closed in August 2023. Applicants needed to submit an action plan outlining supply growth targets, detailing how they intended to increase the average annual growth rate of housing production by at least 10 percent. The program will fund successful applicants for three years, and funding recipients must report on their progress annually.
Canadian officials are working with promising applicants to improve their applications before final decisions are made. Cities such as Halifax, Calgary, London, Vaughn, and Kitchener are laying the groundwork in uncovering possible approaches as they identify innovative ways to overcome zoning and regulatory barriers stalling the construction of new housing in their respective areas. As the Canadian government finalizes the details of the Housing Accelerator Fund and deliberates on awardees, the Canada Mortgage and Housing Corporation encourages all municipalities that are addressing housing supply and sustainability issues to consider implementing the following strategies to promote sustainable reforms:
End exclusionary zoning.

Make municipally owned lands available for housing. 

Increase process efficiency. 

Create a prioritized/enhanced development approval process for rental and affordable housing.

Institute a comprehensive review of development charges and fee schedules. 

Reduce or eliminate parking standards to increase project viability, density and reduce carbon footprint.

Eliminate restrictions on building height, setbacks, and floor area to allow more types of residential structures.

Develop affordable housing community improvement plans.

Design and implement guidelines or preapproved building plans for missing middle housing or specific accessory dwelling unit types.

Develop grant programs that promote the development of housing types that align with the Housing Accelerator Fund.
Time will tell how successful Canada's Housing Accelerator Fund will be, but incentive programs have long been among the many options federal governments can use when partnering with local governments to address housing affordability and supply shortages.
First Nations refers to Indigenous people in Canada who are not Inuit or Métis. There are over 630 First Nation communities in Canada. ×
Métis peoples comprise a distinct Indigenous nation with unique cultures that emerged as distinct communities of people having mixed Indigenous and European ancestry. ×
Inuit are indigenous people of the Arctic. Many Inuit in Canada live in 53 communities located in the country's northern region of Inuit Nunangat. ×