Strong Economic Conditions and a Tight but Easing Housing Market in the Phoenix HMA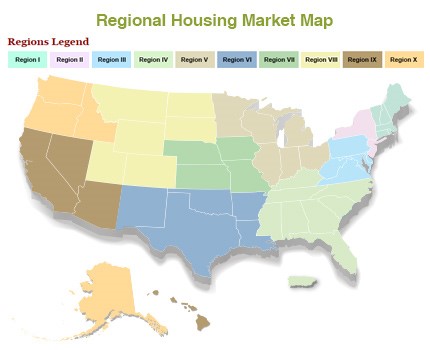 Sales housing market conditions in the Phoenix HMA are slightly tight but easing, with an estimated vacancy rate of 1.8 percent.
Holi Urbas is the regional economist for the Seattle Regional Office for HUD's Economic and Market Analysis Division.
HUD's Comprehensive Housing Market Analyses provide information on changes in local economies, housing markets, and populations and provide 3-year forecasts for demand in the area. This article is part of a series that sheds light on the content of these analyses.
The Phoenix-Mesa-Chandler, Arizona Housing Market Area (Phoenix HMA) is coterminous with the metropolitan statistical area of the same name and includes Maricopa and Pinal counties in central Arizona. The HMA is home to more than two-thirds of Arizona's total population, including the city of Phoenix, which is the state capital and the nation's fifth-most-populous city as of July 1, 2021. The HMA population is estimated at 5.08 million as of January 1, 2023, reflecting an average annual increase of 88,800 people, or 1.8 percent, since 2019. During this period, net in-migration averaged 75,200 people annually, a 54 percent increase compared with the average of 48,700 people annually from 2014 to 2019. A comprehensive housing market analysis highlighting economic and housing market activity in the Phoenix HMA is forthcoming and will reflect local conditions as of January 1, 2023.
A surge of investment in the semiconductor manufacturing industry has bolstered the local economy
Economic conditions in the HMA are strong. During 2022, payrolls in the HMA were 5.3 percent above prepandemic levels in 2019; national payrolls in 2022, by comparison, were only 1.1 percent higher than prepandemic levels. During 2022, nonfarm payrolls in the HMA increased year over year by 85,900 jobs, or 3.9 percent, compared with a gain of 88,400 jobs, or 4.2 percent, in 2021. All employment sectors added jobs in 2022 except for the financial activities sector—the first year since 2010 in which employment levels in this sector declined. The job declines in this sector resulted mostly from rising interest rates, which dampened demand for mortgage lending services.
The manufacturing sector was a significant source of payroll growth in 2022, increasing by 8,500 jobs, or 6.2 percent, compared with an increase of 3,500 jobs, or 2.6 percent, in 2021. To put the current growth into context, the manufacturing sector added 5 times more jobs in 2022 than the average annual gain of 1,700 jobs during the period from 2011 to 2020, and since 2020, manufacturing has been the second-fastest-growing employment sector in the HMA. Much of this growth stems from large investments by Intel Corporation and the Taiwan Semiconductor Manufacturing Company Limited (TSMC). In 2017, Intel Corporation invested $7 billion in a semiconductor fabrication plant in the city of Chandler. In 2021, the company broke ground on a $20 billion expansion at the same campus that is expected to add 3,000 jobs. The largest foreign investment in the state to date, at $40 billion, comes from TSMC, which currently has two fabrication plants under construction just north of Phoenix. Once operational in 2024, the TSMC facilities are expected to employ 4,500 workers. This investment has drawn numerous suppliers to the area, creating more than 13,000 new jobs.
During the next 3 years, nonfarm payrolls in the HMA are expected to increase by an average of 75,050, or 3.2 percent, annually. Job growth is expected to be widespread across most economic sectors, especially those with jobs that support the Intel Corporation and TSMC expansions.
Rising mortgage rates have reduced demand for sales housing, and apartment absorption is falling while new deliveries remain elevated
The sales housing market in the HMA is slightly tight but easing. The overall sales vacancy rate is estimated at 1.8 percent, reflecting a decrease from 4.3 percent in 2010, when conditions were very soft. Sales market conditions eased from very tight when interest rates started to rise in January 2022. In December 2022, the inventory of homes for sale in the HMA increased to 3.4 months, compared with 1.1 months a year ago. This inventory growth coincided with declining home sales, which fell 25 percent year over year to 123,100 home sales in 2022 compared with a 12-percent increase during 2021. Home sales price growth slowed in 2022 but remained elevated at 15 percent year over year, with the average sales price reaching $525,800, compared with a 22-percent increase a year ago. The easing of home sales market conditions is more pronounced when comparing the fourth quarter of 2022 with the same period a year earlier. Home sales declined 47 percent during the period, and sales price growth slowed to 6 percent. Weakening sales demand in 2022 caused builders to reduce new home construction. In 2022, 21,450 new homes were permitted, down 38 percent from 2021. During the next 3 years, demand is estimated for 83,500 new homes.
The overall rental housing market in the Phoenix HMA is balanced but softening, with an estimated overall rental vacancy rate of 8.0 percent. Accelerating in-migration contributed to tight apartment market conditions in the HMA in 2020, with sharply declining vacancy rates, but apartment market conditions have become balanced during the past year as a surge of new units entered the market and rent growth accelerated considerably. Currently, apartment market conditions are balanced but softening, with an 8.7-percent vacancy rate as of the fourth quarter of 2022 compared with 5.6 percent a year ago. The vacancy rate rose because 18,400 units were completed in 2022, whereas only 1,950 units were absorbed. As of the fourth quarter of 2022, the average rent in the HMA was unchanged compared with the fourth quarter of 2021. Despite many indications that the rental market is cooling, rental construction during 2022 was at its highest level on record, attributable in part to an increase in single-family homes built-for-rent. Approximately 29,750 rental units were permitted in 2022; of these, nearly 20 percent were single-family homes built-for-rent compared with less than 5 percent a year earlier. During the next 3 years, demand is estimated for 45,600 rental units.