Creating Walkable and Bikeable Communities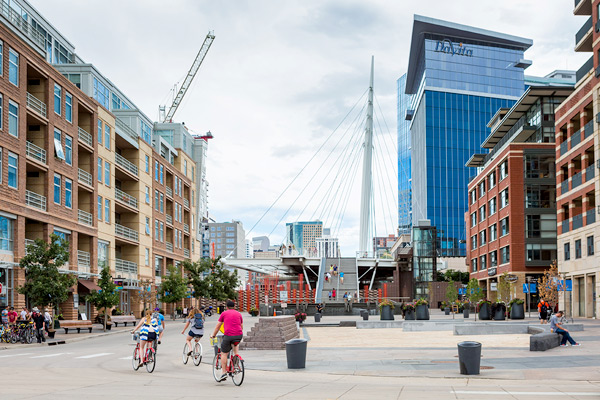 Bicycle- and pedestrian-friendly communities are increasingly in demand.
More and more Americans nationwide prefer to live in areas that are well served by a variety of transportation options, allowing them to meet their daily travel needs using personal automobiles, public transit, bicycling, or walking. Communities where residents can walk and bicycle, in particular, are increasingly in demand. In recent years, communities have made considerable progress in building and designing infrastructure for pedestrians and cyclists and disseminating best practices and design strategies throughout the professional community.
A new report by HUD, "Creating Walkable and Bikeable Communities," highlights the critical role of integrated planning that considers land use, infrastructure, and urban design in supporting pedestrians and cyclists. The report serves as a resource for advocates, practitioners, and policymakers in rural, suburban, and small urban communities to advance investments in walking and cycling infrastructure.
The report reflects a growing recognition among advocates and community development professionals of the broad individual and societal benefits to be realized from walking, cycling, and other forms of active transportation. Chief among these are the economic benefits: whereas the annual cost of automobile ownership is more than $8,750, the annual cost of walking and cycling are $250 and $680, respectively. Managing transportation costs is a critical component of household budgeting, and high transportation costs can rapidly diminish the savings realized from affordable housing. Pedestrian and cycling infrastructure, particularly dedicated trails, also drive economic development. For example, the completion of the Indianapolis Cultural Trail in 2012 helped create 11,000 jobs and generate $863 million in construction and other private-sector investment. The 150,000 annual visitors to the Little Miami Scenic Trail spend an average of approximately $14 on food, beverages, and transportation to the trail. Meanwhile, homes built along a greenway in Apex, North Carolina, sold for a $5,000 premium and were quickly absorbed into the market.
Along with economic benefits, communities designed for active transportation can provide residents with significant health and safety benefits. Walking and cycling burn calories, support weight loss, and relieve stress. For a 160-pound adult, walking 1 hour per day can burn around 300 calories; burning 500 calories per day translates into a 1-pound loss per week.
Integrated Planning and Design
Although the broad benefits of walking and cycling are clear, the HUD report also brings the process of creating bicycle- and pedestrian-friendly communities into focus. The first step in this process is to plan; a high-level vision of goals at the local and neighborhood level is critical to success. The typical planning process begins by discussing community goals and priorities and documenting existing infrastructure, land use, and demographic trends to identify opportunities. Engaging and soliciting feedback from the community is a critical next step in the process; this feedback can help preliminary recommendations evolve into formal recommendations that are supported and vetted by the community. With these recommendations in place, policymakers can plan the steps for implementation and adopt a formal plan, setting the stage for project-level planning and design.
Integrating land use and community design into the planning process is vital to creating bicycle- and pedestrian-friendly communities. Although bicycle lanes, sidewalks, and designated paths and trails are critical to success, infrastructure alone cannot support active transportation. Thoughtful land use planning and urban design are key to creating a desirable neighborhood for pedestrians and cyclists. The HUD report provides several recommended actions to achieve desired community goals, including supporting a balance of commercial, residential, and institutional land uses in neighborhoods to shorten the distances that people need to travel; creating a balance between jobs and housing to shorten commute times; providing flexible parking requirements to reduce the amount of land dedicated to parking; and prioritizing bicycle and walkway connectivity, among other considerations.
Recognizing the important intersection of housing and transportation in overall affordability, the report includes specific guidance on how housing location can affect the ability of a household to walk and bicycle and capture the associated economic benefits. The report details several suggestions for achieving these goals, including selecting housing sites in walkable and bikeable locations. Housing located near transit is likely to support active transportation, and providing a variety of unit sizes and types also benefits a variety of household types, including families, senior citizens, and singles.
Explicitly linking land use planning with bicycle and pedestrian infrastructure has been essential in Gainesville, Florida, which has successfully implemented an urban redevelopment plan to support active transportation in the College Park/University Heights area. In addition to allowing mixed-use development at densities that support walking and bicycling, the city created a multimodal transportation mitigation ordinance and parking exemption policy to mitigate development impacts on transportation infrastructure and create a mechanism to relieve developers from meeting parking requirements in densely settled areas of the city. These policy decisions shaped specific projects, such as the conversion of an abandoned railway bridge into a pedestrian path, to support Gainesville's active transportation strategy.
A Comprehensive Resource Guide
"Creating Walkable and Bikeable Communities" is as an extensive resource for supporting active transportation in local communities. The report presents a comprehensive overview of successful policy and programmatic strategies that can be integrated and implemented to support walking and bicycling in urban, suburban, and rural contexts. The report details the importance of a comprehensive approach to infrastructure development that links land use with active transportation strategies at the community level along with more detailed guidance related to project-specific planning and design considerations. The report offers an overview of the role of street design in fostering bicycle and pedestrian connectivity and includes an entire section dedicated to bikeway and pedestrian planning. Because of its broad scope, this report has something to offer advocates and communities at all stages of making their communities more walkable and bikeable.