HUD and the Concept of the Smart City
By Hafsa Aasi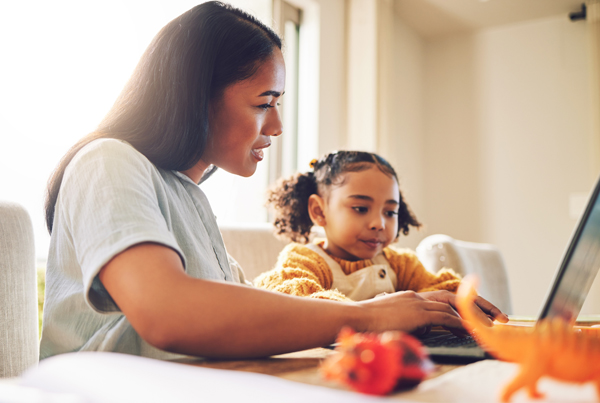 ConnectHomeUSA promotes digital inclusion for low-income communities through broadband access as well as training in the tools and digital skills needed to benefit from it. Photo credit: iStock.com/Jacob Wackerhausen
Introduction
HUD's mission is to "create strong, sustainable, inclusive communities." The "smart city" is an innovative concept in urban planning and development that encompasses operational efficiency, economic growth, transparency, participatory governance, environmental sustainability, and quality of life. Housing is one of the determinants of the viability of a smart city, making it an area in which HUD and the smart city intertwine. This article will explore the smart city concept, drawing on lessons learned from both the U.S. and international contexts.
Perspectives on the Smart City
Cities worldwide have increasingly turned to information technology as a tool to increase efficiency and address pressing social problems. This trend has led many to define "smartness" as the adoption of technological solutions such as smartphones, smartwatches, smart automobiles, and smart homes. A smart city, however, is not a collection of smart gadgets — it represents a maturing concept.
No consensus exists on what constitutes a smart city. Most definitions of smart cities, however, incorporate the notion that they have "traditional networks and services [that] are made more efficient with the use of digital solutions for the benefit of its inhabitants and businesses."
This article explores some of these concepts and offers a potential working definition to consider as HUD continues to fulfill its mission in modern, evolving cities.
The Tech-First Corporate City Perspective
Most discussions about smart cities focus on the adoption of new technologies to the extent that "smartness" often is interpreted as shorthand for a technology-enabled device or solution. This "tech-first" perspective was first promoted in 1992 by David Gibson in The Technopolis Phenomenon: Smart Cities, Fast Systems, Global Networks. The smart city concept gained traction around 2009, shortly after IBM launched its Smarter Cities initiative and Susanne Dirks and Mary Keeling put forth the idea that a smart city is one "that deploys technology to transform core systems (people, business, transport, communication, water, and energy) and optimize returns from finite resources." (Dirks and Keeling, 2009).
Researchers, urban planners, and technologists have since focused increasingly on these aspects of smart cities. For example, the American Society of Mechanical Engineers ranked the city-state of Singapore as one of the world's top smart cities in 2023 based on its use of data management and analytics technology to charge people more for driving on congested roads — an approach that focuses on tangible and measurable improvements, such as adopting smart traffic signals to reduce traffic congestion and smart streetlights to reduce light pollution. Often, such improvements are considered "smart" because they incorporate the latest technological innovations. The tech-first approach, however, does not necessarily result in strong, sustainable, and inclusive communities, so it does not fully align with HUD's mission or policy priorities in the human dimension of the smart city.
The Emergence of the People-First Perspective
The Sustainable City
The sustainable city is a more comprehensive alternative to the tech-first corporate smart city because its focus is on efficient and effective management and economic growth, and its success is measured through urban planning, economic, and environmental metrics. One of the earliest known discussions of the sustainable city concept was in a 1992 article by John Pezzey, "Sustainable Development Concepts: An Economic Analysis." (Pezzey, 1992).
A sustainable city is one that can "adapt to, mitigate, and promote economic, social, and environmental change." (Sommer and Hamilton, n.d.). Sweden's capital city of Stockholm was ranked the most sustainable city in the world in 2023 because of the success of its various sustainability efforts, which have increased its air quality, lowered greenhouse gas emissions, and promoted the use of renewable energy. In a sustainable city, a circular economy is essential to improving the environmental impact of commerce on its residents and visitors. A circular economy is "a model of production and consumption, which involves sharing, leasing, reusing, repairing, refurbishing and recycling existing materials and products as long as possible." (European Parliament, 2023).
Although the values of the sustainable city do intersect with HUD's strategic goal to advance sustainable communities, they still do not fully align with HUD's mission and policy priorities because these values do not necessarily result in strong, inclusive communities.
The Fifteen-Minute City (FMC) and the Walkable City
Another municipal smart design contribution is the Fifteen-Minute City (FMC), in which policymakers bring urban amenities to different communities rather than forcing residents to travel long distances to reach them, thus alleviating traffic congestion, reducing accessibility costs, and lowering urban stress. The FMC concept focuses on creating a community with convenient access to amenities by ensuring that the travel time to any destination within the city never exceeds 15 minutes regardless of the mode of transportation. Recent examples of cities following FMC principles include Melbourne, Australia; Portland, Oregon in the United States; and Paris, France, which Georgia Pozoukidou and Zoi Chatziyiannaki analyze in a 2021 study. Another FMC study in 2021 by Carlos Moreno and colleagues suggests that diversity, density, proximity, and digitalization are important aspects of the FMC.
The FMC concept shares aspects of the walkable city concept, which focuses on walking as residents' primary mode of transportation. According to Michael Southworth, for a city to be successfully walkable, its design must account for "connectivity, linkage with other modes, fine-grained land use patterns, safety, quality of path, and path context." (Southworth, 2005). Both the FMC and the walkable city are based on principles that can inform the mobility, living, and environmental dimensions of jurisdictions attempting to become smart cities, provided that their most under-resourced community members are equitably included in their design. These approaches are gaining popularity in many urban communities and could have important implications in a postpandemic world that relies less heavily on cars for commerce and commuting. As with the sustainable city, the values of the FMC and the walkable city intersect with HUD's strategic goal to advance sustainable communities but still do not fully align with HUD's mission and policy priorities because they do not necessarily promote strong, inclusive communities.
The Social City
One approach to making cities smart from a people-first perspective proposes reframing the smart city as a "social city." Robin Effing and Bert Groot define a social city as a place "where citizens, companies and government together build a vital and sustainable city." (Effing and Groot, 2016). Massimiliano Bencardino and Ilaria Greco suggest that the social city model promotes social innovation because its transparency encourages participatory governance and leverages crowdsourced wisdom. (Bencardino and Greco, 2014). Vancouver, Canada, is one recent example of a social smart city; according to a 2018 Urban Technology Alliance report, it is the world's third most livable city and third most sustainable city, the most walkable city in Canada, and the startup capital of Canada, all thanks to concerted efforts in civic engagement for participatory governance. Although the values of the social city intersect with HUD's strategic goal to advance sustainable communities, they still do not fully align with HUD's mission and policy priorities because they do not necessarily result in strong, inclusive communities.
The Digitally Inclusive City
The COVID-19 pandemic exposed areas in need of socially smart improvements, with or without technological interventions. The disparate impacts of the pandemic on the most underresourced people in self-declared smart cities demand the participatory design, development, implementation, and maintenance of truly inclusive and equitable solutions.
A truly inclusive city must address the inherent socioeconomic inequities in the "access to, use of, or impact of" computing technologies, known as the digital divide — inequities that became more pronounced during the height of the pandemic, when people relied heavily on the Internet and smart devices for information. The world witnessed how a lack of reliable Internet access affected low-income communities. Although small-scale efforts to reduce the digital divide have been underway for several decades in both developing and developed countries worldwide, the need to scale up these digital inclusion efforts became painfully obvious during the pandemic. The need for digital inclusion, "the activities necessary to ensure that all individuals and communities, including the most disadvantaged, have access to and use of" computing technologies, remains relevant even as pandemic-related restrictions have eased and the pandemic has shifted into an endemic phase. In the United States, large-scale efforts to promote digital inclusion include the Internet for All Initiative, which was funded under the recent Infrastructure Investment and Jobs Act and promotes the expansion of broadband infrastructure at an unprecedented scale. This influx of funding signifies a momentum shift that empowers policymakers to address the digital divide. This initiative to increase digital inclusion represents a promising step toward making American cities smarter.
An important aspect of a digitally inclusive city is equitable access not only to high-speed, reliable Internet service for all residents but also to the devices and digital skills needed to use that service. One example of a digitally inclusive U.S. city is Wilson, North Carolina, which built Greenlight, a municipal symmetrical gigabit, fiber-to-the-home network, in 2006. Thanks to Greenlight, Wilson hosts conferences, hackathons, and annual festivals, among other activities, that serve its 50,000 residents, attract business and visitors to the city, and grow the local economy. The project has also resulted in faster, more reliable wireless Internet service in public places such as libraries and YMCAs, where children often complete their homework. Although the values of the digitally inclusive city intersect with HUD's strategic goal to support underserved communities, they still do not fully align with HUD's mission and policy priorities because they do not necessarily include strong, sustainable communities.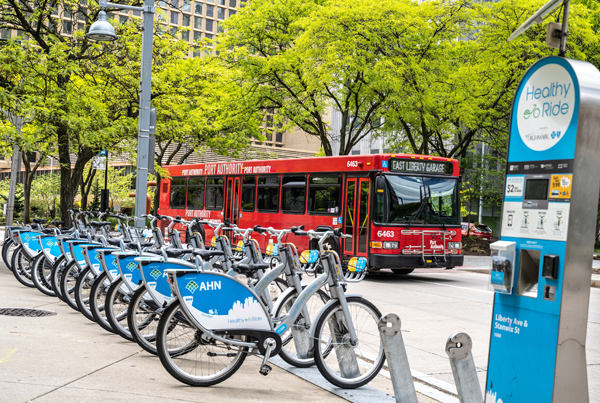 The Fifteen-Minute City concept focuses on creating a community with convenient access to amenities by ensuring that the travel time to any destination within the city never exceeds 15 minutes regardless of the mode of transportation. HUD has done work promoting walkable and bikeable communities. Photo credit: iStock.com/arlutz73
HUD: Putting Communities First
HUD's mission, goals, and objectives correspond well with, and are more comprehensive than, people-first perspectives on smart cities. HUD can incorporate lessons learned from sustainable, FMC, walkable, social, and digitally inclusive smart cities. (See, for example, HUD's work on walkable and bikeable communities.) Based on these examples, a working definition of a smart city that aligns with HUD's mission may be "a city with strong, sustainable, inclusive communities and quality affordable homes for all, with a particular focus on digital inclusion and a bottom-up approach that ensure equitable support for underserved communities."
If a city meets this proposed definition of a smart city, HUD can devote more resources and time to direct more intensive interventions to the most underserved communities. To this end, HUD has a noteworthy equity action plan to build equitable communities nationwide. This plan focuses on eliminating barriers that impede fair housing and access to transformative opportunities. Incorporated in the plan are initiatives to promote homeownership and move homeless populations into normative housing.
Perhaps HUD's most notable effort to promote equity has been its sustained focus on ending homelessness. In this, HUD has employed both boots-on-the-ground work and technology in tasks such as regularly collecting longitudinal point-in-time data counts, assessing needs, navigating housing, and tracking the provision of services over time with Homeless Management Information Systems. HUD has not sought to prescribe a single model of support; rather, it encourages local communities to develop the specific services they need to address homelessness. In this way, HUD prioritizes communities and the needs of their most vulnerable citizens. HUD also promotes equity by encouraging grantees to think beyond the use of federal funds for their particular programs and recognize opportunities to further economic and community development — for example, by procuring goods and services through local small businesses. HUD must concentrate its efforts by coordinating the various offices that contribute to such practices.
HUD and the Future of Smart Cities
HUD's mission, values, and goals foster the development of socially smart cities. Its Office of Lead Hazard Control and Healthy Homes promotes the development of smart environments for low-income households that historically have had little support in asserting their right to live in toxin-free environments. Similarly, ConnectHomeUSA promotes digital inclusion for low-income communities through broadband access as well as training in the tools and digital skills needed to benefit from it. This high-speed Internet access connects residents to their local government, expanding the impact of smart governance by implementing an e-government portal and a digital twin. Likewise, the Office of Community Planning and Development (CPD) facilitates smart living through the development of affordable housing, community improvements, jobs, and essential social services.
Although they are often driven by advances in technology, smart cities can be made even smarter by embracing socially smart endeavors. HUD plays a pivotal role in existing American cities that inevitably will expand over time. In pursuit of its mission, HUD humanizes its policies and programs by focusing on the people and communities it serves. It helps amplify the voices of those who are rarely heard, giving them the opportunity to participate equitably in systems that rely heavily on smart technological innovations. Through a nuanced understanding of smart cities, HUD helps contemporary cities become more sustainable, socially innovative, affordable, and digitally inclusive in the smart city dimensions of a smart economy, smart mobility, smart environment, smart people, smart living, and smart governance — that's smart.
Smart City Terms to Know
Smart City: A city that "deploys technology to transform core systems (people, business, transport, communication, water, and energy) and optimize returns from finite resources." (Dirks and Keeling, 2009)
Sustainable City: A city that can "adapt to, mitigate, and promote economic, social, and environmental change." (Sommer and Hamilton, n.d.)
Circular Economy: "[A] model of production and consumption, which involves sharing, leasing, reusing, repairing, refurbishing and recycling existing materials and products as long as possible." (European Parliament, 2023)
Fifteen-Minute City: A community with convenient access to amenities by ensuring that the travel time to any destination within the city never exceeds 15 minutes regardless of the mode of transportation. (Moreno, et al., 2021; Pozoukidou and Chatziyiannaki, 2021)
Walkable City: A city whose design must account for "connectivity, linkage with other modes, fine-grained land use patterns, safety, quality of path, and path context." (Southworth, 2005)
Social City: A place "where citizens, companies and government together build a vital and sustainable city." (Effing and Groot, 2016)
Digital Divide: The inherent socioeconomic inequities in the "access to, use of, or impact of" computing technologies. (Wikipedia with help from Bart Pursel, n.d.)
Digital Inclusion: "[T]he activities necessary to ensure that all individuals and communities, including the most disadvantaged, have access to and use of" computing technologies. An important aspect of a digitally inclusive city is equitable access not only to high-speed, reliable Internet service for all residents but also to the devices and digital skills needed to use that service. (National Digital Inclusion Alliance, n.d.)
×