A Tiny Home for Little Diomede, Alaska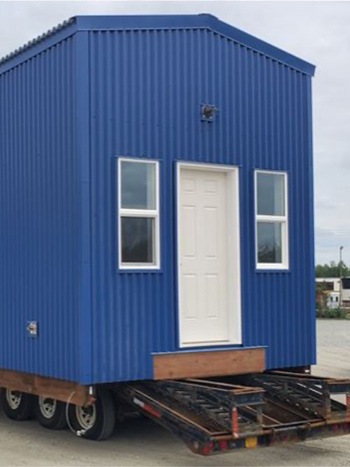 This tiny home was intended to provide needed affordable housing to the small Alaskan village of Diomede, located on Little Diomede Island. Despite difficulties that prevented its installation on the originally planned lot, the Bering Straits Regional Housing Authority learned important lessons that can be applied to future projects. Photo credit: Bering Straits Regional Housing Authority
Ensuring sufficient affordable housing is a challenge for many communities, but in the Bering Strait region of Alaska, topography, climate, and a lack of infrastructure can make housing construction especially challenging. During a session titled "Tiny Homes: Delivery & Practicality" at the Alaska Housing Innovations Summit in Anchorage on August 10, 2022, Jolene Lyon, president and chief executive officer of the Bering Straits Regional Housing Authority (BSRHA), and Jason Underhill, owner and operator of the construction company Finished Works LLC, recounted their joint efforts to procure and place a tiny home in the village of Diomede, Alaska, in 2021. While a single tiny home could not, on its own, meet the island's housing needs, it can function as an important learning tool for future efforts. Their story illustrates the unique challenges and opportunities facing those building affordable housing in remote areas of Alaska during the pandemic.
BSRHA and Diomede
Headquartered in Nome, Alaska, BSRHA is the Tribally Designated Housing Entity of 18 area tribes. BSRHA supports affordable housing in villages throughout the Bering Strait region, including maintaining an inventory of more than 350 units spread across 17 area villages. The agency's additional activities include providing rental and utility assistance, creating and preserving affordable housing, providing rehabilitation services, and counseling prospective homebuyers, among others.
The village of Diomede — home to fewer than 150 people — is in the far western stretches of the Bering Strait region. The remote village sits on Little Diomede Island in the middle of the Bering Strait, just 2.5 miles from Big Diomede Island, home to a small Russian military base. As in the Bering Strait region generally, the village is experiencing a housing shortage. In the region, an estimated 27 percent of homes are overcrowded, with nearly half of those being severely overcrowded. Although housing production in Alaska, particularly western Alaska, is challenging, Diomede is the most difficult place to build in BSRHA's portfolio because of its location and environment.
In 2021, a novel funding opportunity arose for BSRHA; the American Rescue Plan Act of 2021 (ARP) allocated $4,199,074 in funding to the agency. In contrast to Indian Housing Block Grant (IHBG) funding, ARP allowed greater flexibility for developing new housing. With the ARP funding, BSRHA opted to take an unprecedented approach: send a tiny home to the village of Diomede during a pandemic.
Why a Tiny Home?
BSRHA believed that, from a practical perspective, a tiny home made sense because the Diomede lot was small. Lyon and Underhill noted several benefits of tiny homes. Tiny homes can be easily moved — an essential quality in a place where climate change may require relocation in the future. Easier to relocate than many other home types, tiny homes can be put on trailers or skids. Tiny homes also offer residents an opportunity for sustainable living either on- or off-grid. Under the right circumstances, tiny homes can be affordable and easy to finance. Furthermore, Alaska is experiencing greater warming than states at lower latitudes, melting permafrost and changing the physical conditions on which housing and infrastructure have been built. As a frontline community, residents in Diomede have strong incentive to reduce their environmental impact, which tiny homes present an opportunity to do.
Funding and Procurement
The procurement timeframe was extraordinary by any standard. In April 2021, BSRHA began researching the project's cost and feasibility. The BSRHA's board approved a presentation of the project and the vendor on July 8, 2021, and the contract was signed the same day. Finished Works completed construction on August 9, and the tiny home was delivered to Nome on August 19, 2021.
The final cost for the 240-square-foot tiny home was $125,410, of which $97,000 went toward the build, $19,900 went toward delivery, and $8,510 went toward touch ups. The average cost to build a home in remote western Alaska is between $590,000 and $700,000. The project's $126,000 price tag shows how a housing agency could build needed housing with a limited budget.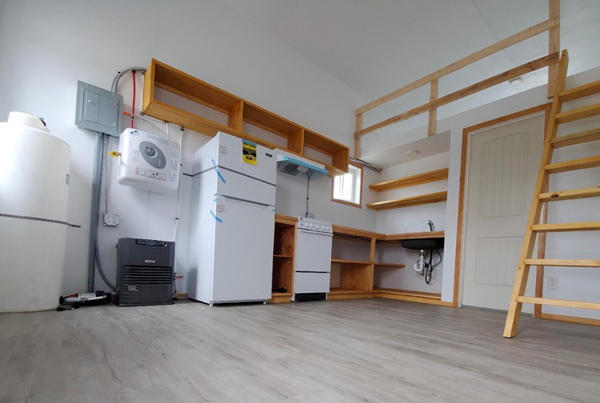 To ensure the home's resilience against frigid Alaskan winters, builder Finished Works used 2x6 framing instead of 2x4, double-sided shear walls sheeted with plywood, and fiberglass insulation. The final cost for the 240-square foot tiny home was $125,410, including delivery. Photo credit: Bering Straits Regional Housing Authority
The Build
The home was built at the Finished Works facility in Big Lake, Alaska, which is approximately 60 miles north of Anchorage. Like many projects in 2021, the tiny home project was impacted by supply chain issues, including shortages of materials and long lead times for items such as kitchen and window components.
In the face of these challenges, Finished Works found workarounds to keep the project on track. For example, the tiny home required aluminum siding, which suppliers typically do not stock. However, the builder was able to acquire the needed materials from a supplier that had leftover aluminum coil from a school construction project. For cases in which BSRHA and Finished Works could not acquire the needed materials, they eliminated some of the tiny home's amenities to ensure that the project would be completed in time to be delivered on the season's last barge to Nome before winter.
The design was intended to suit the extreme coastal Arctic environment. The builders used 2x6 framing instead of 2x4 framing to make the building envelope warmer, and they installed double-sided shear walls sheeted with plywood along with fiberglass insulation.
BSRHA prioritized building a home that was not only a sound structure but also a structure whose design reflected the community's input. To that end, BSRHA worked closely with Underhill to incorporate input from the tribe during the design process.
The Journey to Little Diomede
BSRHA and the builder partnered with Specialized Transport & Rigging Alaska to transport the home over land from Big Lake to Seward, the first leg of its journey. Next, the tiny house would embark on a 3-week trip by barge from Seward to Nome followed by a daylong barge to Little Diomede. Because missing a barge would have meant delaying the delivery of the house by a full season, the Finished Works team worked up to the last minute before delivery to put the finishing touches on the home as it was loaded onto a truck to head to the first port. BSRHA completed additional painting and touch-ups once the house reached Nome to ensure that the house could make the barge schedule to Diomede.
Complications arose as the tiny home neared the end of its journey. The small lot where the tiny home was supposed to be sited was identified as being privately owned, so BSRHA worked with the Bering Straits Native Corporation to reassess the available lots, ultimately deciding to change the lot location. In addition, unsafe transportation conditions — specifically, 8- to 15-foot swells — made transporting the house to Diomede on the originally scheduled barge impossible. The tiny home is currently being stored at the Port of Nome, awaiting its final destination.
Lessons Learned
Lyon and BSRHA learned many lessons from this experience, which they hope to apply when exploring the use of tiny homes in their region in the future.
Remote sites. Manufacturers need to make tiny homes intended for remote sites as portable as possible. Including features such as wheels, eyelets, and skids or skis for portability is essential.

Site inspection. Developers should perform a detailed site inspection, including investigating site characteristics such as topography, during the planning phases. The planned Diomede site had a 16-foot incline, which would have made placement very challenging. Close inspection for these potential issues contributes to the ultimate success of the project.

Transportation plan. Developers need to have a clear transportation plan, especially when siting a tiny home in an isolated area with limited machinery and personnel available to move and place the tiny homes.

Equipment. Developers at remote sites need to ensure that they secure tools and materials in advance. They should have written agreements in place to ensure that the needed tools, materials, and resources will be available when they are needed.

Work with the community. BSRHA coordinated closely with the tribe and worked hard to get buy-in from the community.

Design. The tiny home BSRHA purchased in 2021 did not have an arctic entryway, which Lyon noted would be an important design feature to have in future tiny homes.
Looking Ahead
BSRHA hopes to apply the experience it gained in procuring, designing, building, and transporting the home to future affordable housing projects. Lyon has many ideas for housing options and innovations in the Bering Strait region; she sees great potential in the use of construction and building techniques such as kit homes and structurally insulated panels to meet the unique needs of residents of BSRHA's service area. Lyon also wants to continue exploring the possibilities for tiny homes in her region. Although this tiny home did not make it to Little Diomede Island, BSRHA is exploring different options to make the best use of the valuable tiny home.