Planning for Better Regional Outcomes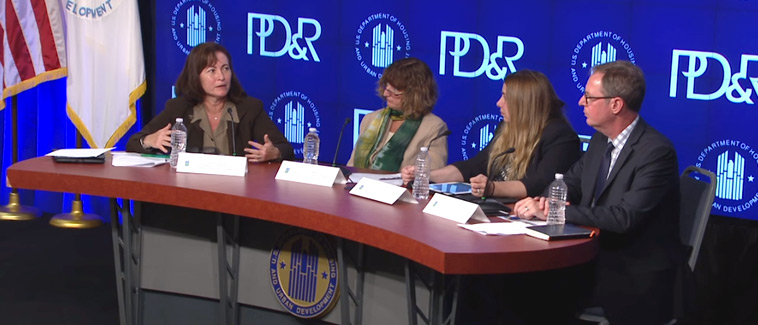 As part of PD&R's quarterly update, Principal Deputy Assistant Secretary of HUD's Office of Community Planning and Development Harriet Tregoning and panelists Karen Chapple, Grace Gallucci, and Ben Bakkenta discuss collaborative planning as a strategy to overcome barriers to regional cooperation.
Communities across the nation face numerous challenges, such as natural disasters and spatial mismatches in jobs and housing that transcend the boundaries of local jurisdictions and demand regional responses. Yet working across jurisdictions is hard, even "unnatural," given the fragmented organization of government in the United States, said Harriet Tregoning, principal deputy assistant secretary of HUD's Office of Community Planning and Development. On October 1, 2015, HUD's Office of Policy Development and Research hosted a panel discussion on the ways that regions are overcoming barriers to regional cooperation and tackling these and other challenges through collaborative planning and implementation. Karen Chapple, professor of city and regional planning at the University of California, Berkeley; Grace Gallucci, executive director of the Northeast Ohio Areawide Coordinating Agency; and Ben Bakkenta, program manager at the Puget Sound Regional Council, joined Tregoning on the panel.
The Federal Role in Regional Planning
Regional planning has recently experienced a boost from federal investment, primarily through HUD's Sustainable Communities Initiative (SCI). Although HUD's support of regional planning dates back to the department's founding, when it began administering Section 701 planning grants, its role had become less active until a renewed push to foster regional collaboration culminated in the formation of SCI. According to Chapple, SCI grant programs, which awarded $170 million to 74 regions in 2010 and 2011, catalyzed a surge in regional planning activities. Chapple said the prospect of acquiring federal funds for planning brought new actors to the table, and she pointed to the high number of SCI applicants (350 in total) as evidence of widespread enthusiasm for such planning approaches.
SCI grantees tailored planning activities to their local contexts. The northeast Ohio region used its grant to undertake a data-driven visioning process with extensive public engagement. Realizing that current trends — including loss of human capital, jobs, and opportunities — would lead to an untenable fiscal situation and declining competitiveness, planners charted a course to work toward sustainable prosperity. The central Puget Sound region directed its planning and implementation efforts at capitalizing on the opportunities presented by the massive transit investment already in progress in the Seattle metropolitan area. The challenge Puget Sound planners faced was to preserve residents' high quality of life during a period of intense growth. The regional council sought to foster transit-oriented development with goals for affordable housing. Bay Area planning focused on fostering livable cities that would meet California standards for greenhouse gas emissions while ensuring regional economic growth and equality. Of particular concern for Bay Area planners was the challenge of pursuing these goals without precipitating the displacement of low- and moderate-income residents.
The panelists endorsed an active role for the federal government in supporting regional planning activities. Bakkenta argued that the federal government should be concerned with regions because they are the relevant economic unit; U.S. regions are vying with regions around the world for business, and federal investments can support their competitiveness. Gallucci added that the federal role is crucial precisely because regions do not have an explicit governing structure of their own. A federal role can be most effective, according to Chapple, when regions are allowed to frame their own points of emphasis, as they did under SCI.
SCI Lessons Learned
The three regions represented a variety of regional economic and political contexts: strong markets and population growth in the Bay Area and Central Puget Sound (versus the weak market and declining population of northeast Ohio), an urban growth boundary in the central Puget Sound region, and California state regulations regarding greenhouse gas emissions that apply to the Bay Area. Nevertheless, these regions took away similar lessons from their SCI experiences.
One common area of success was in civic engagement. Bakkenta underscored the importance of incorporating community input, noting that in the past, the expansion of the transit system in the central Puget Sound region was not well coordinated with the immediately affected community. To ensure better coordination as transit construction continues, planners trained community representatives in planning basics so that they could take the message back to their communities in culturally appropriate ways. Planners in northeast Ohio engaged the public through surveys, workshops, convenings, an interactive online game, and meetings with public housing residents. Although they improved outreach to traditionally marginalized groups, both Galluci and Bakkenta agreed that they could have done more to engage the business sector.
SCI grants also afforded opportunities for the three regions to develop new uses of data for regional planning. Chapple pointed out that data are important for setting a baseline from which trends can be discerned, which in turn can help inform decisions by individuals and public and private entities about their futures. Bay Area planners developed an interactive online displacement tool to help stakeholders understand the dynamics of gentrification and displacement in the region. Bakkenta noted that the requirement of the SCI grant to complete a Fair Housing and Equity Assessment introduced the central Puget Sound region to opportunity mapping, which has informed ongoing discussions about the impact of transit decisions on intraregional equity.
Measuring Success and Sustaining Momentum
Indicators point to the success of the three regions' planning efforts. The Northeast Ohio Sustainable Communities Consortium won the American Planning Association's Daniel Burnham Award for a Comprehensive Plan. Bakkenta reported that the central Puget Sound region is seeing the benefits of regional collaboration in winning transportation grants, attracting investment, and launching a revolving affordable housing fund in Seattle. Yet, said Chapple, measuring the dividends from planning can be difficult; it is hard to know whether a particular result would have happened in the absence of planning, and the timeframe for expected results is lengthy.
Transitioning from planning to implementation is also difficult. Tregoning noted that it is becoming more common to build some measure of implementation into the planning process at the local level, but scaling up to the regional level is challenging. Gallucci said that the planning convener could increase education and advocacy efforts to keep the average citizen engaged over the long term, into the implementation phase. In addition, more active marketing could increase buy-in and better sustain the momentum generated during the planning process. Bakkenta shared that direct grantmaking to community organizations was effective in this regard because it helped build the relationships and trust necessary for ongoing collaboration.
Ultimately, the benefits of regional planning lie in "optimizing regional performance," said Gallucci. "And that doesn't take a specific grant with a specific dollar amount to engineer that outcome. It is really about taking the existing resources at every level of government, and the nonprofits, or philanthropies, or even business in a community, and channeling them towards a common goal." With or without additional federal funding along the lines of SCI, regional planning has the potential to bring stakeholders together to collaborate and pursue better outcomes for regions nationwide.