Spring 2015
HIGHLIGHTS IN THIS ISSUE:
Obstacles, Solutions, and Self-Determination in Indian Housing Policy
Who Counts? Identifying Native American Populations
Local Initiatives Promote Homeownership in Indian Country

Native Communities Build Sustainable, Culturally Relevant Housing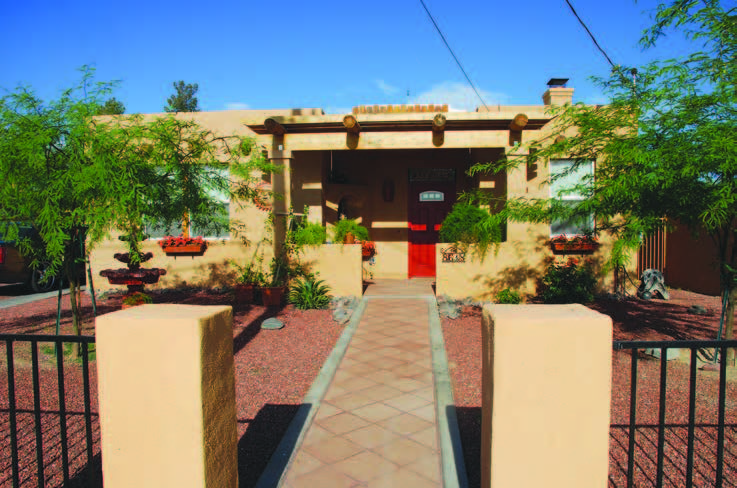 HUD's Sustainable Construction in Indian Country initiative aims to disseminate best practices. Above, the Guadalupe House design exemplifies the incorporation of culturally relevant features. Ernesto Fonseca As Native American communities construct new single- and multifamily units to meet their housing needs, they have the opportunity to achieve a high standard of sustainability — defined by the U.S. Green Building Council as homes that are "healthier, more comfortable, more durable, and more energy efficient and [with] a much smaller environmental footprint than conventional homes."1 Sustainable Construction in Indian Country (SCinIC), a joint effort of HUD's Offices of Policy Development and Research (PD&R) and Native American Programs (ONAP), promotes and supports sustainable construction in Native American communities through demonstration, technical assistance and training, and dissemination of best practices and program results.
A recent SCinIC report finds that sustainable building faces the same barriers as conventional building in Indian Country, along with some others: higher upfront construction costs (although the energy savings often reduces costs in the long run), lack of familiarity with new technologies, and limited resources and capacity. Yet the report also notes that the groups implementing the new technologies are enthusiastic about sustainability and that in many cases sustainability has been linked successfully to culturally relevant building features such as large kitchen spaces that can accommodate family gatherings or traditional home shapes and orientations.2
The following are just two of the many sustainable building efforts that have been completed or are currently underway. As of July 2011, at least 37 green tribal residential projects were either in progress or completed.3 The following examples underscore how sustainability can be aligned with the pursuit of other goals such as supporting Native American businesses or providing senior housing.
In northern New York, the Akwesasne Housing Authority of the Saint Regis Mohawk Tribe incorporated sustainable technologies, including insulating concrete form walls and a geothermal heating system, into the construction of the second phase of the Sunrise Acres Elderly Complex, an affordable housing development for seniors. Completed in 2011 with HUD funding through NAHASDA and the American Recovery and Reinvestment Act, the second phase has shown a reduction in utility costs of approximately 50 percent compared with the first phase of construction, largely by replacing kerosene with geothermal heating.4

The Guadalupe House, designed by architects at the Arizona State University Stardust Center for Affordable Homes and the Family, exemplifies sustainable building combined with culturally relevant features. Built for members of the Pascua Yaqui Tribe in Guadalupe, Arizona, the design prototype incorporates affordable, energy-efficient materials appropriate for the climate, including a tribally produced material called Navajo FlexCrete, along with elements that reflect local Mexican and Yaqui traditional culture.5
Sustainable construction offers numerous benefits. In the short term, sustainable construction provides quality housing and typically reduces residents' energy costs — a particular need in Indian Country, where tribes often have high fuel costs because of their remote locations.6 In the long term, sustainable construction mitigates negative environmental impacts in a way that is generally consistent with traditional and contemporary values concerning cultural and environmental stewardship.7 In addition to new sustainable construction, some homes can be retrofitted with technology such as solar panels, as have more than 200 homes across 21 tribal areas through the GRID Alternatives Tribal Program.8 Continuing technical assistance and training, along with the dissemination of best practices and lessons learned, promise to facilitate broader adoption of sustainable construction and retrofitting practices in Indian Country.
Visit www.huduser.gov/portal/SCinIC/home.html for more information on the HUD initiative and additional examples of sustainable building in Native American communities.
---
Lynda Lantz, Laura Appelbaum, and FirstPic, Inc. 2014. "Final Report: Sustainable Construction in Indian Country Initiative," U.S. Department of Housing and Urban Development, Office of Policy Development and Research, vi.
Ibid., ix; 37; Appendix C–7.
Ibid., 26.
Ibid., Appendix C–7.
Jamie Blosser, Nathaniel Corum, Daniel Glenn, Joseph Kunkel, and Ed Rosenthal. 2014. "Best Practices in Tribal Housing: Case Studies 2013: A Report by the Sustainable Native Communities Collaborative, an Initiative of Enterprise Community Partners," U.S. Department of Housing and Urban Development, Office of Policy Development and Research.  
Katherine M. O'Regan. 2014. "Foreword," in Lantz et al., iv.
Lantz et al., 3.
"Tribal Program," GRID Alternatives website (www.gridalternatives.org/learn/programs/tribal-program). Accessed 6 April 2015.
Evidence Matters Home
Previous Article