Assessing HUD Technical Assistance Programs: Evaluating Change Since Implementation of Community Compass: Final Research Report
Release Date:
November 2020 (144 pages)
Posted Date:
September 14, 2021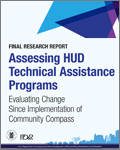 HUD TA helps "customers navigate complex housing and community development challenges by equipping them with the knowledge, skills, tools, capacity, and systems to implement HUD programs and policies successfully and sustainably and provide effective administrative and managerial oversight of HUD funding."- FY2018/2019 Community Compass NOFA
This descriptive study pursues three questions: what TA does HUD provide; how does HUD provide TA; and how effective is the TA perceived to be in the context of the implementation of the Community Compass structure in 2014. This study examines Community Compass through analysis of administrative data program-wide and through two case studies: 1) TA provided by the Office of Special Needs Assistance Programs (SNAPS) with a focus on TA for recipients of HUD funding to address homelessness and 2) TA provided to PHAs that HUD identified as troubled, based on assessments of management quality. Findings from this first assessment of Community Compass are intended to inform HUD's TA delivery by providing detailed descriptions of TA delivery processes, information on what is working well, and suggestions for improvements.
Click here to download the final research report.
Click here to download the Technical Appendix.