Hud User Home > About > Research > Research Roadmap
Research Roadmap
PD&R's research program is essential to helping the U.S. Department of Housing and Urban Development achieve its mission to create strong, sustainable, inclusive communities and quality, affordable homes for all. It is critical that we look ahead not only for the key research opportunities we will highlight for Congress in our annual budget request but also to develop a multiyear agenda that will ensure a robust pipeline of research for years to come.
That's why we created the Research Roadmap as an evidence-building plan for HUD. Through extensive stakeholder engagement, the Roadmap identifies critical, policy-relevant research questions and helps to guide PD&R research investments. The Roadmap aligns with HUD's Strategic Plan 2018–2022 and program operations, making it a living document that drives PD&R's work on a daily basis and requires frequent reassessment. We are seeking fresh input about research gaps and data needs in four broad categories:
Public and assisted housing programs
Economic opportunity and wellbeing
Housing finance and homeownership
Strengthening communities.
To launch the information-gathering effort, PD&R hosted a kick-off event on March 20, 2019, with the goal of posting an updated Research Roadmap in the Summer of 2019. The archived webcast of the event is available here.
In the years since HUD's Research Roadmap became one of the first federal learning agendas, awareness has grown that evidence-based policy is necessary for effective government investments and learning agendas are needed to approach evidence-building in a strategic way. Early in 2019, the enactment of the Foundations for Evidence-Based Policymaking Act (FEBPA) established a requirement for agencies to perform such assessment and planning. As the Office of Management and Budget defines the FEBPA requirements, PD&R's research roadmapping is likely to encompass a broader, agency-wide perspective on how evidence is collected and used to improve results. In addition to supporting FEBPA objectives, the Roadmap will continue to put forward a menu of potential research projects selected on the basis of timeliness, policy relevance, and effective use of PD&R's comparative advantages.
Download the HUD Research Roadmap: 2017 Update
Download the HUD Research Roadmap FY 2014–2018 (Full Report)
Stay in Touch
Have a research question or project idea to contribute for the next Research Roadmap? Leave a comment in the
Research Roadmap Forums
.
You can reach the HUD Research Roadmap team or leave comments at HUDResearchRoadmap@huduser.gov.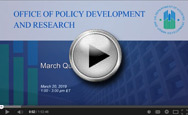 View the Webcast
Shaping HUD's Research: Kickoff Event
03/20/2019