Preserving the Past and Adapting to the Future in Lafayette, Louisiana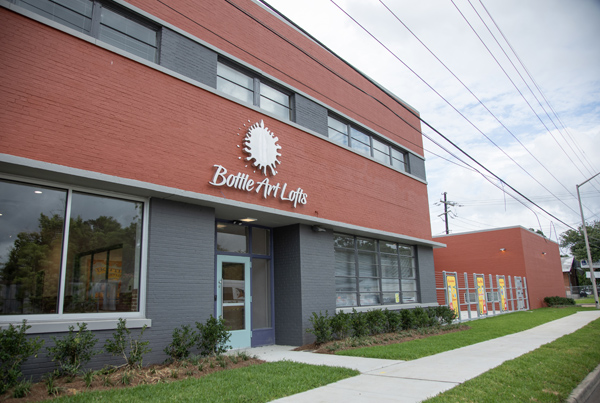 The Bottle Art Lofts in Lafayette, Louisiana, provides affordable rental housing to people employed in creative industries. The project helps support an important sector of the local economy and is notable for its resiliency features designed in response to severe flooding in 2016. Photo credit: HRI Communities, LLC.
Significant floods impacted southern Louisiana in 2016, prompting efforts from federal, state, and local governments aimed at both recovering from the floods and ensuring resiliency against future disasters. In the city of Lafayette, one affordable housing project, Bottle Art Lofts, combines emerging best practices in flood-resistant building with neighborhood revitalization and historic preservation to create 105 units of housing in a former Coca-Cola Company bottling plant. Developer HRI Communities completed the project over two phases with a total development budget of approximately $32 million. Through a leasing preference for tenants working in the arts or other creative fields, Bottle Art Lofts is helping support local culture in Lafayette.
Affordable Artist Housing
The first phase of the Bottle Art Lofts, completed in 2021, involved the rehabilitation and reuse of the Coca-Cola bottling facility, originally built in 1936. A combination of state and federal historic tax credits, low-income housing tax credits (LIHTCs), and Community Development Block Grant Disaster Recovery (CDBG-DR) program funds supported the construction of 35 one-bedroom and 5 two-bedroom units, including 2 units set aside as permanent supportive housing. The permanent supportive housing units are restricted to those earning less than 20 percent of the area median income (AMI), and the remaining units are restricted to tenants earning 50 or 60 percent of AMI.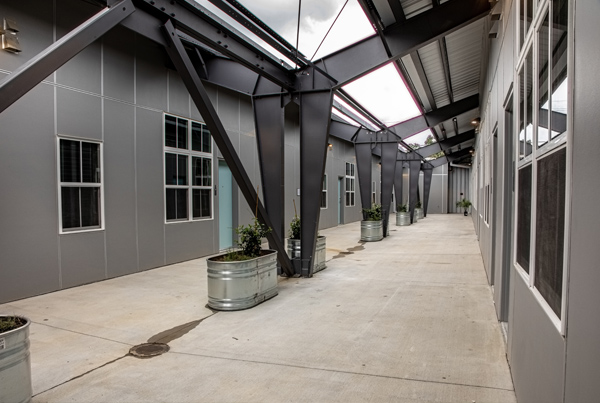 The original use of the site as a Coca-Cola bottling facility allowed for unusual architectural features when converted into apartments. This courtyard is formed by two former warehouse buildings. Photo credit: HRI Communities, LLC.
The second phase, completed in 2022, relied primarily on LIHTC and CBDG-DR funding. Consisting entirely of new construction, this phase houses 54 one-bedroom and 11 two-bedroom units.
Bottle Art Lofts gives preference to tenants working in creative fields, including visual artists, musicians, and food industry workers. Josh Collen, president of HRI Communities, reports that Lafayette's strong creative culture primes Bottle Art Lofts residents for future success. In similar HRI Communities projects, many residents working in creative industries eventually move out of their affordable rental units because they have been able to save for a downpayment on a house, says Collen.
A Gateway Into Lafayette
Building A Pathway To Resilient Multifamily Housing
Following the 2016 floods (and a series of devastating hurricanes), the state of Louisiana established the Piggyback Resilience Initiative Mixed Income (PRIME) program to direct federal CDBG-DR funding toward mixed-income, multifamily housing projects that "incorporate resilient construction practices that use materials and techniques that increase a structure's ability to withstand adverse weather conditions."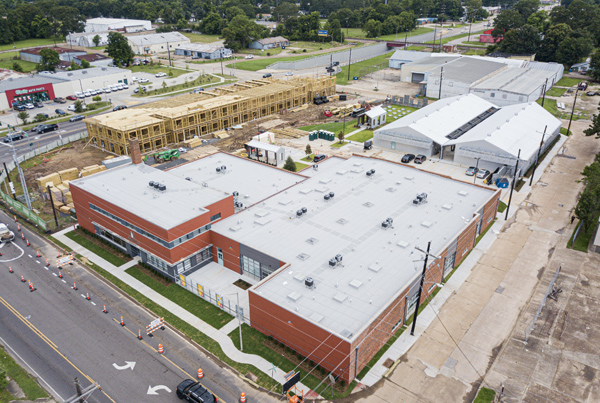 Funding from state and federal historic tax credits, low-income housing tax credits, and the state's PRIME program supported development of this two-phase project. Here, the former bottling plan is in the foreground, the warehouses in the back right of the site, and the building constituting the second phase is seen still under construction (completed in 2022). Photo credit: HRI Communities, LLC.
The funding, which is structured as loans, targets areas of the state significantly affected by the 2016 floods. Collen credits the program with establishing a sustainable method of funding the construction of buildings capable of withstanding severe weather events. Operating income generated by the funded projects is reinvested into PRIME and is then available to fund future
projects
.
In addition to state funding efforts, the development of resiliency standards has provided needed benchmarks and guidance for developers wanting to increase the resiliency of their projects. According to Collen, many existing resiliency standards were neither adapted for nor well-suited to multifamily construction. In early 2022, the Insurance Institute for Business & Home Safety expanded its FORTIFIED program to include beyond-code standards for resilient multifamily housing, and Bottle Art Lofts was the first project to receive Gold-level certification under the expanded projects.
To aid the development of severe-weather-tolerant buildings, Enterprise Green Communities created standards that define "design for resiliency," which requires, among other things, stormwater management capacity. Despite being located on a site outside of the 500-year floodplain, Bottle Art Lofts incorporates these standards. The reason, says Collen, is that despite being relatively safe from flooding, Bottle Art Lofts must not overburden municipal water management infrastructure by shedding heavy rainwater too quickly.
Rooted in Lafayette's history, Bottle Art Lofts is playing an active role in protecting the city's future. It provides an affordable and professionally supportive home for the city's artists, contributes to the neighborhood's renewal, and is a leader in demonstrating how emerging policy and building standards can sustain communities vulnerable to climate change.
Interview with Josh Collen, 8 July 2022. ×