St. Regis Mohawk Tribe on Track for Energy Savings
«
In 2012, the HUD Sustainable Construction in Indian Country (SCinIC) initiative provided the Akwesasne Housing Authority (ASA) of the St. Regis Mohawk Tribe with analysis indicating that the demonstration project's new Sunrise Acres units could be expected to accrue energy costs that would be 57 percent lower than comparable, older, conventionally-built units.
But would this ambitious prediction hold true in the frigid Upstate New York winter of 2013–2014?
In 2010-2011, the AHA constructed 20 units of multifamily housing (Sunrise Acres Phase II) that incorporated a range of sustainable features. The tightly built and well-insulated 4-unit buildings relied on a geothermal system as their heat source, with domestic hot water provided in part by a photovoltaic array. The units also integrated other energy efficient features.
The Housing Authority provided SCinIC with a year's worth of utility bills for one of their new 4-unit multifamily buildings, covering June 2011 – May 2012. SCinIC ran the data through eQUEST® building design software to develop baseline energy costs on the project and to estimate the effectiveness of certain energy cost reduction measures (ECRMs). It also compared the initial year's utility costs to those of an older 4-unit building (Sunrise Acres Phase I).
The resulting technical assistance report notes that space heating accounted for the most significant difference in energy consumption between the new and old buildings. The older units were heated using a mix of electricity and kerosene. The switch to geothermal heating in the newer structures led to a 57 percent drop in energy consumption, as shown in the accompanying bar chart.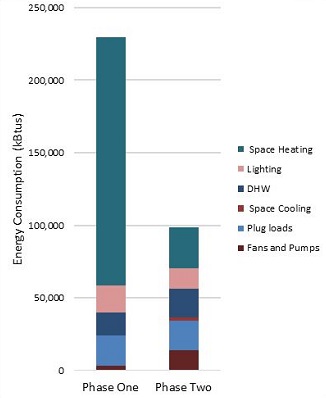 Citation: HUD Sustainable Construction in Indian Country During the 2011-2012 period measured, the closest weather station to the St. Regis Mohawk reservation in Massena, New York, recorded 6,588 heating degree days (HDD) and 574 cooling degree days (CDD). Degree days are indicative of the duration and intensity of the heating and cooling seasons.
With new 2013 utility data in hand, SCinIC team member Building Research Council at the University of Illinois at Urbana-Champaign assessed whether energy use had continued to meet expectations. However, 2013 weather patterns in the Upstate New York area were well outside the norm. According to the New York State Energy Research and Development Authority, in Massena, the 2013 HDD rose to 8,042 and the CDD dropped to 410.
That year, the older Phase I properties spent a total of $42,082 to warm their units ($27,534 on kerosene and $14,548 on electricity), whereas the newer Phase II units – those relying solely on geothermal heating – spent just $24,268. In fact, in the winter of 2013, the Phase II units spent 58% less than the Phase I units, almost exactly the same percentage decrease noted in the technical assistance report.