Secretary Castro Visits Straw-Bale Demonstration House on Pine Ridge Reservation
«

The straw-bale demonstration home, shown above, is an energy-efficient and context-sensitive housing design developed as part of the Sustainable Construction in Indian Country initiative. Photo courtesy of Native American Sustainable Housing Initiative. This past October, HUD Secretary Julián Castro visited the Pine Ridge Indian Reservation in South Dakota as part of his "listening tour," when many of his first 100 days in office were spent learning about the needs of HUD's constituents. The housing conditions he encountered at Pine Ridge revealed both hardship and promise.
Secretary Castro visited a 2-bedroom home shared by 13 people, but also toured a demonstration house developed by the University of Colorado Boulder Native American Sustainable Housing Initiative (NASHI), in cooperation with the Thunder Valley Community Development Corporation (CDC). Like other Sustainable Construction in Indian Country efforts you've read about here, NASHI is funded by HUD's Office of Policy Development and Research (PD&R). The project also benefitted from the construction engineering and sustainable design expertise of PD&R staff.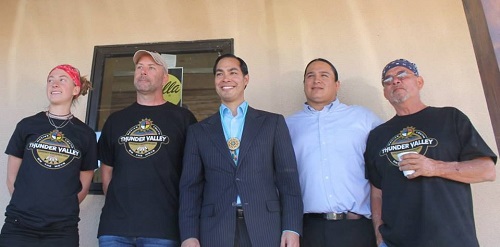 HUD Secretary Julián Castro (center) stands with the development team after touring the NASHI and Thunder Valley CDC straw-bale house. L to R: NASHI Research Assistant Janna Ferguson, NASHI Executive Director Rob Pyatt, Secretary Castro, Thunder Valley CDC Executive Director Nick Tilsen, and Oglala Lakota College Professor Lennie Lone Hill. Photo appears courtesy of NASHI. NASHI Director Rob Pyatt showed Secretary Castro around the straw-bale demonstration home, which will be tested and compared to three other energy-efficient housing designs that may serve as models for decreasing overcrowding on the reservation and creating healthy, high-quality housing. According to a recent article in Architect, AIA's online magazine, "The next three prototypes will be identical in size and shape but will be built with different construction methods and materials: structural insulated panels, compressed earth block, and advanced wood frame."
Secretary Castro's visit to Pine Ridge and tour of NASHI's straw-bale demonstration home serve to underscore the need for further technical assistance and capacity building in Indian Country. For additional information on the visit, related content can be found in the Rapid City Journal and Native News Online.