Coliving: A Nontraditional Affordable Housing Option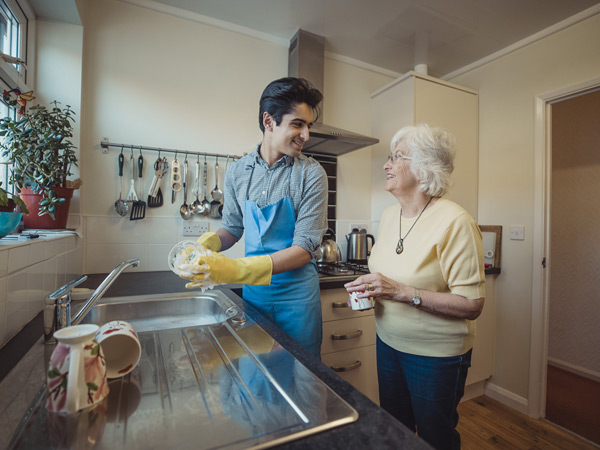 A panel at the recent NAEH conference discussed homesharing, a living arrangement in which two or more unrelated individuals share a house or apartment. An example of homesharing is when homeowners provide college students with housing in exchange for an agreed level of support such as assistance with household tasks.
Almost half of all individual adults experiencing homelessness — the largest population currently experiencing homelessness — are unsheltered. With housing costs continuing to rise and affordable housing options limited by strict zoning and building codes, among other factors, new coliving alternatives may offer a solution to the affordable housing crisis facing individual adults. Coliving housing consists of a small living space — usually with multiple beds per room — offered at an affordable price. On February 21–22, 2019, the National Alliance to End Homelessness (NAEH) held its annual Solutions for Individual Homeless Adults National Conference in San Diego, California. Moderated by NAEH director Mindy Mitchell, the panel, "Thinking Outside the One-Bedroom Apartment Box: Non-Traditional Affordable Housing Options," featured Shamus Roller of the National Housing Law Project, Juleeann Fisher of Shared Housing Services, and Meg Pohodich of Harmony House. The panelists discussed various coliving options, including residential hotels, worker dormitories, and homesharing programs.
Regulatory Barriers to Coliving
Popularized in the 19th and 20th centuries, coliving housing such as single-room occupancy buildings, boarding houses, and residential hotels lined American streets and provided working-class individuals and families with affordable shelter. Often designed around shared bathroom or kitchen facilities, coliving spaces fulfilled the need for affordable housing by offering small units or even just a bed to those in need. According to Roller, many coliving buildings also offered short leases, sometimes allowing tenants to pay for housing by the night. By the end of the 20th century, however, coliving spaces had virtually disappeared from most cities. One major reason for this, noted Roller, was the effect of new zoning and building regulations on the American housing stock. Regulations dictating minimum square footages for living space and the number of unrelated individuals allowed to live under one roof reshaped the affordable housing industry and made coliving essentially illegal.
Although zoning regulations were created in part to improve safety, Roller also argued that zoning is based in and reinforces a decades-old system of racial segregation. Certain laws were written to uphold a standard of living thought reasonable by the elite rather than focusing on the needs of the working class. For Roller, loosening strict zoning regulations to allow coliving housing may help ease the burden of high housing costs. Coliving housing uses a fraction of the space per person that the minimum standards for most apartment buildings require. As Roller pointed out, reintroducing coliving spaces will require a larger conversation about zoning, health and safety, and affordable housing in addition to addressing new challenges such as parking requirements.
Homesharing Provides Mutual Benefits
The complete revival of coliving spaces will not happen overnight, but some organizations are taking small steps by using existing housing to implement homesharing programs. Homesharing, said Fisher, is a living arrangement in which two or more unrelated individuals share a house or apartment. The programs foster a mutually beneficial relationship between an individual experiencing (or at risk of experiencing) homelessness and homeowners. Individuals needing shelter benefit from having a stable housing option, while homeowners reduce their high housing costs. By using existing homes, homesharing also helps reduce the risk of foreclosure and prevent unnecessary vacancy. Currently, said Fisher, only about 60 homesharing programs exist nationally. In the state of Washington, the University of Washington Tacoma partnered with Shared Housing Services to start the Husky2Husky program, which connects Tacoma homeowners with a spare room with students struggling with high housing costs; in exchange for housing, students provide homeowners with an agreed level of support — assistance with household tasks or a financial exchange. Both students and homeowners benefit; the student receives a stable and affordable living situation, and the homeowner receives additional income or services for an otherwise unused space.
Coliving Alive and Well in Houston
Coliving spaces are also making a comeback in cities where zoning laws pose less of a challenge. In Houston, a city without formal zoning codes, coliving options are providing housing to unsheltered individuals. Harmony House, said Pohodich, is a 25-year-old worker dormitory that offers transitional supportive housing and 87 beds for working men experiencing homelessness. Potential residents of Harmony House must have a valid form of identification and proof of employment, but Pohodich also stated that Harmony House is flexible with these requirements to ensure that those in need of a bed can be sheltered. Residents can pay rent daily, weekly, or monthly, with typical costs set at $13 per day, $65 per week, and $235 per month. All rental payments go toward building upkeep and general operations, keeping Harmony House a self-sustainable housing option for many. According to Pohodich, the success of Harmony House's first building has led the organization to develop a new worker dormitory with 128 additional beds.
The Future of Coliving
Rethinking what affordable housing looks like will require ongoing research and conversations. As the featured panelists point out, coliving spaces may be one alternative that can supply much-needed shelter to individual adults experiencing homelessness. Homesharing programs and housing options like Harmony House are already showing what successful coliving can do. Challenges remain, however, and barriers such as zoning regulations, building codes, and neighborhood opposition will need to be addressed before coliving spaces are fully reintroduced into the affordable housing stock.