Reducing the Cost of Housing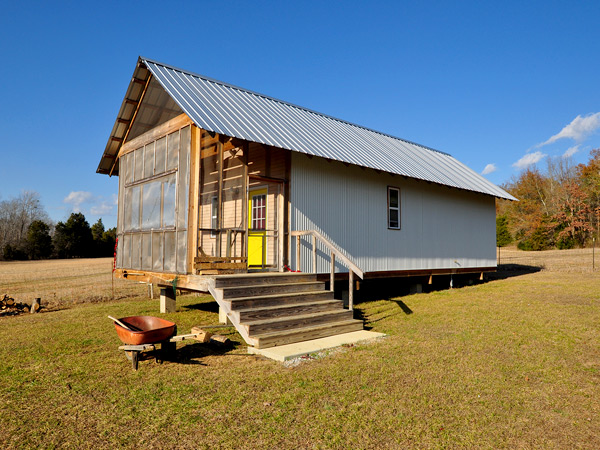 Andrew Freear and Auburn University's Rural Studio designed 22 models of small single-family homes for rural areas, such as the home shown, intended to sell for $20,000. Credit: Hans Drexler,
Creative Commons
.
Image
cropped and retouched.
For many households in the United States, the cost of housing has become more expensive relative to income over the past few decades. On April 13, 2018, the Joint Center for Housing Studies of Harvard University held a symposium focused on strategies to improve housing affordability by reducing the cost of housing. The event, "Reframing Housing Development: How Changes in Design, Construction, and Regulation Could Reduce the Cost of Housing," explored how architects, builders, planners, city officials, and others can work to decrease housing costs.
Designing More Affordable Housing
Katie Swenson, vice president of National Design Initiatives at Enterprise Community Partners, Inc., began the discussion focused on design by asking whether designers and their skills could be better used to drive down the cost of housing. According to Brian Phillips, principal at Interface Studio Architects, architects can help develop affordable housing by creating housing designs for small or oddly shaped sites. Phillips also noted that firms can be strategic about spending money, allocating more resources to the interiors of homes, specifically kitchens and bathrooms, rather than focusing on the aesthetics of the exteriors.
Symposium participants also discussed whether new modes, models, and typologies of housing could generate more affordable options. Andrew Freear, director of Auburn University's Rural Studio, and Michael Thomas, director of business development at Panoramic Interests, explained how using small units and standardized sets of designs can create more affordable and efficient housing. Freear designed 22 models of small single-family homes intended for rural areas. The one-, two-, and three-bedroom designs efficiently use materials and are intended to sell for $20,000. Thomas and his company created residential building designs for urban areas that feature only three sizes of dwelling units: studios, two-bedroom units, and four-bedroom units, all of which are modular and much smaller than typical construction. The standardized designs and prefabricated elements allow the units to be quickly constructed and relatively affordable.
Driving Down Construction Costs
The symposium also explored how advances in the construction industry are decreasing the cost of construction. Speakers representing construction firms that use innovative materials and technologies discussed how to alter processes to improve efficiency. Fritz Wolff, cofounder and board member of Katerra, highlighted how building materials supply, architecture, interior design, engineering, construction, and all other activities related to building could be integrated into one organization, eliminating the need for subcontracting and reducing costs. Randy Miller, chief executive officer of RAD Urban, described how construction crews could be used more efficiently on job sites through stricter division of labor, with crew members assigned to work specifically in one of three areas: receiving, material handling, or installation.
The presenters also highlighted the use of prefabricated building components as a strategy to lower costs. Not only do prefabricated building components offer economies of scale, but they also help speed construction. James Shen, Loeb fellow and cofounder of the People's Architecture Office, described how his firm used prefabricated panels for housing construction that have cores of polyurethane insulation, an interior drywall-like material of magnesium oxide, and a steel exterior. Shen noted that the panels can lock in place to construct buildings quickly and without the need for skilled labor, and the panels can be used for infill development on small sites, such as constructing accessory dwelling units. Miller also championed the use of prefabricated modular building components to reduce construction costs. By using modular components, construction, design, and development firms can easily model how design changes will affect overall building costs, standardize structural assemblies, and determine how buildings will respond to site-specific forces. In addition, both Shen and Miller noted that constructing new housing within urban locations and other previously developed areas offers proximity to existing infrastructure and amenities that can also lower overall costs.
Overcoming Regulatory Barriers
Shekar Narasimhan, senior industry fellow at the Joint Center for Housing Studies of Harvard University, opened the discussion of regulatory barriers by focusing on how the complexity of building codes and zoning regulations and the length of approvals processes can contribute to the high cost of housing in many areas. According to Harriet Tregoning, former principal deputy assistant secretary of HUD's Office of Community Planning and Development; Jesse Kanson-Benanav, chair of A Better Cambridge; and Adhi Nagraj, director for SPUR in San Francisco and chair of the Oakland Planning Commission and its Design Review Committee, many cities are also experiencing a mismatch between the size of the existing housing stock and the size of resident households. More housing is needed because household sizes are smaller and fewer people are living in each housing unit. The presenters noted that allowing more by-right development and higher-density development can help address the high demand; such proposals, however, may encounter opposition from residents and the local politicians that represent those residents. Kanson-Benanav underscored the importance of working with the community to gain support for new housing to accommodate incoming residents.
The presenters also emphasized the need to make existing inclusionary housing policies feasible for developers by ensuring that the costs of building affordable housing are offset by density bonuses or other regulatory changes. In addition, the presenters emphasized the need for communities to review parking regulations and their impact on housing costs, especially in areas with viable alternatives to personal vehicle ownership.
Changing Course
Although the cost of housing in the United States has increased for owners and renters over the past few decades, several opportunities exist to reverse this trend. The symposium highlighted the ways in which the professionals involved in designing homes, building residential structures, and drafting zoning and other regulations can help reduce the cost of housing. Innovative designs such as standardized floorplans and modular units, new construction processes and methods such as the use of prefabricated panels and modular construction, and regulatory reform such as reducing parking requirements could help meet the demand for more affordable housing.
By-right development refers to uses and development standards that are allowed under an area's zoning ordinance.
×
Inclusionary housing policies or zoning ordinances, depending on whether they are mandatory or voluntary, either require or encourage developers to set aside a percentage of units in new residential developments for low- or moderate-income residents.
×