Breaking Ground's Boston Road Facility Provides Supportive Housing in the Bronx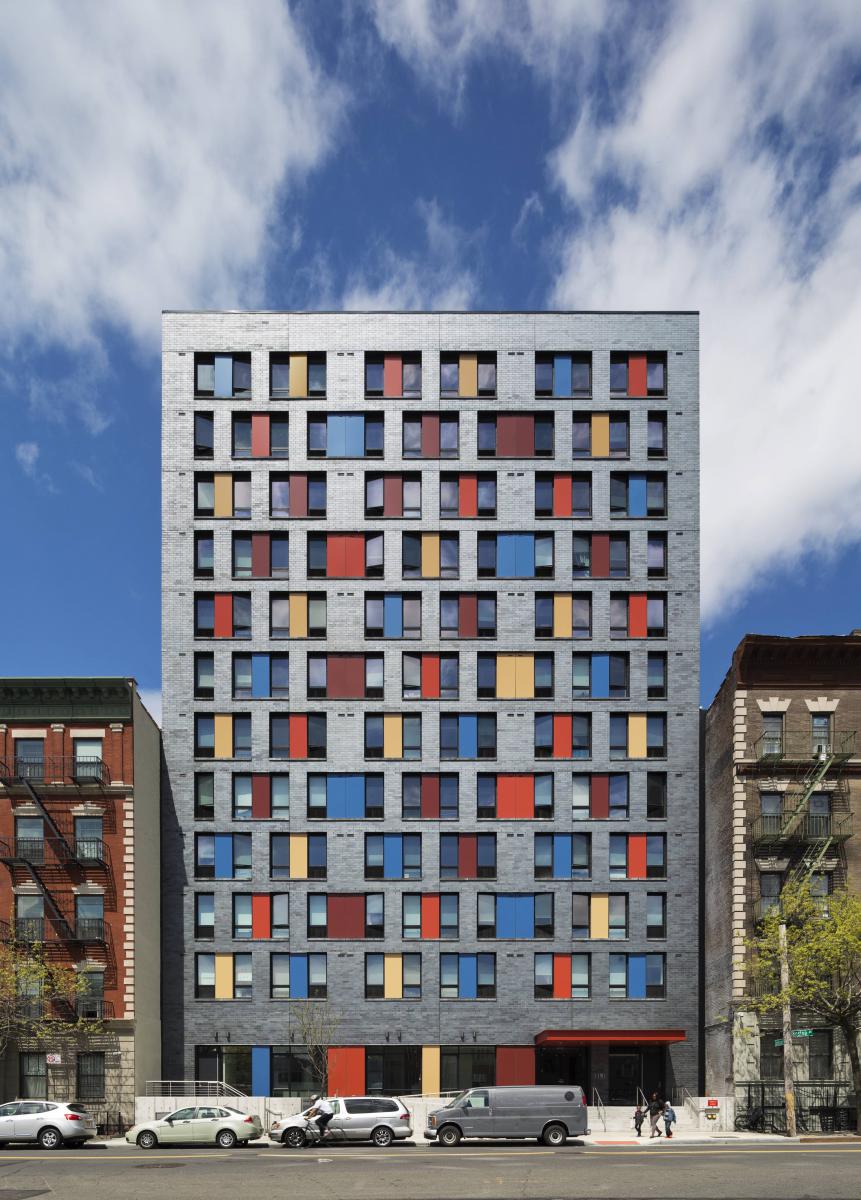 Breaking Ground's Boston Road development provides 154 units of permanent supportive housing to low-income and formerly homeless individuals in the Morrisania section of the Bronx, New York. Credit: Michael Moran/OTTO for Alexander Gorlin Architects
Opened in 2016, Boston Road is a permanent supportive housing facility serving formerly homeless and low-income adults in the Morrisania section of the Bronx, New York. The $48 million development, which includes 154 residential units, community spaces, and ground-floor offices, was developed by the nonprofit Breaking Ground and financed in part by the New York State Medicaid Redesign Team (MRT). By providing affordable housing and supportive services, Breaking Ground hopes to reduce the healthcare costs incurred by residents, many of whom have special needs or are living with HIV/AIDS. The 12-story building was designed by the award-winning architectural firm Alexander Gorlin Architects.
Bending the Cost Curve: New York's Medicaid Redesign
MRT was convened in 2011 to improve health outcomes for Medicaid recipients, control program costs, and streamline the administrative structure. One of the more than 200 initiatives that MRT devised was the Supportive Housing Initiative, which uses state Medicaid funding to fund new construction; launch pilot programs to test new models of care; and provide rental subsidies to vulnerable, high-cost Medicaid recipients. Supportive housing is a component of the Medicaid redesign because housing is a "social determinant of health" — a major factor affecting a person's ability to be healthy.
Breaking Ground, a nonprofit that owns and manages more than 3,500 units of housing in New York City, upstate New York, and Connecticut, was one of the first entities to receive capital funding from MRT for housing construction. MRT contributed $6.3 million to the development cost of Boston Road in the form of a capital grant. The project also received $18.5 million in low-income housing tax credit equity. The remaining $23.2 million cost was composed of $5.9 million in long-term bonds issued by the New York State Housing Finance Agency, $10.2 million in loans from the city's Department of Housing Preservation and Development, $3.7 million in state Homeless Housing and Assistance Program funding, and a $3.35 million developer fee deferred by Breaking Ground. In 2012, Breaking Ground purchased a plot of land from New Covenant Christian Ministries, and construction of Boston Road began in 2013.
Housing for Formerly Homeless and Low-Income Populations
Boston Road was completed in late 2015 and opened in 2016. Because Breaking Ground had also purchased 40,000 square feet of air rights — an unusual step for a nonprofit housing developer to take because these entities typically prefer smaller projects, according to Breaking Ground president and CEO Brenda Rosen — Breaking Ground was able to build a large building, with the Boston Road development rising 12 floors and 119 feet from street level. The resulting building is within the 150 to 200-unit range typically developed by Breaking Ground.
Designed by Alexander Gorlin Architects, Boston Road has an "animated façade" of red, orange, and blue squares against modern gray brickwork. The distinctive ceiling of wavy, variable struts in the lobby is a reference to the site's original geology, in which a large outcropping of schist stood exposed to the weather. The building received several design awards, including the New York chapter of the American Institute of Architects' Award of Merit for New Construction, the NYCxDESIGN Award in the category of Low-Income Multi-Unit Residential Building, and Best Affordable and Supportive Development in the Society of American Registered Architects' Design Awards.
All 154 units are studio microunits with private bathrooms and kitchenettes, intended for single adults. Because many tenants are formerly homeless, the studios come furnished with a table and chairs, a bed and mattress, and a chest of drawers. The kitchenettes have countertop hotplates, convection microwaves, and refrigerators. Most of the units (94) are reserved for formerly homeless residents who are referred to the development through the city's Department of Homeless Services. Each of these units is subsidized by project-based Section 8 vouchers. The remaining 60 units are open to tenants earning no more than 60 percent of the area median income. Approximately 20 percent of units are fully accessible for wheelchair users, and all the remaining units are adaptable.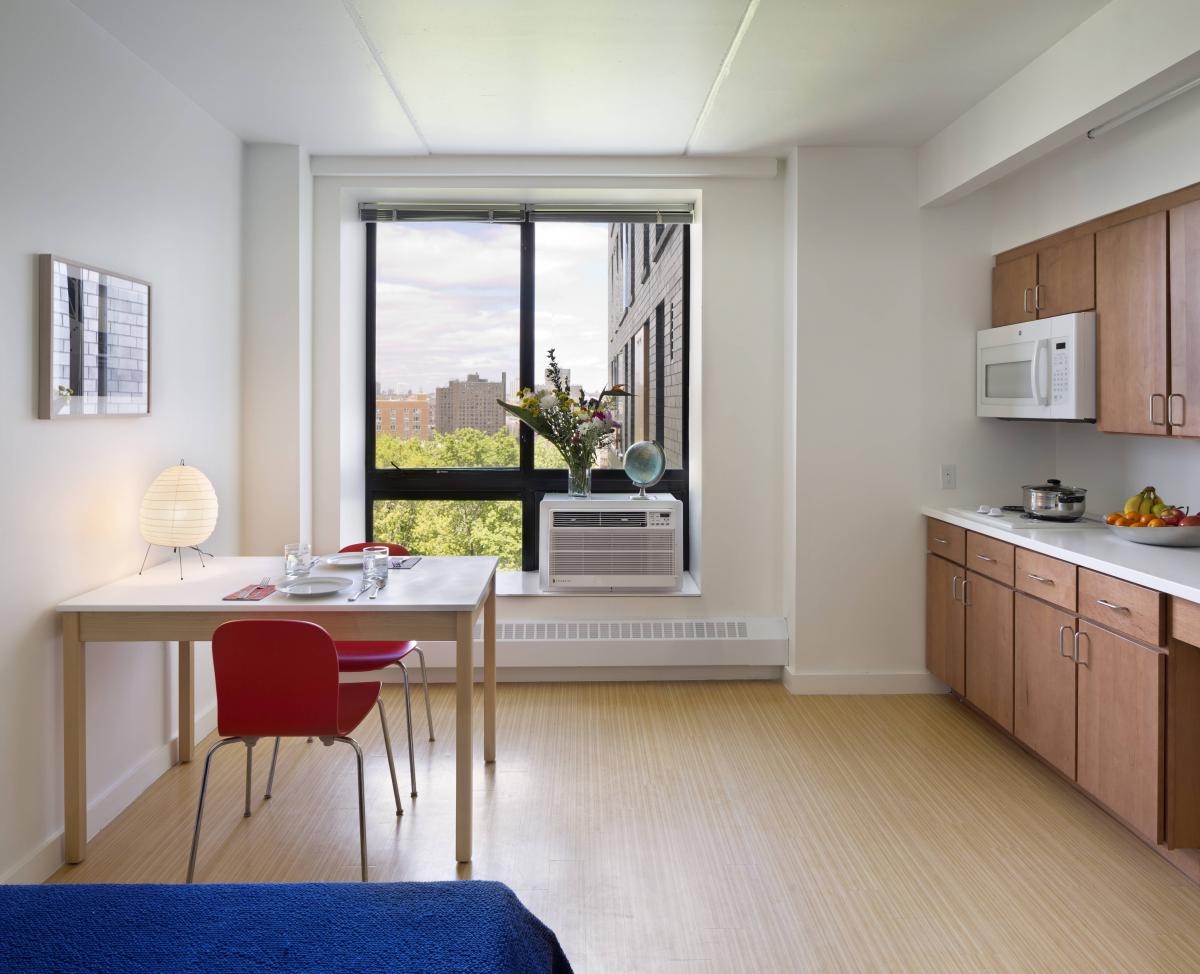 Each studio microunit includes a private bathroom and kitchenette, and because the majority of the residents are formerly homeless, all units come furnished with a table and chairs, bed and mattress, and a chest of drawers. Credit: Michael Moran/OTTO for Alexander Gorlin Architects
The service provider — Services for the Underserved (SUS) — offers clinical case management for residents and employs an onsite nurse who, in addition to assisting tenants directly, helps connect them to more comprehensive care. Breaking Ground works with SUS and other partner organizations to provide tenants with recreational, social, and self-sufficiency activities. "We provide a lot of activities to help tenants acclimate to independent living," said Rosen. Typical workshop topics include budgeting and finance, health and fitness, résumé writing, and meal preparation, and typical recreational activities include cultural trips, game and movie nights, and holiday parties. Boston Road allows pets, so the services team also arranges for sliding-scale veterinary treatment and onsite programming to help pet-owning seniors and others with disabilities with in-home pet care.
Amenities include a gym, computer lab, coin laundry, bicycle storage, and a large multipurpose community room. The community room can be subdivided into smaller sections and either used as an indoor space or opened to the adjacent outdoor garden space. The ground floor hosts a suite of offices for social service providers and property management, with a private space for the onsite nurse. The offices for each function are located close together to facilitate cooperation between the service provider and property management teams.
The building was designed for an ENERGY STAR® rating, with finishes that contain little or no volatile organic compounds, a green roof, and a building management system that increases energy efficiency. The management system uses sensors to regulate the electrical, cooling, and lighting systems in communal areas of the building, which reduces waste. The system is connected to a reserve energy supply that was installed on the roof rather than the basement as a disaster preparedness measure following Hurricane Sandy. The rooftop terrace, which is not open to tenants, is lined with drought-resistant plants to improve the building's energy efficiency and to capture water and air pollutants.
Planning for the Future
Boston Road is fully occupied as of early 2018, with a long waiting list for the low-income units and low unit turnover. When the development initially opened, the 60 low-income units were awarded through a lottery. For every affordable unit, Breaking Ground received about six applications, and those who were not chosen were automatically added to the waiting list. This high degree of interest demonstrates the acute need for affordable housing in the city.
Although Breaking Ground does not collect data on residents' health outcomes, Rosen expresses high confidence in the MRT Supportive Housing Initiative. "It costs less to develop and operate supportive housing than for someone to remain homeless, in the long term," she said. "You can support it from a humane standpoint and from an economic standpoint." MRT has published preliminary results on the cost savings of the Supportive Housing Initiative. Since 2012, more than 11,000 high-need Medicaid recipients have been served, and results include a 40 percent reduction in days spent in the hospital, a 26 percent reduction in emergency room visits, and a 15 percent reduction in overall Medicaid health expenditures.
Breaking Ground plans to add to its portfolio of affordable and supportive housing, with several developments planned for the next 2 to 4 years in Brooklyn, Queens, and the Bronx. "We have a very robust development pipeline," said Rosen. All of the new buildings will have units reserved for formerly homeless residents, and some will include medical support. Rosen reports that two new buildings for seniors are in pre-development as of early 2018, including one in Queens that will have a 15,000-square-foot community health clinic on the ground floor.
Source:
Breaking Ground. n.d. "Boston Road." Accessed 22 February 2018.
×
Source:
Interview with Brenda Rosen, president and chief executive officer of Breaking Ground, 2 March 2018; Breaking Ground. n.d. "Who We Are." Accessed 22 February 2018; Correspondence with Patrick Bonck, director of communications of Breaking Ground, 28 March 2018; Documents provided by Patrick Bonck, 28 March 2018.
×
Source:
In New York City, a developer can purchase air rights from nearby properties that have not been built up to the neighborhood's height limit. These rights entitle the developer to build additional floors above the height limit on the developer's own lot.
×
Source:
Interview with Brenda Rosen, 2 March 2018; Breaking Ground. n.d. "Boston Road." Accessed 22 February 2018.
×
Source:
New York State Department of Health. n.d. "Medicaid Redesign Team Supportive Housing Initiative." Accessed 8 March 2018; Interview with Brenda Rosen, 2 March 2018.
×