From Historic Hospital to Affordable Housing for Seniors in Aurora, Illinois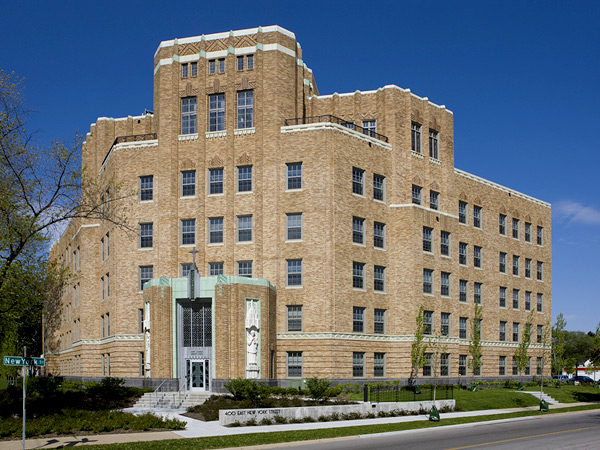 The redevelopment of St. Charles Hospital adds 60 units of housing for seniors in Aurora, IL, returning an architecturally significant structure to productive use for the community. Credit: Leslie Schwartz Photography / Evergreen Real Estate Group
A former hospital is finding new life as affordable housing for seniors in Aurora, Illinois. After spending decades as a site for medical and nursing care, the refurbished St. Charles Hospital building opened as Aurora St. Charles Senior Living in December 2016, featuring 60 new housing units for seniors of varying income levels. The restored Art Deco building enhances the character of Aurora's downtown, an area currently leveraging its historic fabric in pursuit of economic revitalization. Aurora St. Charles exemplifies how a single project, with determined and creative support, can use multiple tools to help cities advance along multiple policy fronts.
Of the 60 units at Aurora St. Charles, 56 are maintained as affordable, with most supported by rental subsidies, and 4 are rented at market rate. The units with rental subsidies include 44 units supported by project-based vouchers reserved for those earning up to 50 percent of the area median income (AMI), and 6 units for the statewide referral network (a program that matches individuals exiting state-run supportive programs with housing) reserved for those earning no more than 30 percent of AMI. The remaining 6 affordable units have rents affordable to households earning 60 percent of AMI. The 6-story building contains 5 studio, 42 one-bedroom, and 13 two-bedroom apartments. A community room occupies the former chapel, providing residents with a place to interact with their neighbors. The building is designed for independent living, including access to bus lines and neighborhood amenities such as a grocery store and other retail, a park directly across the street, and the nearby riverfront that boasts new parks and walking paths.
Development costs for Aurora St. Charles totaled $23 million. The largest share of the funding, $10.5 million, came from the sale of low-income housing tax credits. The developer, Evergreen Real Estate Group, also received federal and state historic rehabilitation tax credits, which were sold for $3.8 million and $4.3 million in equity, respectively. An additional $2.9 million came from Illinois' Credit Advantage first mortgage program, and $1.8 million in gap financing ensured completion of the project.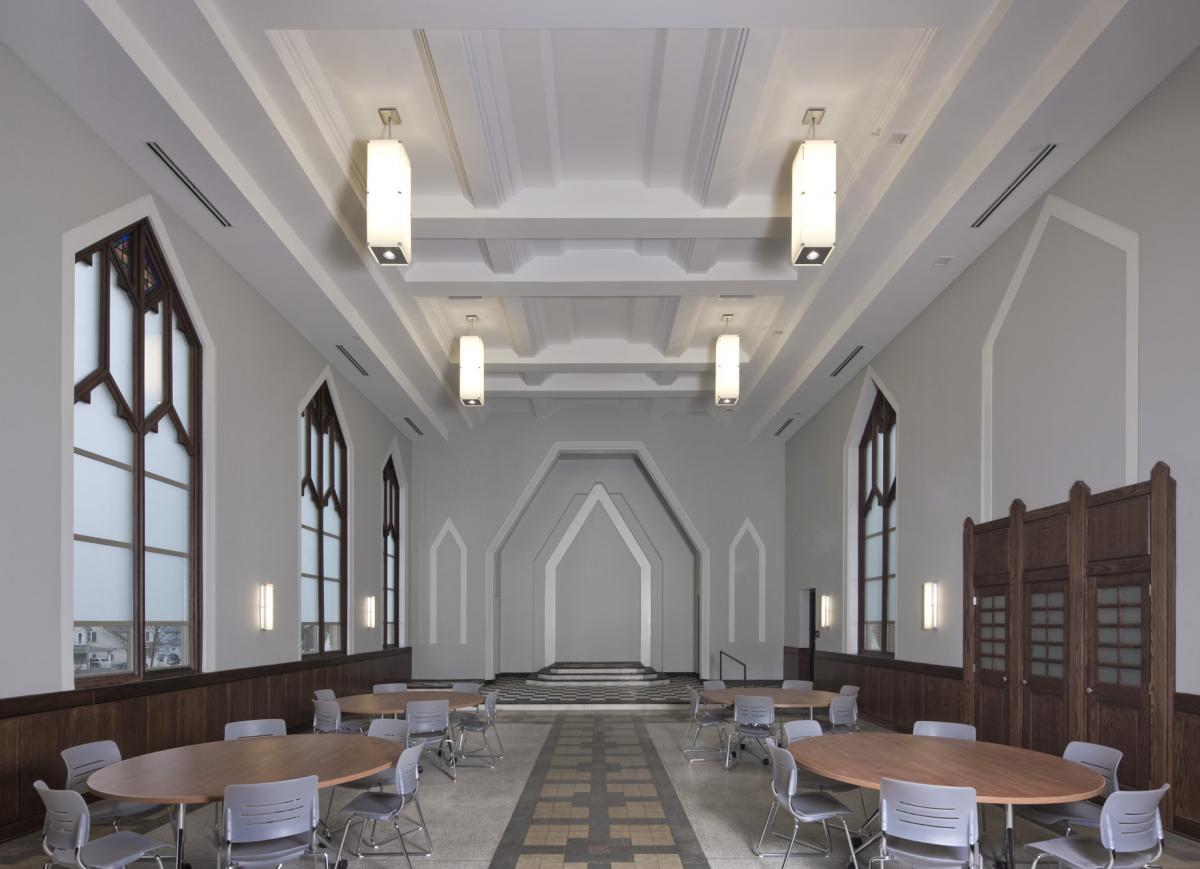 The former hospital's erstwhile chapel, repurposed as a community room for residents of St. Charles, retains many of its historical details. Credit: Leslie Schwartz Photography / Evergreen Real Estate Group
Using Policy Tools Creatively
The financing structure that supported the development of Aurora St. Charles reflects the various policy goals being advanced through a single project. St. Charles is the first project making use of Illinois' Credit Advantage first mortgage program, which the state created to encourage affordable housing construction. The program provides projects using 9 percent low-income housing tax credits with access to mortgages that have below-market interest rates and extended term and amortization periods.
The additional financing mechanisms used to develop Aurora St. Charles also advance policy goals that go beyond housing. For example, the federal and state historic tax credits help preserve Aurora's built heritage, making use of the city's architectural legacy to foster the rebirth of the formerly industrial downtown. When the St. Charles Hospital building was shuttered in 2010, ending its long run as a caregiving facility, the building was added to the National Register of Historic Places, vouchsafing a historically significant structure while plans for its future came together. This designation made the building eligible for the federal Historic Rehabilitation Tax Credit program. The value of these credits, which are sold to help finance rehabilitation, is calculated as 20 percent of an eligible project's total qualifying expenses. This tax credit program requires that a building produce income, which St. Charles achieves as a rental property, and that the project meet the Secretary of the Interior's Standards for Rehabilitation, which was ensured through the expertise of a historic preservation specialist hired by the developer.
The state of Illinois offers a similar 25 percent tax credit for historic preservation that is intended to be used in conjunction with its federal equivalent. To be eligible for the Illinois credit, a project site must be located within one of the state's five River Edge Redevelopment Zones, thereby integrating historic preservation into a strategy of geographically targeted economic revitalization. In Aurora, the zone covers the historically industrial downtown area, centered on the Fox River. Through these programs, the city and state encourage the adaptive reuse of old structures that preserves the feel of historic districts while leveraging the assets of old downtown areas to promote economic development.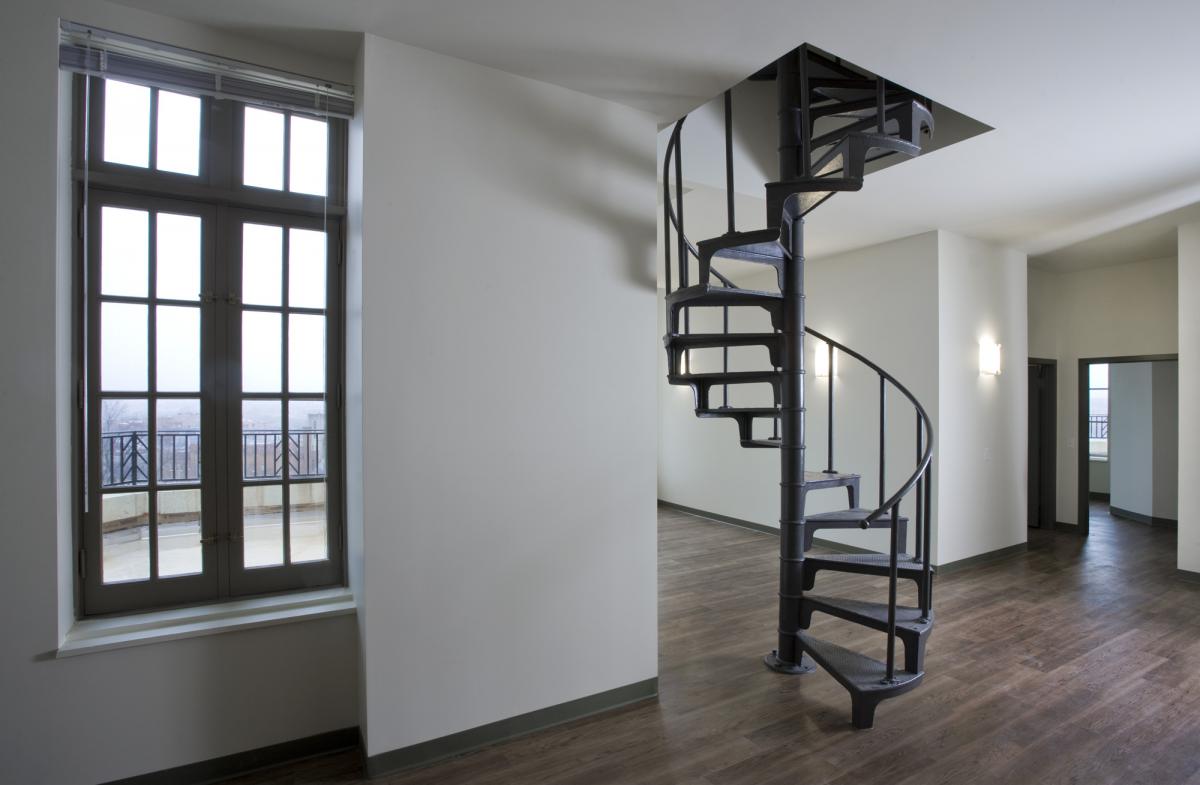 As a historic building, the apartments at St. Charles can have a charming "quirkiness", according to developer David Block, which, he says, residents often value. Credit: Leslie Schwartz Photography / Evergreen Real Estate Group
History as an Asset
For Aurora St. Charles' residents, for the developer, for civic leaders, and for the community at large, a project that contributes to so many facets of community life in Aurora is invaluable. According to David Block, director of development at Evergreen Real Estate Group, the support of public officials was critical in realizing this project from its earliest stages. Enthusiasm from the mayor's office and from officials at the Illinois Housing Development Authority helped ensure that the project's financing needs could be met. Aurora residents value the project as well, appreciating the return to use of a visually striking building. Finally, says Block, Aurora St. Charles residents feel as though they are part of the rebirth of historic downtown Aurora, noting that the "quirkiness" and character of the historic structure contributes to its appeal. Currently, St. Charles is fully occupied. The project's success has encouraged Evergreen to pursue similar adaptive reuse housing projects in Milwaukee and in the Chicago area, and, according to Block, the developer hopes to be able to work again in Aurora.