Mixed Income Artist Community Serves Downtown Baltimore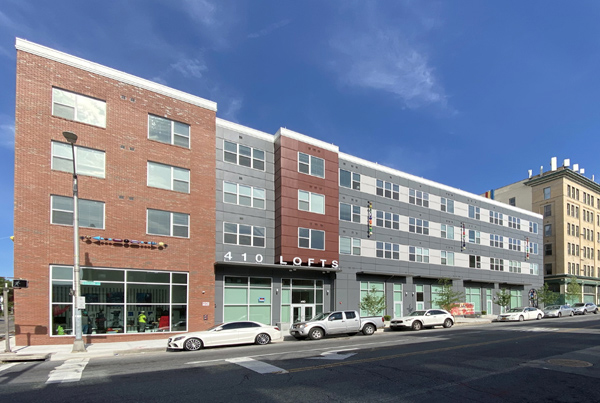 Four Ten Lofts in downtown Baltimore includes two apartment buildings with affordable artist housing, permanent supportive housing, and market-rate apartments. Photo credit: Mosley Architects Baltimore, MD
Four Ten Lofts is a new mixed-income community in downtown Baltimore, Maryland. Opened in 2021, this complex includes affordable housing geared toward artists, permanent supportive housing for people transitioning out of homelessness, and market-rate units. The development has art rooms and studios to help residents pursue their personal and professional endeavors. A nonprofit organization, Healthcare for the Homeless, delivers additional support services for the residents who had experienced homelessness. In addition to providing housing and support services to its occupants, Four Ten Lofts also attracts activity to an underutilized section of downtown Baltimore and could strengthen the emerging Bromo Tower Arts and Entertainment District that surrounds the property.
Background on Four Ten Lofts
Episcopal Housing, an affordable housing developer that specializes in housing for people transitioning out of homelessness, was looking for a site to construct permanent supportive housing in downtown Baltimore. Meanwhile, the city had two vacant parking lots in a section of downtown known as the Bromo Tower Arts and Entertainment District that it wanted to sell. Separately, French Development, which specializes in housing for artists, owned an unused lot in between the two city-owned lots. The two developers decided to combine these lots to develop a singular apartment complex consisting of both permanent supportive housing and affordable housing for artists. Episcopal Housing would have a central location for their permanent supportive housing units, and French Development would be able to build artist housing in an emerging arts district. The companies formed a joint venture to compete for the city's request for proposal for the lots. The city awarded the lots to the developers in 2018, and they accepted the title the following year. The city of Baltimore subsequently supported the project with more than $1 million in loans. A state program and federal tax credits also helped finance the $24 million project.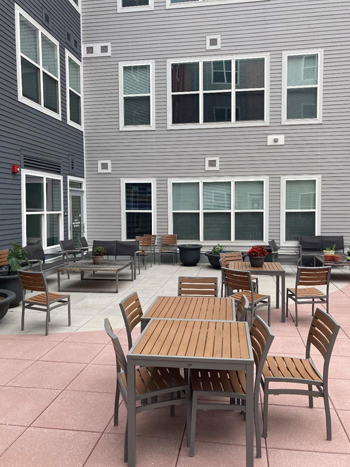 The development has indoor and outdoor common areas, including studios for artists to pursue their personal and professional endeavors.
The Apartments
The project consists of two adjacent buildings. One building has 48 apartments for artists and 20 permanent supportive housing units. All the artist housing units are reserved for residents earning between 30 and 60 percent of the area median income. The other building has eight market-rate units as well as a gallery and a coffee shop on the ground level. The apartments have between one and three bedrooms and range from 700 to 1,190 square feet. Every unit has a full kitchen as well as washers and dryers. United Way of Central Maryland stocked the permanent supportive housing units with towels, rugs, cleaning supplies, and nonperishable foods. Residents have access to community facilities such as a lounge; a communal kitchen; and a landscaped courtyard with a seating area, vegetable plots, and green screens.
The occupants of the permanent supportive housing apartments have chronic health issues, mental health issues, or addiction problems for which they need support. Healthcare for the Homeless provides services for these residents, including social workers and case managers who ensure that the residents' transition into housing goes smoothly. If a resident needs help preparing food or going to a medical appointment, staff can assist them. Nurses and other professionals also provide home health care and onsite occupational therapy. Furthermore, all residents of the permanent supportive housing are assigned peer advocates. Many of the peer advocates have their own history of homelessness or substance abuse or have a loved one with mental health issues, which allows them to relate to the residents on a personal level.
An Artist Community
Artists interested in living in one of the reserved units must be approved by a committee of existing residents who interview and evaluate the candidates. The committee's goal is to cultivate an environment of active and community-oriented artists and to foster a sense of creative support for everyone in the building. Current residents consist of painters, sculptors, fashion designers, and musicians. The development has several common studios onsite to give these residents space to work outside of the individual units, including a sound room and a ventilated spray paint booth. Artists have ample space to showcase their work in a ground-level gallery filled with paintings, drawings, and sculptures. Some of these pieces are visible from the street, potentially giving the artists a broader audience. An artist coordinator helps residents market their work. Although many residents do not make a primary living from their art, says Daniel McCarthy, the executive director of Episcopal Housing, that would be a goal for many residents, and he believes that some are on track to do so. The common art spaces are open to all residents of Four Ten Lofts, not just those who applied as artists. According to Jessica Leopold, the director of housing services at Health Care for the Homeless, several residents of the permanent supportive housing units take advantage of the building's art spaces and opportunities.
The artist housing in Four Ten Lofts is particularly noteworthy because of its location in the city's third state-designated arts and entertainment district. This neighborhood has galleries, theaters, and music venues and occasionally hosts music festivals and open gallery walks. The area is also served by both the light rail and subway systems, which is particularly useful for the permanent supportive housing residents, most of whom do not own cars. Four Ten Lofts helps further the district's goal of creating an affordable and sustainable environment for artists.
Serving Different Populations
Four Ten Lofts serves people transitioning out of homelessness and artists in need of an affordable place to live and work in an integrated setting. All residents can take advantage of the spaces and programs for artists even if they did not apply for one of the artist units. The development contributes to the surrounding arts district by attracting artists and those interested in art while also offering tailored services to residents in need.
Episcopal Housing Corporation. n.d. "Four Ten Lofts." Accessed 5 August 2022. ×
Email correspondence from Daniel McCarthy, executive director, Episcopal Housing Corporation, 4 August 2022 and 10 August 2022; Bromo Tower Arts and Entertainment District. n.d. "The Bromo Arts and Entertainment District." Accessed 5 August 2022. ×
Email correspondence from Daniel McCarthy, executive director, Episcopal Housing Corporation, 10 August 2022; Moseley Architects. n.d. "Four Ten Lofts." Accessed 5 August 2022; Episcopal Housing Corporation. n.d. "Four Ten Lofts." Accessed 5 August 2022; Interview with Jessica Leopold, director of housing services, Health Care for the Homeless, 25 July 2022; Four Ten Lofts. n.d. "Floor Plans." Accessed 11 August 2022; Health Care for the Homeless. 2021. "Welcome Home to Four Ten Lofts." Accessed 5 August 2022. ×
Email correspondence with Jessica Leopold, director of housing services, Health Care for the Homeless, 5 August 2022. ×
Email correspondence from LieAnne Navarro, community arts coordinator, Four Ten Lofts, 10 August 2022. Episcopal Housing Corporation. n.d. "Four Ten Lofts." Accessed 5 August 2022; Email correspondence from Daniel McCarthy, 10 August 2022; Interview with Jessica Leopold, 25 July 2022; Email correspondence with Jessica Leopold, 5 August 2022. ×