New Supportive Housing for At-Risk Veterans in Gary Uses Innovative Funding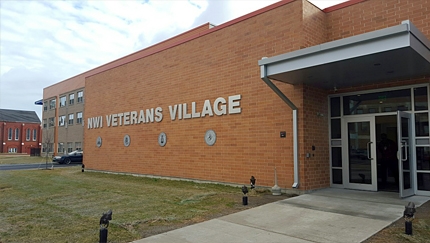 A predevelopment loan from the CSH Solutions Fund helped the Broadway Area Community Development Corporation develop 44 units of permanent supportive housing for veterans at risk of homelessness in Gary, Indiana. Credit: CSH
Supportive housing — the provision of stable, affordable housing along with access to medical and mental health, employment, educational, and other services — has shown promise in reducing homelessness and decreasing hospitalizations for at-risk populations, among other desirable outcomes. Using this model, the Broadway Area Community Development Corporation (BACDC) developed the Northwest Indiana Veterans Village, a 44-unit apartment building that opened in March 2016 in Gary, Indiana. The $10 million development benefited from an innovative source of funding — the Supportive Housing Solutions Fund, which provided a critical predevelopment loan that BACDC was not able to secure from conventional lenders. The Solutions Fund was created by the Corporation for Supportive Housing (CSH), which has been a leading national force in bringing supportive housing models to those in need since the organization's founding in 1991.
Northwest Indiana Veterans Village
Responding to the findings of annual point-in-time counts by the Continuum of Care Network of Northwest Indiana, BACDC decided to address the area's need for supportive housing for homeless veterans. The 56,000-square-foot, 3-story Veterans Village was constructed on a lot that was donated by the city. All of the building's 44 one-bedroom units, 5 of which are accessible under Americans with Disabilities Act standards, are designated for occupancy by veterans at risk of homelessness. Amenities include a dining hall; culinary arts training center; library; rooftop patio; and fitness, computer training, and arts and crafts rooms. A 6,000-square-foot commercial space accommodates BACDC, case manager, and U.S. Department of Veterans Affairs offices. The building is certified under the International Code Council 700 National Green Building Standard.
With technical assistance from CSH, BACDC supplements the affordable housing at Veterans Village with supportive services. Residents can receive case management administered by the U.S. Department of Veterans Affairs. Community colleges and universities in the area provide financial counseling and education. Culinary training, offered in partnership with Ivy Tech Community College, gives residents the opportunity to develop marketable vocational skills.
Solutions Fund Provides Flexibility, Leverages Philanthropic and Private Partnerships
BACDC's executive director, Vernita Leslie, had attended a CSH training institute where she became aware of CSH's new Solutions Fund. CSH structured the Solutions Fund to provide capital that could be deployed anywhere supportive housing was needed, even in financial deserts where conventional lenders rarely funded such projects. Additionally, CSH structured the Solutions Fund so that certain investors in the fund — philanthropic interests and CSH itself — do not require their invested funds to be repaid if a project suffers a financial setback; this structure essentially eliminates the need for a capital reserve and increases the amount of lendable money for projects like Veterans Village.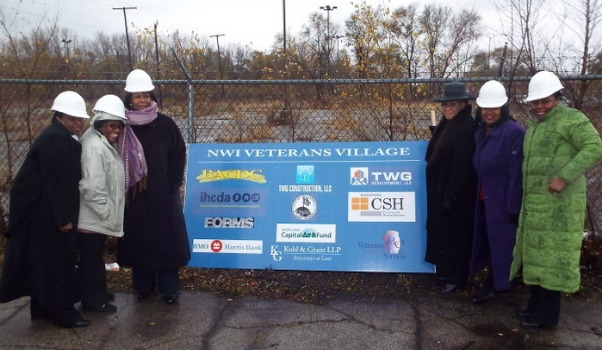 Early investment from the CSH Solutions Fund enabled BACDC to line up additional partners including TWG Development and the Indiana Housing and Community Development Authority to develop the NWI Veterans Village. Credit: CSH
The $414,000 predevelopment loan from CSH allowed BACDC to conduct a feasibility study and pay an architect and engineer for services that improved the project's standing for funding from government agencies and lenders. Leslie reports that CSH "helped every step of the way" and kept the project moving forward. Permanent financing ultimately included $8.7 million in low-income housing tax credit equity from the Great Lakes Capital Fund, $750,000 in city of Gary HOME Investment Partnerships program funds, $500,000 in community development block grant funds through the Indiana Housing and Community Development Authority, and $200,000 in deferred developer fees, totaling slightly more than $10 million.
Building on Success
The opening of the Northwest Indiana Veterans Village represents a significant step toward addressing veteran homelessness in Gary. Cities across the nation have made dramatic progress in reducing veteran homelessness, in large part through the permanent supportive housing that Veterans Village exemplifies.
CSH's Supportive Housing Solutions Fund was instrumental in the development of Veterans Village. The success of the Solutions Fund has encouraged CSH to seek out new partnerships with additional investors. CSH recently announced a $3 million commitment from the Annie E. Casey Foundation, and several of the fund's initial investors have made additional contributions, bringing the total amount of available capital to $75 million. The Solutions Fund has made 90 loans in 17 states as of July 2016, most of them predevelopment and acquisition loans. Combined with reinvestment of revenue generated when loans are repaid, CSH estimates that over the next 10 years the Solutions Fund can support the creation of 9,000 units of affordable and supportive housing — a proven tool in fighting homelessness and positively affecting residents' life outcomes.