Supportive Housing in East Hollywood, Los Angeles, Aims To Blunt City's Homelessness Crisis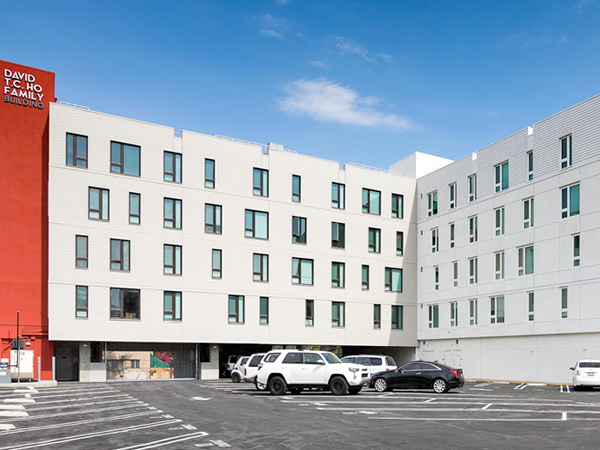 Phase I of PATH Metro Villas, the David T.C. Ho Family Building, is a 64-unit transit-oriented affordable apartment development in East Hollywood, Los Angeles. Credit: PATH
The David T.C. Ho Family Building is an affordable permanent supportive housing development in East Hollywood, Los Angeles. Opened in early 2019, the $28.5 million building has 64 apartments for low-income households and households coming out of homelessness, and its location near the Vermont/Beverly station of the LA Metro's B Line further enhances its affordability for tenants. This building, developed through a partnership between People Assisting the Homeless (PATH) and San Diego-based developer Affirmed Housing, is the first phase of a two-phase project, PATH Metro Villas, that is slated for completion in 2020. The second phase of PATH Metro Villas was the first development in the city to be allocated funds raised from the voter-approved Proposition HHH ballot measure.
The David T.C. Ho Family Building
The David T.C. Ho Family Building, designed by KFA Architecture, is a five-story, L-shaped building constructed in a modern style. The white façade rises up in view of the Hollywood Freeway and is strategically accented with eye-catching blocks of bright orange.
The development features 33 studio units and 31 one-bedroom apartments. Fifty-one units are designated as permanent supportive housing for households coming out of homelessness or chronic homelessness; of these, 32 limit tenancy to those earning no more than 50 percent of the area median income (AMI), and 19 are reserved for households earning no more than 60 percent of AMI. An additional 13 units are set aside for households that have not necessarily experienced homelessness but that earn no more than 60 percent of AMI. One 2-bedroom unit serves as housing for an onsite manager.
Services and Amenities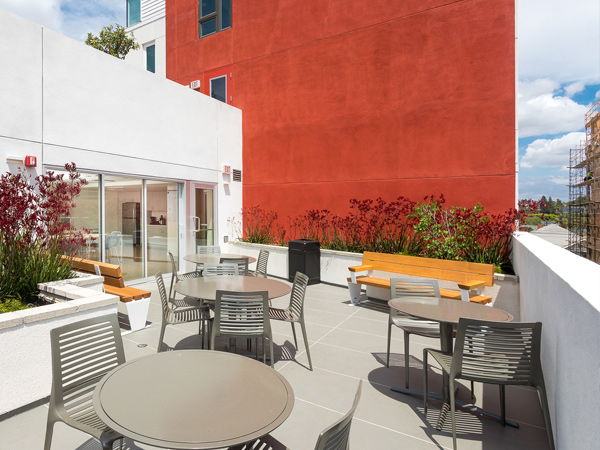 The Phase I building boasts resident amenities including a community room with a kitchen, a bicycle room, space for onsite services, and a rooftop terrace. Credit: PATH
Amenities at Phase I of PATH Metro Villas include a common room with a kitchen, two rooftop terraces, and shared laundry facilities. In addition to being less than three blocks from a Metro station, the building offers onsite bicycle parking, a bicycle-sharing program, and a bicycle room for repair and safety-related activities. Because the city's bus and Metro systems accommodate bicycles, these features enhance residents' ability to travel throughout the city and its suburbs without the expense of car ownership. Although a full-price 30-day Metro fare card cost $100 in October 2020 — substantially less than the combined monthly cost of gasoline and automobile insurance — more than half of Metro riders, including seniors, students, people with disabilities, and low-income individuals, are eligible for reduced-price fare cards.
As a permanent supportive housing development serving primarily households coming out of homelessness, the David T.C. Ho Family Building offers a range of in-house services that are coordinated by four PATH staff members in four primary areas: housing, health care, employment, and veteran's services.
In addition to the communal kitchen, the building boasts a kitchen for employment training and educational programming. The building also features offices for counseling and case management and a Veterans Connection Center to coordinate services with the U.S. Department of Veterans Affairs.
Financing
The total permanent development cost of Phase I of PATH Metro Villas was $28,560,000, which was furnished through various public and private sources. The largest single source of funding was $12 million in equity from the sale of 4 percent low-income housing tax credits. The Los Angeles Housing and Community Investment Department contributed $8 million. Additional funding sources included the Los Angeles County Department of Health Services, the Housing Authority of the City of Los Angeles, and the S.H. Ho Foundation.
Phase II Coming Soon
Initially planned for spring 2020, Phase II of PATH Metro Villas will add 120 affordable units in 2 buildings and bring the total cost of the overall development to approximately $80 million. The second phase will include three additional community assets: a primary care health clinic, a mental health clinic, and a community garden. Phase II also has the distinction of being the first development in the city to have received an allocation of funds raised though Proposition HHH, a November 2016 ballot measure that authorized the city to issue $1.2 billion in general obligation bonds for the development of housing and facilities for the homeless and those at risk of becoming homeless. By strategically positioning this service-rich supportive housing complex near the LA Metro, PATH, Affirmed Housing, and their partners are increasing housing and transportation affordability and creating access to new opportunities for formerly homeless and low-income households in East Hollywood.
Source:
Los Angeles Metro. n.d. "Fares." Accessed 13 October 2020; Los Angeles Metro. n.d. "Bike & Transit." Accessed 12 October 2020.
×