DeKalb County, Georgia, Uses Rental Assistance Demonstration Program to Expand Housing Options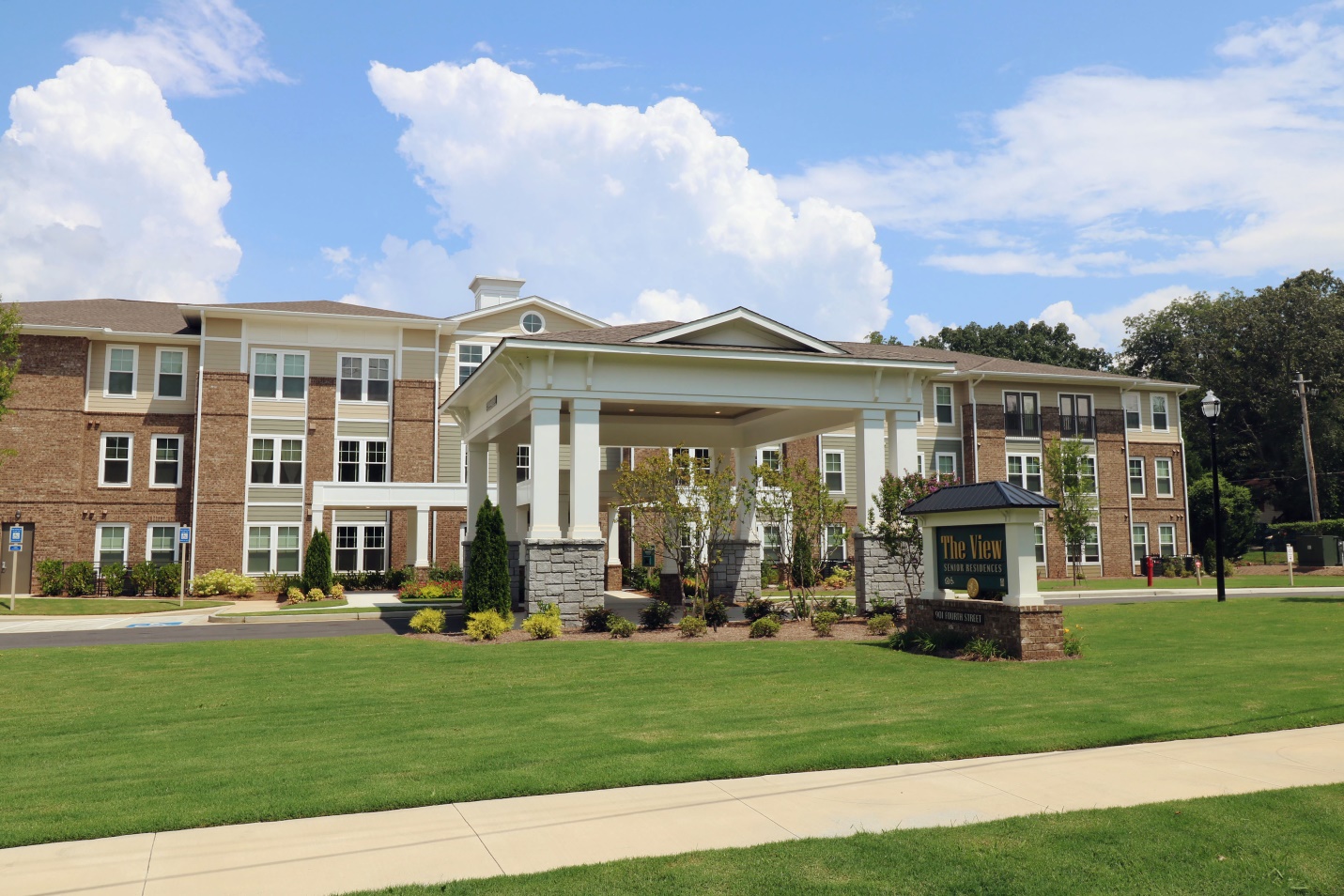 The Housing Authority of DeKalb County used the Rental Assistance Demonstration program to construct The View, an 80-unit, mixed-income senior housing apartment building. Credit: Housing Authority of DeKalb County
The Housing Authority of DeKalb County (HADC) in Georgia has innovatively used HUD's Rental Assistance Demonstration (RAD) program to expand and preserve assisted housing at several sites in the county, including at The View, an 80-unit, mixed-income apartment building for seniors ages 62 and older. HADC converted its entire portfolio through RAD, which enabled the agency to target specific low-income populations, such as seniors, who need modernized, efficient, and accessible housing. HADC located The View in an area of opportunity with walkable access to downtown Stone Mountain. The View, which was completed in October 2015 and was fully leased by March 2016, provides 75 low-income senior households with safe and affordable housing with numerous aging-friendly amenities.
RAD Conversions
HUD's RAD program, first authorized by Congress in 2012, is designed to help public housing agencies (PHAs) leverage public and private capital to address the estimated $26 billion backlog of deferred maintenance and capital improvement needs for the nation's 1.2 million public housing units. RAD allows PHAs to convert their units to long-term, project-based Section 8 contracts that provide greater financial certainty and stability; which help attract private capital for modernization and preservation. In 2014, HADC opted to use RAD to convert its entire portfolio of public housing units. HADC also became one of the first PHAs to use RAD for new construction and the first to use mixed financing — both public and private funds — for RAD conversions.
HADC's RAD conversions centered on redevelopment of its largest property, the 200-unit Tobie Grant Manor in Scottdale, Georgia. Built in 1966, the aging property's 104 prairie style and duplex buildings sprawled over 55 acres. Although well maintained, its inefficient, low-density layout and dated infrastructure left Tobie Grant Manor in dire need of modernization. Only 38 of the 200 units were one-bedroom units, the type that most older residents need, and few were accessible to individuals using wheelchairs. Given these limitations, HADC determined that rehabilitation or modification was a less attractive option than new construction. HADC demolished Tobie Grant Manor in 2014 and redeveloped that site, but the RAD conversion also allowed HADC to build new housing units at several additional amenity-rich sites, including five new-construction projects and one rehabilitation project. In total, the mixed-financing deals that included RAD conversions more than doubled the original 200 units at Tobie Grant Manor. Significantly, this expansion enabled HADC to construct The View in a higher-income, lower-poverty area, supporting the housing authority's goal to promote economic integration.
The View
The View is a new construction building located on a roughly 10-acre site that was once the home of the since-disused DeKalb County Children's Shelter. The site is just two blocks from downtown Stone Mountain and a half-mile from the entrance to Stone Mountain Park, making retail and other community amenities easily accessible on foot. Unlike the former Tobie Grant Manor, The View is located in a relatively high-income, low-poverty area. The development's Stone Mountain neighborhood has a median income of $57,549, and 12.5 percent of its population had an income under the federal poverty level in the previous 12 months; in contrast, Tobie Grant Manor's Scottdale neighborhood has a median income of $32,991, and 36.0 percent of its residents had incomes under the federal poverty level in the previous 12 months.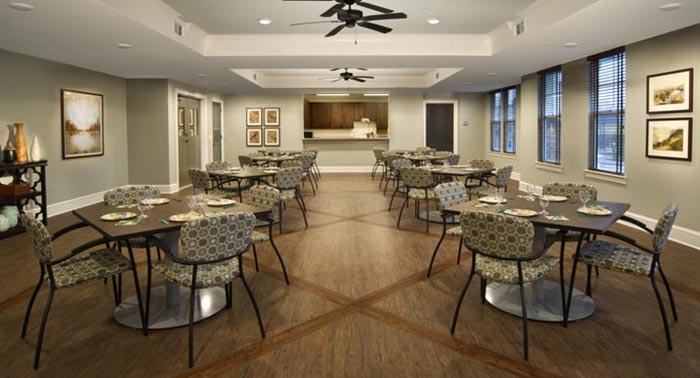 The View includes a multi-purpose room that can be used for dining and activities that help independent seniors remain socially engaged. Credit: Housing Authority of DeKalb County
The View is a 3-story building with 66 one-bedroom units and 14 two-bedroom units that range from 778 to 1,042 square feet. Five units are market rate, and the remaining 75 units are affordable to residents earning up to 60 percent of the area median income. Of The View's 75 assisted units, 25 are RAD conversions and 50 are assisted through project-based vouchers. Community features, which were designed with the needs and interests of older residents in mind, include a fitness center, arts and activities room, community garden, business center, onsite laundry facilities, a movie theater, and covered porches with mountain views. A Metropolitan Atlanta Rapid Transit Authority bus stop is located within a half-mile of the community. HADC's Resident Services Corporation also provides free shuttle services for shopping on a regular schedule.
The View was financed using 9 percent low-income housing tax credits allocated through the Georgia Department of Community Affairs, federal HOME Investment Partnerships block grant funds from the DeKalb County Community Development Department, and HADC Replacement Housing Factor funds. HADC's nonprofit affiliate, the Housing Development Corporation of DeKalb, and the Beverly J. Searles Foundation codeveloped The View. Hudson Housing Capital and Direct Tax Credits are also investors in the project.
RAD Improves Seniors' Housing Options
HADC's innovative use of the RAD program — converting its entire portfolio, using mixed financing, and incorporating new construction — allowed the agency to preserve and expand assisted housing in DeKalb County for the long term. The RAD conversions enabled the agency to both redevelop the former site of its largest public housing property and add assisted units, such as those in The View, in amenity-rich, higher-income neighborhoods.
Source:
Housing Development Corporation. n.d. "The View." Accessed 28 September 2017; Pete Walker, chief executive officer of the Housing Authority of DeKalb County; Documents provided to the author by the Housing Authority of DeKalb County.
×
Source:
Documents provided by the Housing Authority of DeKalb County; Housing Development Corporation. n.d. "The View." Accessed 28 September 2017.
×
Source:
Pete Walker, chief executive officer of the Housing Authority of DeKalb County.
×