Message From PD&R Senior Leadership
The Federal Housing Administration: 80 Years Young and Going Strong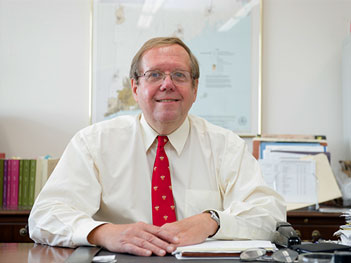 Edward Szymanoski, Associate Deputy Assistant Secretary for Economic Affairs. The Federal Housing Administration (FHA) turns 80 years old in July. This federal agency, which currently resides within the Department of Housing and Urban Development, was founded in 1934 as part of President Roosevelt's New Deal to combat the Great Depression. I should say that FHA is 80 years young, as the work and focus of FHA may have changed over eight decades, but FHA's core mission remains as vital to the nation today as it was at its founding. Among its many achievements, FHA modernized the American mortgage system, improved the quality of the nation's housing stock, prevented millions of Americans from losing their homes, allowed millions more to purchase their first home, and financed the construction of millions of modestly priced rental units. Although FHA has encountered some bumps in the road over the years in its operations, it has always managed to right itself, and has by and large accomplished its mission while remaining self-supporting using revenues generated by its mortgage insurance programs rather than taxpayer funds. I would extend former PD&R Assistant Secretary Michael Stegman's 1996 sentiment that FHA [in 2014] remains "truly one of the Federal Government's greatest success stories."
In 1934, with new mortgage credit frozen, residential construction stalled, and construction employment in a serious nationwide decline, Congress created FHA's mortgage insurance programs to get the building trades and private credit back to work. In response, FHA created national lending standards and revolutionized the mortgage market by extending insurance against default to lenders who originated loans as long as they met two key criteria: they would need to offer fixed-rate, long-term, fully amortizing mortgages, and they would need to ensure that mortgages and borrowers met national underwriting and construction standards. These innovations provided borrowers with a measure of certainty about their long-term financial picture and ensured that properties were habitable and marketable.
To a large extent, today's FHA does not compete with conventional lenders. FHA focuses on homebuyers who, although still creditworthy, have lower wealth and pose moderately higher risks than do those typically served in the conventional market. Most FHA home purchase loans over the past 15 years have been made to first-time homebuyers. FHA has also long been known to serve a disproportionately larger number and share of minority homebuyers, particularly African American and Hispanic buyers.
Since 1934, FHA has served nearly 44 million homeowners and financed more than 50,000 multifamily mortgages representing 4.8 million modestly priced rental housing units. FHA also finances residential care facilities, hospitals, manufactured housing, home improvements, and reverse mortgages. Although the latter programs are a relatively small share of the market, they provide funds for certain segments that might otherwise have difficulty getting loans.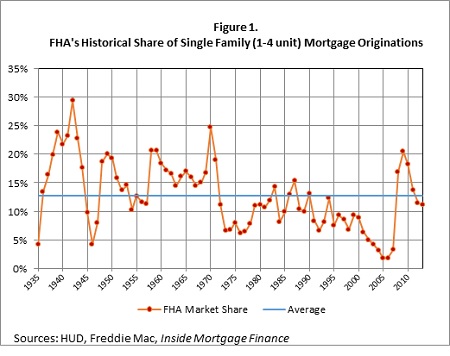 Another important component of FHA's mission has been to stabilize credit markets in times of economic disruption. In addition to its original role of stabilizing housing and construction markets during the Great Depression, FHA has added market stability on many other occasions over its 80-year history. Since World War II, there have been four instances (in 1948, 1958, 1970, and 2008) during which FHA's national market share increased by more than 5 percentage points in a single year. According to the National Bureau of Economic Research, these four periods have been times of economic recession (including the Great Recession, which began in December 2007), when conventional mortgages were hard to come by (see figure 1). On many occasions, FHA has stabilized local or regional markets experiencing recessions and provided relief to communities hit by natural disasters.
Most recently, FHA demonstrated its vital countercyclical role during the Great Recession. While other sources of mortgage finance retreated from the market, FHA continued to originate loans. Research indicates that in the absence of FHA-insured mortgages, home prices would have declined another 25 percent, contributing to an additional $4 trillion loss of household wealth and exacerbating the already severe impacts of the economic meltdown.
Although the Great Recession tested FHA's financial health, recent data show significant improvement, and FHA origination volumes, which rose dramatically in response to the crisis, are returning to long-term, precrisis levels.
FHA's mission is the subject of current policy debate as Congress weighs housing finance reforms, including reforms for the conventional market supported by Fannie Mae and Freddie Mac. Arguably, FHA's core mission remains the same, although it will likely need to be refined. Demographic trends indicate growing numbers of first-time minority homebuyers with limited means and a deficit of affordable multifamily properties as emerging challenges to address. Policymakers will need to consider how FHA can best fulfill its mission and continue to protect taxpayers while evolving to meet these demographic needs.
Of course, it is always helpful to remember that mortgage finance policy discussions have always had a political edge. In the archives of the Franklin D. Roosevelt Library is an amusing vignette about a dissatisfied homebuyer who could not obtain an FHA mortgage. A relative brought the matter up in a 1938 letter to the president, writing, "I hate to bother you about so small a thing as a termite — but the FHA Inspector has again demanded we jack up the nine locust posts in the cellar of my son's house at Warrenton, Virginia, and place a copper sheet underneath them." Ultimately, the problems were resolved and the mortgage was made.
Source:
Edward J. Szymanoski, William J. Reeder, Padmasini Raman, and John P. Comeau. 2012. "The FHA Single-Family Insurance Program: Performing a Needed Role in the Housing Finance Market," Office of Policy Development and Research, U.S. Department of Housing and Urban Development (www.huduser.gov/portal/publications/hsgfin/fha_singlefamily_dec2012.html). Accessed 27 July 2014.
×
Source:
Michael Stegman. 1996. "Foreword" in "An Analysis of FHA's Single-Family Insurance Program," by Harold L. Bunce, Charles A. Capone, Sue G. Neal, William J. Reeder, Randall M. Scheessele, and Edward J. Szymanoski. Office of Policy Development and Research, U.S. Department of Housing and Urban Development (www.huduser.gov/portal/publications/hsgfin/singlefa.html). Accessed 27 July 2014.
×