Improving Veterans' Housing and Employment Outcomes: The Veterans Homelessness Prevention Demonstration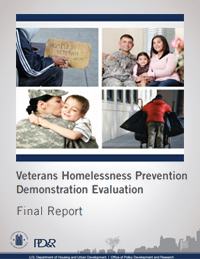 Returning veterans face a number of challenges, such as physical and mental health problems related to their service, difficulty finding and maintaining employment, and a greater risk of homelessness compared with their civilian counterparts. In 2009, Congress authorized the Veterans Homelessness Prevention Demonstration Program (VHPD), a 3-year program aimed at overcoming these challenges and improving housing and employment outcomes for veterans and their households. VHPD combined housing assistance from HUD, service coordination from the U.S. Department of Veterans Affairs (VA), and employment services from the U.S. Department of Labor (DOL). The program provided up to 18 months of housing assistance and case management and referrals to community-based services for veterans who were at risk of homelessness or had been homeless for less than 90 days. Housing assistance included help paying rent, security deposits, utilities, and moving costs. VHPD could also pay up to 6 months of back rent for clients. . VHPD sought to achieve housing stability by increasing participants' income. Employment services were provided by staff of the DOL's Disabled Veterans' Outreach Program and Local Veterans' Employment Representatives.
The demonstration served veterans in five locations: Camp Pendleton in San Diego, California; Fort Hood in Killeen, Texas; Fort Drum in Watertown, New York; Joint Base Lewis-McChord in Tacoma, Washington; and MacDill Air Force Base in Tampa, Florida. VHPD targeted recent veterans of operations in Afghanistan and Iraq, female veterans, and veterans with children. VHPD served 2,023 veterans in 1,976 households. Including nonveteran household members, VHPD reached a total of 4,824 adults and children.
Research Design and Questions
The HUD-sponsored evaluation of VHPD consisted of two main parts: a process study of program design and implementation, and an outcomes study primarily concerned with housing status and employment. For the process study, researchers examined the program setup at each site, interviewed staff and community stakeholders, and held focus groups with program participants during two waves of site visits to the five locations. The findings of this portion of the evaluation, which addressed research questions such as how to identify veterans at risk for homelessness, are discussed in the study's interim report. For the outcomes study, the researchers recruited 509 study participants. Of that group, 424 completed a baseline survey taken as soon as possible after program entry, and 315 of those respondents completed a followup survey 6 months after exiting the program. In addition, the researchers analyzed administrative data from the Homeless Management Information Systems and the VA for a larger group of VHPD clients. The main questions of the outcomes study concerned the effectiveness of the program in improving housing and employment outcomes and in reaching its targeted populations. The study also examined differences in serving veterans and their families compared with nonveterans.
Research Findings
At program entry, 74 percent of households were at risk of homelessness and 26 percent were literally homeless. At exit, 85 percent of participants were stably housed, 10 percent were unstably housed (meaning that they had temporary housing options but were not in permanent housing), and only 5 percent were literally homeless. At follow-up, 6 to 12 months after program exit, 76 percent of participants lived in their own homes or apartments, 18 percent were staying with friends or family, and 6 percent were homeless. In addition, another 4 percent reported that they had been homeless at least once since joining the VHPD.

Of those paying rent, 24 percent were struggling to do so.

Between program entry and exit, participants' mean monthly income increased from $1,076 to $1,535 and then declined slightly to $1,519 at followup. Employment increased from 25 percent at entry to 43 percent at followup. A greater percentage of participants reported income from jobs and pension benefits at followup than at program entry, and a smaller percentage reported income from unemployment benefits.

The program successfully reached its targeted populations — 55 percent of participants were veterans of operations occurring after September 11, 2001, a group that is 16 percent of the overall veteran population; 27 percent were women, who make up 10 percent of the overall veteran population; and 43 percent had children.

Veterans at risk for homelessness need short-term help paying for housing and supportive services just like nonveterans at risk for homelessness, but they have different physical and mental health difficulties and employment needs related to their service. Veterans also have access to a wider range of benefits than do nonveterans.
Conclusions and Implications
The researchers report generally positive outcomes from VHPD in both housing and employment. The absence of a comparison group limits the researchers' ability to fully attribute the results to the intervention. Although the researchers identified a comparison group of veterans outside of the program, the data on that group was incomplete and could not be compared directly with data on VHPD clients. Despite this limitation, the evidence suggests that the program helped participants. The researchers conclude that a significant need exists for veteran-specific homelessness prevention programs and that program components designed to meet the particular needs of veterans contributed to the success of VHPD — important findings for policymakers and providers to consider as they work to end veteran homelessness in 2016.