Exploring Unsubsidized Affordable Housing
By Eric Muschler, Program Officer in the Region & Communities Program at The McKnight Foundation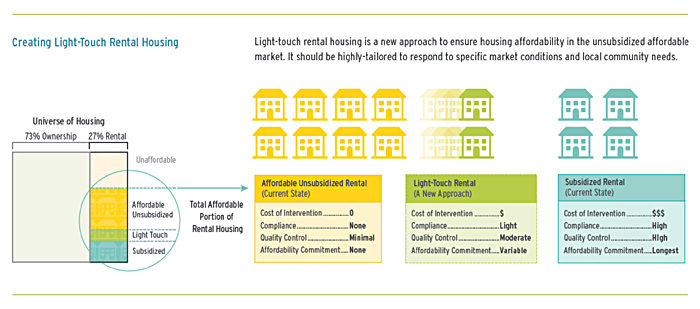 The McKnight Foundation is examining the feasibility of "light-touch" housing, unsubsidized housing that would be converted to permanently affordable housing with little or no subsidy.
Recently, the McKnight Foundation has been giving more consideration to what market orientation and scalability mean for our programs, policies, and grantmaking approach. In part this is an adaptive response to the Great Recession, diminishing resources, constraints at the federal level, and persistence of troubling trends. Many of our development partners in the affordable housing field are aware of market orientation because they must work in the marketplace to attract resources for construction and rehabilitation; however, because financing systems for affordable housing rely so heavily on subsidies, these developers aren't necessarily encouraged to make market orientation a priority. The focus of developing affordable housing is filling the "gap" in the market between total development costs and what can be financed by net operating income. Thanks in large part to Minnesota's well-developed and sophisticated affordable housing field, however, we are beginning to ask ourselves tough questions about the subsidy per unit cost of affordable housing (see MN Challenge) and if there are alternatives that would require little or no subsidy. We wanted to know if a socially motivated developer could purchase existing unsubsidized housing and create permanently affordable housing with little or no subsidy.
The Limited Reach of Subsidized Housing
In 2013 McKnight commissioned a report titled The Tension in Affordable Housing: Are Current "Best Practices" Enough? It pointed out that the total number of permanently affordable housing units created over the past 30+ years total around 110,000 units in the state including 61,000 units in the Minneapolis-St.Paul metropolitan area. Despite these additions to the housing stock, 50 percent of all renters in the metropolitan area are cost burdened, meaning that they spend more than 30 percent of their income for housing.
In June 2013, the Minnesota Preservation Plus Initiative released a report titled The Space Between which studied the nature of the unsubsidized affordable housing stock in Minnesota as well as potential interventions to preserve affordability. It found there are an estimated 182,000 units of unsubsidized affordable housing in the private market affordable to those at or below 50 percent of the median area income. That housing is also filled with those with higher incomes. With current vacancy rates in the metropolitan area now persistently below 3 percent and with over 17,000 of these units having been sold in the last 2 years alone, this stock may not remain affordable for long.
As fast as the subsidized affordable housing system can create more units, need outgrows production. The Metropolitan Council's recent housing policy plan suggests that more than 265,000 low- and moderate-income households in the Minneapolis-St. Paul metropolitan area are housing cost burdened. Yet in the metro region only about 1,500 new or preserved affordable rental units are produced each year. To create these units the average cost of new construction in the metro is about $220,000 per unit, rehabbed units cost an average of $160,000 per unit. At the same time we know that housing plus transportation costs combined is becoming a more critical benchmark to consider in relation to greater housing stability. These facts raise some questions:
Is capital-intensive housing production the most efficient way to support low-income families in achieving greater self-sufficiency?
Can the subsidized affordable housing system reach sufficient scale to meet the need, particularly given the waning trend of federal resources?
Can the affordable housing field capitalize on larger market forces to meet demand?
Opportunity Knocks
Intent on pursuing this line of thought McKnight requested a private brokerage firm to provide multifamily residential transaction data from 2006 to 2013 to help answer our questions. The data included transactions with a sales price of $1 million or more, not 100 percent of housing stock sales, but it provides a picture of large multifamily transactions in the metropolitan market. The data revealed that between 2006 and 2013, 23 percent of rental units in the greater Minneapolis-St. Paul housing market changed hands with an average of 5,200 rental units sold annually. The average cost for acquisition was $81,700 per unit. However, most transactions (77 percent) were for B and C class properties with an average sales price of $70,000 per unit.
McKnight could not compare total development costs since only acquisition costs were available. One Roof Global Consulting was then asked to run some development scenarios and test the basic hypothesis that affordability could have been extracted from some portion of these transactions. The purchase of unsubsidized affordable units in the marketplace could potentially capture and create more permanently affordable housing with little or no subsidy. McKnight will be exploring the feasibility of this approach with partners in the years ahead. This "light touch" rental approach challenges assumptions of traditional subsidized affordable housing developers and calls for some new operating practices, including the use of net operating income from the property for expenses, the flexibility to serve mixed-income residents, access to equity, effective property management, and manageable regulatory and compliance requirements.
McKnight and its key housing partners will be pursing that "space between" subsidized and unsubsidized affordable housing. As we have considered diminishing resources over time, increased loss of unsubsidized affordable units, and how market orientation could offer opportunities for greater scale and impact the choice has become increasingly clear.
The reports and references in this article are the products of many including the Greater MN Housing Fund, the Family Housing Fund, HousingLink, Housing Preservation Project, One Roof Global Consulting, National Housing Trust, CBRE Minneapolis Multi housing Group,, and MN Housing.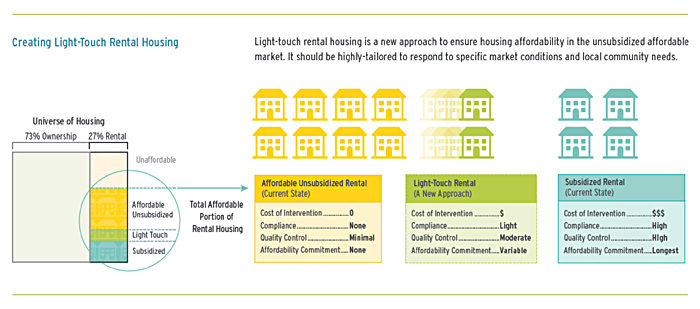 The McKnight Foundation is examining the feasibility of "light-touch" housing, unsubsidized housing that would be converted to permanently affordable housing with little or no subsidy.
×