Summer 2012
HIGHLIGHTS IN THIS ISSUE:
Tackling Veteran Homelessness With HUDStat
Using Data to Understand and End Homelessness
Linking Housing and Health Care Works for Chronically Homeless Persons

Tackling Veteran Homelessness With HUDStat
Highlights
Veterans are far more likely to experience homelessness than other Americans, in part because of their high rates of posttraumatic stress disorder, physical injuries and disabilities, and other factors that make reintegrating into civilian life and employment difficult.
HUD, in partnership with the U.S. Department of Veterans Affairs, has made veteran homelessness a focus area of its HUDStat performance management tool, using data to improve program effectiveness.
Through HUDStat, HUD has identified local challenges that have led to streamlined processes, resulting in outcomes such as increased voucher utilization in Los Angeles and Jacksonville.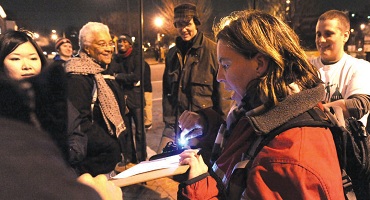 Estelle Richman, HUD Senior Advisor, and Veterans Affairs Deputy Secretary W. Scott Gould joined volunteers conducting the 2012 Point-In-Time count in Washington, DC. Beyond Housing HUD has adopted a new data-driven performance management tool designed to evaluate the effectiveness of its programs and investments. Launched in October 2010, HUDStat provides a framework for monitoring progress toward the agency's priority goals. At regular HUDStat meetings, led by Secretary Shaun Donovan, agency data are reviewed to identify and solve problems and share best practices. These meetings encourage the development of strategies to boost results and address impediments to meeting established goals.1 One agency priority goal that is already seeing benefits from HUDStat is reducing homelessness among veterans.
Homelessness Among Veterans
More than 2.4 million American soldiers have served in Operation Iraqi Freedom/New Dawn and Operation Enduring Freedom since September 11, 2001.2 Hundreds of thousands of these men and women have returned from Iraq, and many more will be returning from Afghanistan in the next few years. "Soldiers are returning with higher rates of injury after multiple deployments with severe economic hardships," says John Driscoll, president and chief executive officer of the National Coalition for Homeless Veterans.3 Studies show that nearly 20 percent of returning Iraq and Afghanistan veterans have experienced a traumatic brain injury, and 10 to 18 percent suffer from posttraumatic stress disorder (PTSD).4 A recent Pew Research Center survey showed that post-9/11 veterans found the transition to civilian life harder and had higher rates of post-traumatic stress than veterans who served in previous wars.5 Rates of military sexual trauma, which is associated with an increased risk of developing PTSD, are high among female veterans, who make up more than 11 percent of veterans of these two wars.6 For both male and female veterans, PTSD is linked to an increased risk of depression and substance abuse, which exacerbate social isolation and make employment difficult.7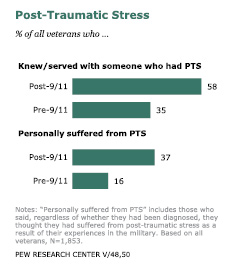 © Pew Research Center, Social & Demographic Trends Project October 5, 2001.
The Military-Civilian Gap: War and Sacrifice in the Post-9/11 Era www.pewsocialtrends.org/2011/10/05/war-and-sacrifice-in-the- post-911-era/.
The economic downturn and high unemployment rates add to the challenges these soldiers face on returning from active duty. The U.S. Bureau of Labor Statistics reports that veterans between the ages of 25 and 34, who make up more than half of post-9/11 veterans, had a 2011 unemployment rate of 12 percent, compared with 9.3 percent for nonveterans. Among veterans aged 18 to 24, the unemployment rate is much higher — 30.2 percent.8
All of these factors contribute to an increased risk of homelessness for returning veterans, even though they have higher education levels (62 percent of veterans over the age of 25 have atleast some college compared with 56.4 percent of nonveterans) and higher median incomes compared with the general population.9 Female veterans and younger veterans are more than twice as likely to be homeless as their nonveteran counterparts. According to HUD's 2011 Point-in-Time (PIT) Estimates of Homelessness, veterans constitute 14 percent of the homeless population, although they represent only 10 percent of the U.S. adult population. This PIT count documented 67,495 homeless veterans on a single night in January, a number that is 12 percent lower than a year earlier.10 Throughout the entire year that ended in September 2010, nearly 145,000 veterans were homeless for at least one night.11
The Goal To End Homelessness
Ending homelessness among veterans is a top priority for the White House, HUD, and the U.S. Department of Veterans Affairs (VA). This commitment is reflected in the nation's first comprehensive plan to prevent and end homelessness, Opening Doors. Released by the United States Interagency Council on Homelessness (USICH) in 2010, the federal plan sets the goal of ending veteran homelessness by 2015.12 To achieve this goal, Opening Doors calls for breaking down institutional silos, increasing collaboration among and within all levels of government, and improving data collection and analysis. Accordingly, HUD collaborates with other federal agencies to collect data and target assistance programs to move veterans from the street into permanent supportive housing — a critical component of the USICH plan.13
In its Strategic Plan, HUD confirms its commitment to providing affordable housing units to homeless veterans, calling for stable housing as a platform for improving health, educational, and economic outcomes for vulnerable populations.14 "Housing somebody first makes it much more likely that they can stabilize their condition," said Secretary Donovan.15 The effectiveness of this approach in combating veteran homelessness, especially among the chronically ill, is well documented. A 2010 study of 622 veterans entering substance abuse treatment found that veterans who were homeless at any point during the 12-month study period were more likely to have inpatient admissions and incur higher treatment costs compared with veterans who were consistently housed. A study of formerly homeless veterans and their risk factors for returning to homelessness found that participants receiving case management and rent subsidy vouchers had "significantly longer periods of continuous housing" than those who received only case management or standard care.16
Stable Housing for Veterans
HUD's commitment to reducing veteran homelessness is longstanding. The agency provides homeless veterans with housing resources through three primary programs: HUD-Veterans Affairs Supportive Housing (HUD-VASH), the Homelessness Prevention and Rapid Re-Housing Program (HPRP), and Continuum of Care (CoC) program.
HUD-VASH is a program administered jointly by HUD and VA. Through HUD-VASH, HUD issues housing choice vouchers to homeless veterans and VA provides them with supportive services, including case management and clinical services. HUD-VASH vouchers are awarded to public housing agencies (PHAs) that partner with eligible VA medical centers and are allocated based on geographic need and housing agency performance. Case managers at VA centers screen and refer veterans eligible for HUD-VASH vouchers to PHAs. First established in 1992, the HUD-VASH program was revived in 2008 with a $75 million appropriation from Congress. The program initially targeted homeless veterans with chronic mental illness or substance abuse disorders; this requirement was waived in 2008 to provide housing vouchers to all homeless veterans who receive VA case management services. Approximately 10,000 HUD-VASH vouchers have been funded each year with annual appropriations of $75 million in 2008, 2009, 2010, and 2012. In 2011, $50 million was appropriated to serve approximately 7,000 homeless veterans and their families. HUDStat has played a key role in increasing the distribution of HUD-VASH vouchers and has fundamentally altered the agencies' success metrics for the program.17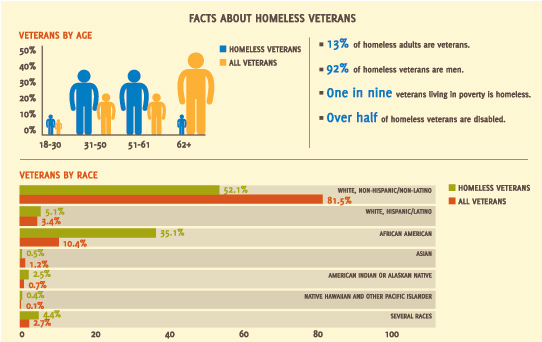 Note: Data shown are for sheltered homeless veterans — veterans who spent at least one night homeless in an emergency shelter or transitional housing facility between October 1, 2009 and September 30, 2010.
Source: U.S. Department of Housing and Urban Development, "Veteran Homelessness: Supplement to the 2010 Annual Homeless Assessment Report to Congress," 4–7.
A more recent effort, HPRP is a three-year program authorized under the American Recovery and Reinvestment Act of 2009. Through HPRP, communities nationwide received $1.5 billion to provide financial assistance and services to either prevent individuals and families from becoming homeless or help re-house and stabilize those who are experiencing homelessness. In particular, many communities used the resources available through HPRP for homeless veterans entering HUD-VASH. The funds were used to provide a security deposit and first month's rent — activities that are not eligible for HUD-VASH assistance. More than 1.3 million people have been served by HPRP.18 After the program expires in 2012, many of its activities will be funded through the Emergency Solutions Grants (ESG) program, which identifies homeless and at-risk persons and provides the services needed to help them quickly regain stability in permanent housing. Through the CoC and ESG programs, HUD funds an array of homeless interventions: outreach, emergency shelter, rapid re-housing, transitional housing, and permanent supportive housing. HUD estimates that 19,162 veterans obtained permanent housing assistance through the HPRP and CoC programs in 2010.19
HUD is also a partner in a joint effort with VA and the Department of Labor (DOL) to prevent homelessness among veterans. In 2011, the three agencies launched the $15 million, 3-year Veterans Homelessness Prevention Demonstration Program, with a special focus on veterans returning from Iraq and Afghanistan. The funds were awarded to five communities located near military installations — MacDill Air Force Base in Tampa, Florida; Camp Pendleton in San Diego, California; Fort Hood in Killeen, Texas; Fort Drum in Watertown, New York; and Joint Base Lewis-McChord near Tacoma, Washington — to provide housing and supportive services for veterans at increased risk of becoming homeless. DOL provides the veterans with employment counseling and related services. In addition to this initiative, VA and DOL operate several key programs that address the needs of homeless veterans (see "Other Federal Programs Targeted to Homeless Veterans," p. 7).
Joint Focus on Data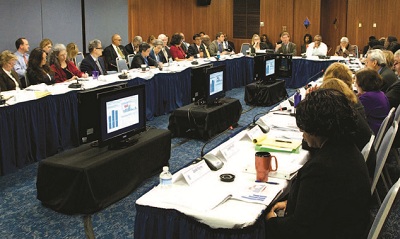 Secretary Shaun Donovan leads a HUDStat meeting in Washington, DC.
HUD and VA have jointly committed to the USICH goal of eliminating veteran homelessness by 2015, a goal that Harvard University Professor Robert Behn calls a true performance or "stretch" target. Stretch targets cannot be achieved "simply by working a little harder or a little smarter," Behn says.20 "To achieve a stretch target, people have to invent new strategies, new incentives, and entirely new ways of achieving their purposes."21 Secretary Donovan agrees: "Setting big, ambitious goals and establishing clear targets inspires and moves people to look for innovative solutions."22
The goal has spurred HUD and VA to strategically align their resources and coordinate on data collection and reporting. "Good data helps to deploy resources where we need them. It helps us know the population much better and because of that, we can show the need," says Dennis Culhane, director of research for VA's National Center on Homelessness Among Veterans.23 The departments jointly developed and released the first-ever supplements to the Annual Homeless Assessment Report to Congress, which quantitatively profiles the nation's veteran population. "Understanding the nature and scope of veteran homelessness is critical to meeting President Obama's goal of ending veterans homelessness within five years," said Secretary Donovan upon releasing the first report in February 2011.24 Such interagency improvements to federal data collection are essential to HUDStat's efforts. In addition, local providers of VA-funded services have begun to participate in Homeless Management Information Systems (see Research Spotlight, p. 11), ensuring that data on HUD-VASH clients and their services are incorporated into community service planning and coordination for homeless veterans. Vincent Kane, director of VA's National Center on Homelessness Among Veterans, says that collaborating on collection and analysis of data makes it possible to "look at the aggregate data, see how entities are or are not using vouchers, sharpen how we define the need, and evaluate performance."25
Data-Driven Problem Solving Is Key
Data-driven performance management processes have been propelled by the success of COMPSTAT, which was pioneered by the New York City Police Department in the mid-1990s, and CitiStat, instituted by the city of Baltimore in 1999.26 These efforts sought to hold these organizations accountable for results by analyzing data presented at regular meetings. In monthly HUDStat meetings, Secretary Donovan leads discussions steeped in data to evaluate performance measures for the agency's annual priority goals. Progress toward each priority goal is reviewed quarterly.
Seven weeks before a HUDStat meeting, staff from the Office of Strategic Planning and Management begin reviewing data with program staff and field offices. The staff single out strong and weak performances and follow up with a site visit to discuss findings and possible solutions. At the meetings, the 20–50 attendees, including HUD senior officials, key program staff, and other stakeholders, continue to discuss and analyze the findings.27 With the discussion grounded in data, HUD staff can identify management challenges that impede progress and recommend program improvements that will enhance outcomes. As New York Times columnist David Brooks wrote after observing a HUDStat meeting about veteran homelessness, "Amid the hot-rhetoric government wars, it was important to see the talent and commitment of real-life government workers running a successful program."28
Although enormous effort goes into preparing for and conducting HUDStat meetings, perhaps more important to note is how HUDStat helps drive the daily work that happens between meetings. Through collaboration and data sharing across departments and agencies, program administrators and staff have the information they need to tackle project goals. The result is that "staff is taking leadership on this issue," says HUD Senior Advisor Estelle Richman about veteran homelessness.29 The advantages of the HUDStat process stem from both the focus on evidence and the increased initiative among the agency's problem solvers.
HUD and VA program staff members regularly participate in HUDStat meetings, where they jointly analyze performance data to understand trends, identify best practices, and prioritize the actions needed to achieve the goal of ending veteran homelessness. Working together and with partners at the local level, HUD and VA succeeded in reducing the population of homeless veterans from 76,329 in January 2010 to 67,495 by January 2011, a 12-percent decline. Secretary Donovan attributes much of this reduction to increased HUD-VASH participation; since 2008, more than 33,500 veterans have been housed through the HUD-VASH program, a result of focusing on problem-solving through HUDStat. HUDStat changed the evaluation standards for the HUD-VASH program. Previously, HUD-VASH's success was based on the number of housing vouchers made available. But staff and leadership realized that a better measure of effectiveness was the number of veterans placed in housing. This change meant that HUD increased the focus on whether the vouchers are actually used, not simply whether they are available. By changing the standard of success, agency staff and leaders are able to learn where and how the program serves veterans and which areas need greater attention.
HUDStat on the Ground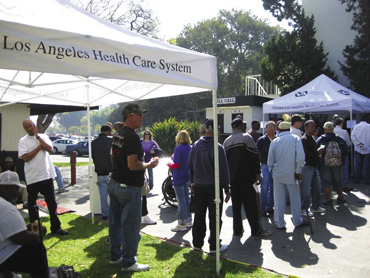 Twelve homeless veterans received HUD-VASH vouchers at this day long housing fair in the Greater Los Angeles area. The Housing Authority of the City of Los Angeles
The improvement of HUD-VASH voucher distribution in Los Angeles is a particularly good example of how analysis of ground-level data has helped improve services to homeless veterans. One in four of the nation's homeless veterans are located in the state of California. Consequently, HUD staff began examining data from the state, and the Los Angeles region in particular, more closely. Their research revealed that, despite the need, vouchers were not being used in Los Angeles County at nearly the same rate (49.3%) as in the city of Los Angeles (93.9%). Voucher utilization at the national level was 85.6 percent.30
Personnel from HUD and VA went to Los Angeles to meet with the county and city public housing agencies and VA centers to assess the situation. The investigation revealed that the PHAs used different application processes and methods for distributing vouchers. Repetitive administrative procedures among the various agencies delayed the voucher delivery process.31 The county PHA faced an additional obstacle; the main VA centers that veterans prefer to live near are located in the city, out of its jurisdiction.
This information led HUD and VA staff to reexamine how HUD-VASH vouchers were distributed. Local housing authorities and VA providers agreed to streamline the application process, which led to a single HUD-VASH application that can be used for both the Housing Authority of the City of Los Angeles and the Housing Authority of the County of Los Angeles. The collaboration also resulted in a policy that allows the two PHAs to distribute HUD-VASH vouchers in both jurisdictions. In addition, VA providers outsourced case management to community groups with even closer ties to homeless veterans, which led to more referrals for HUD-VASH vouchers.32 More veterans are now accessing housing and services in Los Angeles County while still being able to access city services.
The housing authorities and VA providers in the Los Angeles region continue to work together to solve problems. "HUDStat compels us to focus more on the utilization of VASH vouchers in Southern California and how it compares to that of other areas," notes K. J. Brockington, director of the Office of Public Housing at HUD's Los Angeles Field Office. She attributes the successful resolution of barriers to housing homeless veterans to the collaboration that was developed among staff from the different agencies involved.33
An increased focus on data also led to improved voucher utilization in the Jacksonville, Florida region. The PHAs and VA centers in the area initially faced numerous challenges to implementing the HUD-VASH program, including communication barriers, lack of steady referrals, and low lease-up rates. HUD's Public and Indian Housing (PIH) staff in the Jacksonville Field Office has been actively helping the area's housing authorities and VA centers identify and resolve some of these challenges. Since the inception of HUDStat and the resulting improvements in data availability, PIH staff has been monitoring monthly data updates on voucher utilization to evaluate program performance among the different PHAs. Working together, they are able to map out annual performance targets and steps needed to achieve preferred outcomes.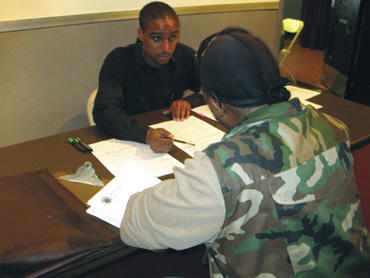 A homeless veteran is interviewed for a HUD-VASH voucher. The Housing Authority of the City of Los Angeles
One of the major barriers to effective HUD-VASH operation in Jacksonville was a lack of understanding of each agency's work and agency-specific differences in terminology and procedures. The PIH office was able to facilitate and participate in regular meetings with personnel from PHAs and VA centers to address these issues and enhance collaboration. As a result, "Everyone's on the same page now. The housing authorities feel like they are part of a team to reduce chronic veteran homelessness," notes Victoria Main, director of Jacksonville's PIH office. To address procedural differences, staff from VA centers and housing authorities are collaborating on a uniform application process for the area's multiple PHAs. Discussions with VA teams also led to an examination of the lack of steady referrals from VA facilities to PHAs, which contributes to the low rates of housing voucher use. The area's VA centers are hiring additional staff to rectify the delay, which stems from a shortage of caseworkers.
Veterans who receive HUD-VASH vouchers have 120 days to sign a lease for a housing unit and are required to pay out of pocket for security and utility deposits and other upfront costs. For chronically homeless veterans, these expenses are often insurmountable barriers to gaining stable housing. The PIH Field Office staff helped identify and explore alternative funding sources to cover these costs. They conducted joint presentations with PHA and VA staff on the HUD-VASH program as part of reaching out to nonprofit and military service organizations, such as the American Legion and the Fleet Reserve Association. In some cases, these organizations have responded with funds to pay for security deposits, while in others they helped supply furnishings, basic kitchen items, and other move-in essentials.
As a result of the efforts and commitment of local HUD and VA staff and the various service organizations, the utilization of HUD-VASH vouchers in the Jacksonville region has improved significantly. "Our numbers are going up every single month," says Main.34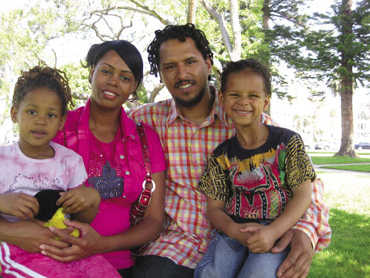 Victoria Harris, an Air Force veteran, and her family were homeless prior to receiving a HUD-VASH voucher from the Housing Authority of the City of Los Angeles. The Housing Authority of the City of Los Angeles
Forging Ahead
With the help of HUDStat, VA and HUD are coordinating efforts to jointly house another 35,735 homeless veterans by the end of September 2013. Accordingly, HUD's FY2012 and 2013 budget proposals include $75 million to fund an additional 10,000 HUD-VASH vouchers for homeless veterans, with VA providing $245 million in case management funding (a 21-percent increase from the previous year). HUD's budget also includes funding for the Emergency Solutions Grants program, which allows activities currently funded under the HPRP to be continued.35
For veterans, reentry into civilian life after military service is fraught with A homeless veteran is interviewed for a HUD-VASH voucher. The Housing Authority of the City of Los Angeles 10 adjustments and, for a significant number, the stress of managing combat-related mental and physical trauma. The risk of becoming homeless is higher for veterans, and the Obama administration is committed to eliminating that risk. In partnership with USICH, HUD and VA are setting ambitious goals to ensure that every veteran in the United States is housed — by cutting across silos to jointly set goals, align resources, and work systematically with the best tools available. This collaboration intends to build on the 12-percent reduction in homeless veterans realized from 2010 to 2011, a significant step towards eliminating veteran homelessness. Part of this success is attributable to improvements in data gathering and analysis as well as the adoption of innovative tools such as HUDStat. This data-driven performance management process identifies bottlenecks, directs resources toward housing homeless veterans, and empowers stakeholders at all levels of the public and private sectors to achieve the goal of ending homelessness among veterans.
Related Information:
Other Federal Programs Targeted to Homeless Veterans
---
"Breaking Down Silos and Boosting Results Through HUDStat: An Interview With Lisa Danzig of HUD." Gov Innovator Blog (www.govinnovator.com). Accessed 5 May 2012.
Communication with Press Operations, Department of Defense, March 2012.
Interview with John Driscoll, February 2012.
Bret T. Litz and William E. Schlenger. 2009. "PTSD in Service Members and New Veterans of the Iraq and Afghanistan Wars: A Bibliography and Critique," PTSD Research Quarterly 20(1), 1–3; RAND Corporation. 2008. "Invisible Wounds: Mental Health and Cognitive Care Wounds of America's Returning War Veterans," 2.
Research attributes the higher incidence of PTSD to more recent veterans serving in combat (60 percent of post-9/11 veterans compared with 42 percent of pre-9/11 veterans) as well as increased awareness of the disorder in recent times. When comparing the experiences of veterans of the current wars with those who served before them, the researchers caution that the time lapse and experiences between those surveyed from earlier wars and when they served is much longer than those of the recent war, which could change their views over time; Rich Morin. 2011. "The Difficult Transition from Military to Civilian Life," 1; Paul Taylor, Rich Morin, Ana Gonzalez, Seth Motel, and Eileen Patten. 2011. "For Many Injured Veterans, A Lifetime of Consequences," 11; Pew Social & Demographic Trends. 2011. "The Military-Civilian Gap: War and Sacrifice in the Post-9/11 Era," 49.
U.S. Department of Veterans Affairs. "The Changing Face of Women Veterans." (www.womenshealth.va.gov/WOMENSHEALTH/facts.asp (website content has changed and this document is no longer available)). Accessed 27 March 2012.
Howard Balshem, Vivian Christensen, and Anais Tuepker. 2011. "A Critical Review of the Literature Regarding Homelessness among Veterans," Department of Veterans Affairs Health Services Research & Development Service, 32.
U. S. Bureau of Labor Statistics. "Employment Situation of Veterans — 2011," press release, 20 March 2012; "Labor Force Statistics from the Current Population Survey." U. S. Bureau of Labor Statistics (www.bls.gov/cps/). Accessed 22 March 2012.
U.S. Census Bureau. 2010 American Community Survey, 1-Year Estimate.
U. S. Department of Housing and Urban Development. 2011. "The 2011 Point-in-Time Estimates of Homelessness: Supplement to the Annual Homeless Assessment Report," 6.
U. S. Department of Housing and Urban Development. 2011. "Veteran Homelessness: Supplement to the 2010 Annual Homeless Assessment Report to Congress." 3, 13–5.
An independent agency within the federal executive branch, USICH is composed of 19 departments, including HUD, VA, the Department of Labor, and the Department of Health and Human Services.
United States Interagency Council on Homelessness. 2010. "Opening Doors: Federal Strategic Plan to Prevent and End Homelessness." Accessed 6 June 2012.
U.S. Department of Housing and Urban Development, 2010. "HUD Strategic Plan: FY 2010–2015," 24. Accessed 6 June 2012.
Interview with Secretary Shaun Donovan, February 2012.
Jonathan R. Buchholz, Carol A. Malte, Donald A. Calsyn, John S. Baer, Paul Nichol, Daniel R. Kivlahan, Ryan M. Caldeiro, and Andrew J. Saxon. 2010. "Associations of Housing Status With Substance Abuse Treatment and Service Use Outcomes Among Veterans," Psychiatric Services 61:7, 698–706; Maria J. O'Connell, Wesley Kasprow, and Robert A. Rosenheck. 2008. "Rates and Risk Factors for Homelessness After Successful Housing in a Sample of Formerly Homeless Veterans," Psychiatric Services 59:3, 268–75.
U.S. Department of Housing and Urban Development. 2012. "Annual Performance Report FY 2011," 36; U.S. Department of Housing and Urban Development. 2012. "Public and Indian Housing Tenant-Based Rental Assistance 2013 Summary Statement and Initiatives," 12.
U.S. Department of Housing and Urban Development, "Annual Performance Plan: Fiscal Years 2012–2013," 40.
Ibid., 38–40. A CoC is a community's plan or system for delivering housing and services to homeless individuals and families.
Robert Behn. 2011. "On the value of setting Stretch Targets," Performance Leadership Report, 10:4.
Interview with Robert Behn, February 2012.
Interview with Secretary Shaun Donovan.
Interview with Dennis Culhane, February 2012.
U.S. Department of Housing and Urban Development. "HUD and VA Issue First-Ever Report on Veteran Homelessness in America," press release, 10 February 2011.
Interview with Vincent Kane, February 2012.
Robert Behn. 2008. "What All Mayors Would Like to Know About Baltimore's CitiStat Performance Strategy," IBM Center for the Business of Government, 45; City of Baltimore. "CitiStat/Learn about CitiStat." (www.baltimorecity.gov/Government/AgenciesDepartments/CitiStat/LearnaboutCitiStat.aspx). Accessed 26 March 2012.
Harry Hatry and Elizabeth Davies. 2011. "A Guide to Data-Driven Performance Reviews," Urban Institute, 35.
David Brooks. "What Government Does," The New York Times, 29 April 2011, A27.
Interview with Estelle Richman, March 2012.
Lisa Danzig. 2012. "The Power of Analytics: Agency Perspectives — Department of Housing and Urban Development." (www-950.ibm.com/events/wwe/grp/grp004.nsf/vLookupPDFs/Lisa%20Danzig's%20Presentation/$file/Lisa%20Danzig's%20Presentation.pdf). Accessed 10 February 2012.
Partnership for Public Service and IBM Center for the Business of Government. 2011. "From Data to Decisions: The Power of Analytics," 16.
U.S. Department of Housing and Urban Development, Los Angeles Field Office. 2011. "HUD-VASH Successful Resolution of Barriers."
Email communication with K. J. Brockington, 1 May 2012.
Interview with Victoria Main, 17 May 2012.
U. S. Interagency Council on Homelessness. 2012. "Fiscal Year 2013 Federal Government Homelessness Budget Fact Sheet."
Evidence Matters Home
Next Article