A Compilation of Problems Related to the Performance of Mobile Homes
Release Date:
April 1975 (87 pages)
Posted Date:
June 4, 2021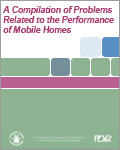 This historic interim report, prepared by the Center for Building Technology's Office of Housing Technology within the National Bureau of Standards, describes common physical problems of manufactured housing units ("mobile homes"). The researchers studied two samples of maintenance records of such units in order to produce this report. The first sample was the maintenance logs of 2,881 units out of the 12,500 mobile homes deployed as emergency housing by HUD to Wilkes-Barre, Pennsylvania in the wake of 1972's Hurricane Agnes. The second sample was data from 967 private-owned units, collected from the files of agencies responsible for regulatory or consumer protection functions.

This report is part of the collection of scanned historical documents available to the public.