The American Forum of the Air: Should Congress Adopt the Wyatt Housing Plan?
Release Date:
March 1946 (16 pages)
Posted Date:
April 19, 2020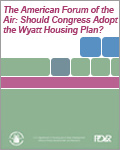 This historic document is a transcript of the March 19, 1946 episode of the radio show "The American Forum of the Air." Broadcast from the Shoreham Hotel in Washington, D.C., the topic of this episode was the Wyatt Housing Plan proposed by Wilson Wyatt. The episode was moderated by American Forum Director Theodore Granik and featured the following participants: Senator Homer E. Capehart of Indiana; Representative Jesse Sumner of Illinois; Chairman of the advisory board of the Producers' Council Douglas Whitlock; Representative A.S. Mike Monroney of Oklahoma; Representative George E. Outland of California; and national legislative Representative Chat Paterson of the American Veterans Committee.

This report is part of the collection of scanned historical documents available to the public.